Amazing Thing To Do In Vietnam
What is the tourism of Vietnam? Where to visit, what delicious food, interesting activities, experiences ... these are just a few of the hundreds, thousands of questions why every visitor before travel to Vietnam asked. In this issue, we will write out a list of attractions, cruisine, interesting experiences that perhaps each traveler should save to explore when traveling to Vietnam.
1. Hanoi
Things to see
#1 Dong Xuan Market
An old market and very bustling. The market is close to the ancient streets of Hanoi. If your hotel is located in the Old Town, you can walk to this market - a very busy market and always crowded by the seller and buyer. Bargaining sound, offering sound makes the market seems like an orchestra.
See also: Explore nightlife at Long Bien Market Hanoi
#2 Railway
There is a very interesting thing in Hanoi that not many places have – railway. This railroad crosses the street where the people live, with houses right next to it. The life of the people along the railroad is quite exciting. They do the business here like opening a coffee shop, and going through rails. This railroad may have broken the railroad safety rule that only in Vietnam.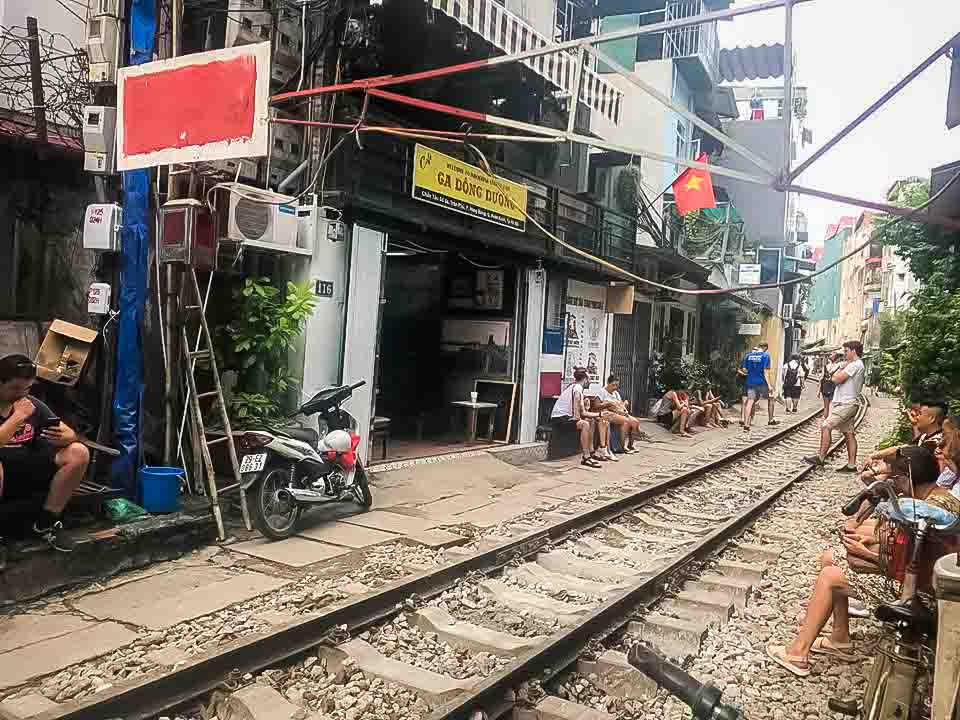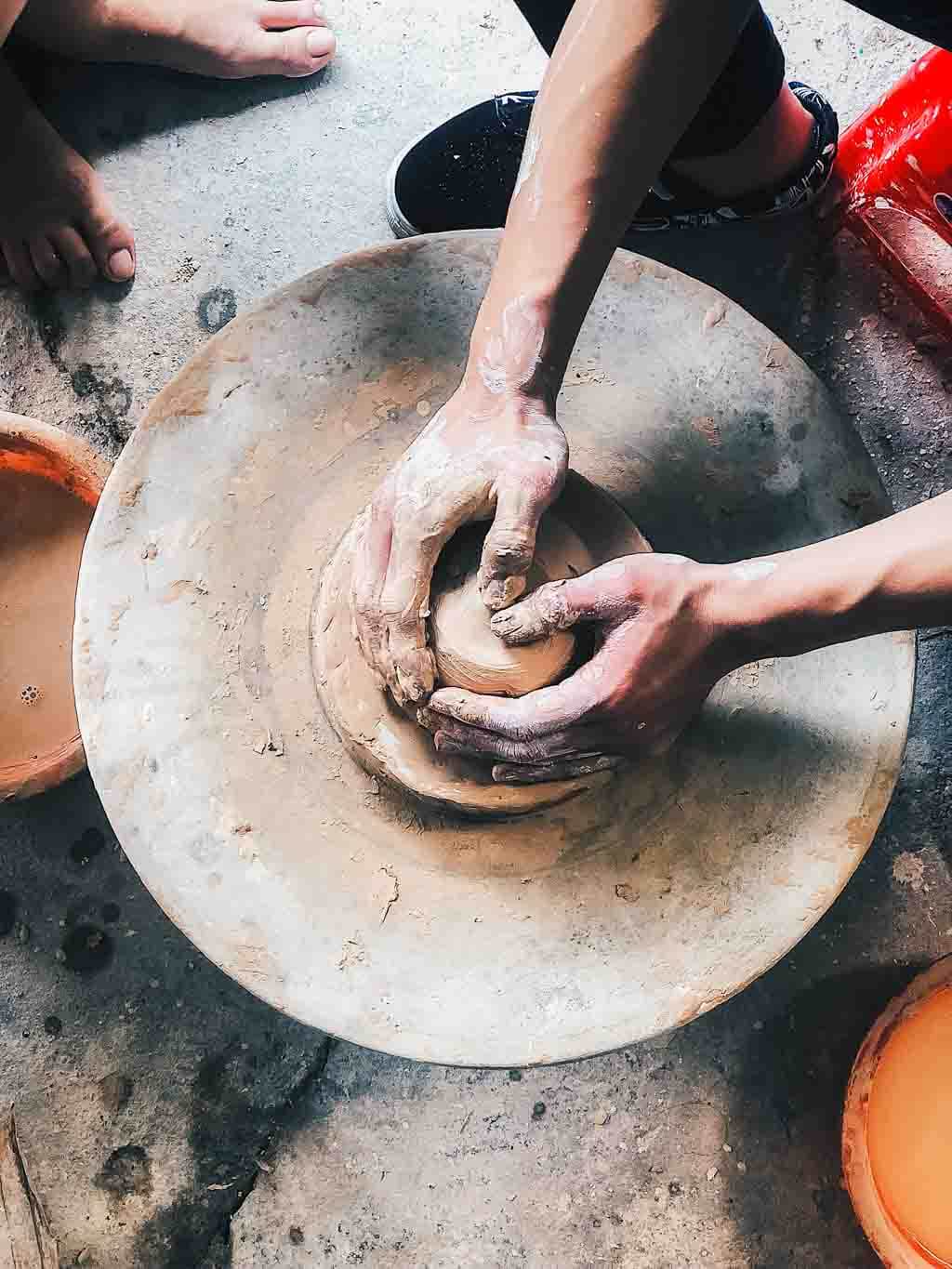 #3 Bat Trang Ceramic
If you are a devotee of pottery such as pots, bowls, cups, bowls, do not miss the Bat TrangCeramic Village. About 10km from Hanoi, Bat Trang village is one of the oldest and most famous pottery villages in Vietnam. Here you can visit the pottery with lots of strange and eye-catching items. Besides, do not forget to make some cute things by yourself. Just spend40.000 – 60.000 VND (USD 2-3), you can become a truly creative potter with clay and turntables. When starting doing ceramic, it may be a bit confused, but do not worry, you will receive the dedicated instruction from the potter skillfully in Bat Trang. After you finish the "masterpiece", the product will be fused for you to bring home. This will be the thing you can make some picture, post to social network to show everyone.
Note, if you want to buy pottery, remember to bargain to get the better price.
#4 Tran Quoc Pagoda
Hanoi is also famous for its temples. Perhaps this is the Oriental culture. People often visit the temple on certain days of the year to wish for peace, health, career ... Tran Quoc Pagoda located right on West Lake – the largest fresh water lake of Hanoi. The temple is unique with its statues.
Entrance fee: Free
Address: ThanhNien road, Tay Ho District, Hanoi.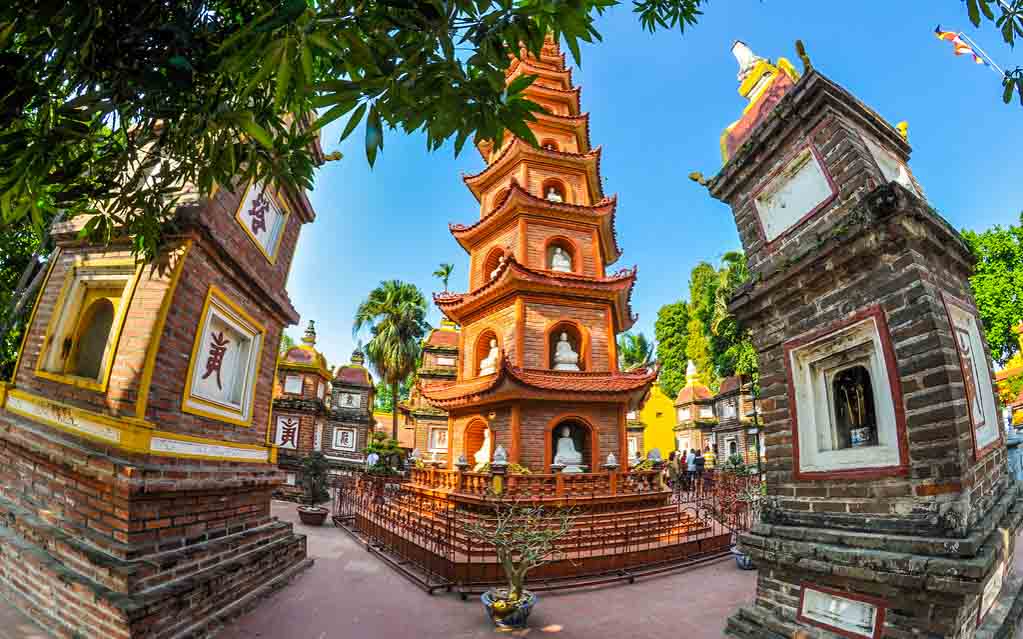 Visit Tran Quoc Pagoda in Hanoi city tour with best price
#5 Hoan Kiem Lake and Ngoc Son Temple
This is also the center of Hanoi -Sword Lake or HoanKiem Lake. It also has a long history and is associated with a famous legend of Vietnam. In the early morning, you can see a lot of people start their day by exercising here.
Ngoc Son Temple is located on HoanKiem Lake. Once you visit Sword Lake, you need to visit this Temple. The highlight of this temple is turtle templates, it is more than 100 years old turtle – as the tour guide said.
Things to eat
#1 Pho

This is Vietnam traditional food. And of course, if you come here, please try this one. 1 bowl of pho with the scent of white thin noodles, water is made from bones and spices, with chicken, beef ... plus herbs will make you say: Wow! This dish is amazing!
Recommended Pho restaurants:
"Pho Bat Dan"
Address: 49 Bat Dan, Cua Dong, HoanKiem, Hanoi
Price: 40,000 - 50,000 dong / bowl (USD 2-3)
#2 Vietnam bread
I have to say Vietnamese bread is the best bread in the world. I have tasted a lot of bread when traveling to difference places, but this one is number 1. The best bread is the Hoi Anbread. However, in Hanoi there are also many great shops. You can refer to the following address:
- Duc Long bread
Address: No. 6 Luong Ngoc Quyen, HoanKiem, Hanoi
- Hoi An bread
Address: 98 Hang Bac, HoanKiem, Hanoi
- Bread 25
Address: 25 Hang Ca, HoanKiem, Hanoi
#3 Bun Cha
Along with Pho, Bun Cha is also traditional dishes that many Vietnamese prefer. You can find a lot of Bun Cha restaurant in Hanoi street. The grilled beef noodles, crunchy eaten with noodles, sauces and vegetables make a very good taste.
Some references:
- Bun cha Hang Quat
Address: 74 Hang Quat,HoanKiem, Hanoi
This shop has no name or sign. It is located in a small alley that is hard to see. Seating is not really comfortable, and very crowded at noon time. The restaurant is open from 10am to 2pm daily.
- Bun Cha Huong Lien (also known as bun cha Obama)
Address: 24 Le Van Huu, HoanKiem, Hanoi
This restaurant becomes very famous after President Obama with famous chef Anthony Bourdain ate there. The restaurant is always full of guests and the best order is"Obama combo" dish - including bun cha and seafood rolls, a large seafood roll with many rolls. There are many pictures of President Obama hanging on the wall that both Vietnamese and foreign guests enjoy. Price ranging from 30,000 to 50,000 VND (USD 1.5 – 3)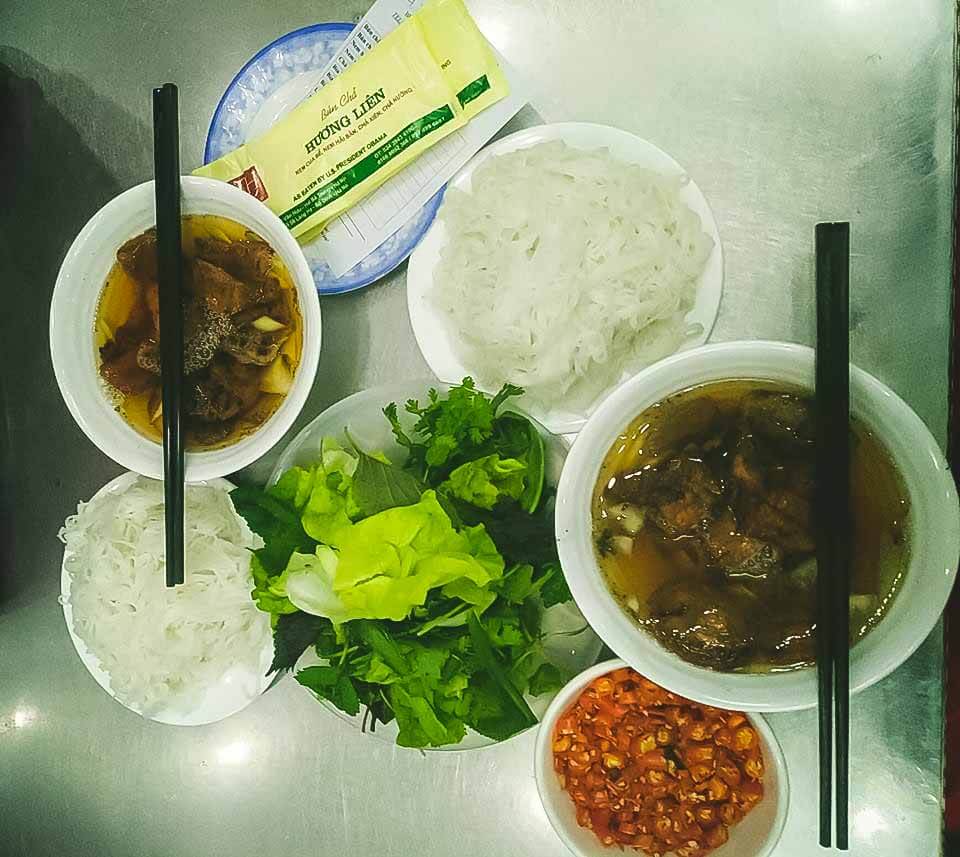 #4 Yen sticky rice
Sticky rice is also a very popular breakfast of Vietnamese. It is often cooked in the holidays. Sticky rice was changed to many other types such as corn sticky rice, egg sticky rice, coconut sticky rice ... However, the most impressive is the Yen sticky rice, this restaurant is located on Nguyen HuuHuan street. It is really famous and very crowded. If you one to buy sticky rice here, you have to wait about 10 minutes to be served in peak hours.
Address: 35B Nguyen HuuHuan, Hang Bac, HoanKiem, Hanoi.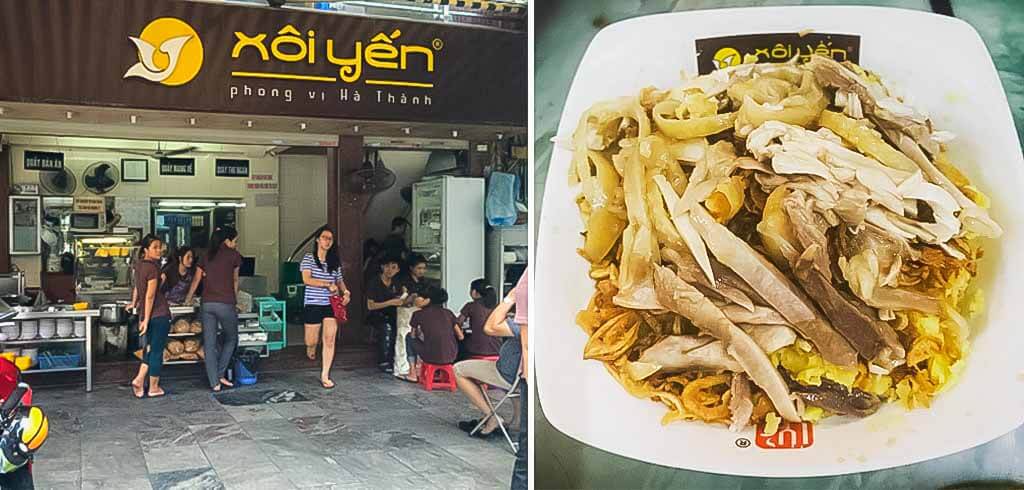 #5 Egg coffee
This is probably the first drink you need to try when coming to Vietnam. Anyone who has not taken egg coffee, will have many questions that how its taste,why egg can be neutralized with the bitterness of coffee? But if have tried it once, everyone will be conquered in all senses, from vision to taste. The reason is because the egg cafe not only delicious but also very eye-catching. The egg mixed with coffee creates an extremely attractive yellowish brown color. Each black coffee beans filtered through the filter, but when pouring together with the eggs beaten, they are separated, floating up and down, forming a number of beautiful natural pattern. When you enjoy it, the egg cafe seems to have something like brown coffee with condensed milk but does not have such sweetness. It's a bit of latte or cappuccino, but not as bland as it looks. People still find the strength of the cafe, but before reaching the post, the throat was filled with fat, soft, sweet eggs, butter, sugar, milk.
Reference address:
Giang Café
Address: 39 Nguyen Huu Huan, Hang Bac, Hoan Kiem, Hanoi
Hours: Open ⋅ Closes 10PM
Price: 30 000 - 40 000 dong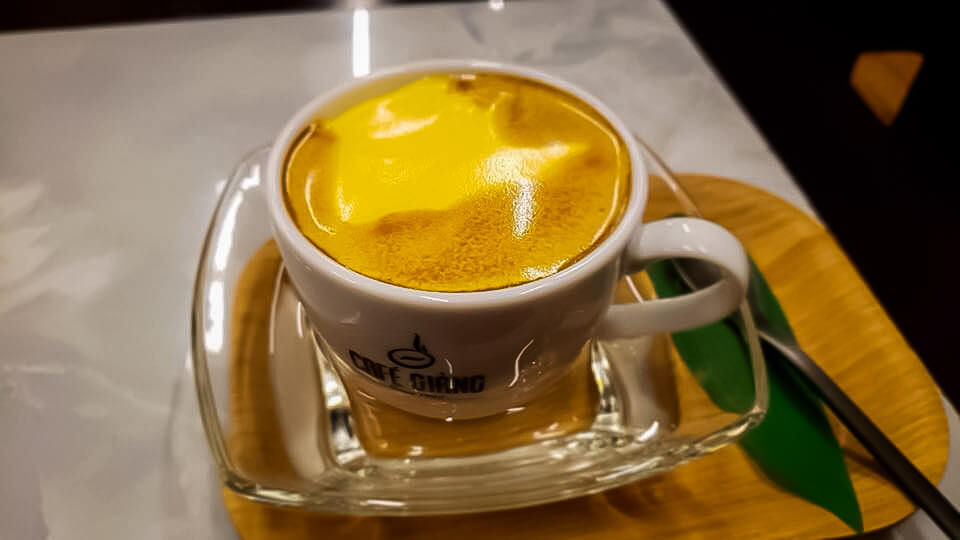 Read more: A full day in Hanoi with 10 USD
2. Halong Bay
When traveling to Vietnam, Halong Bay is probably the first place to be mentioned.
Ha Long Bay is not only known as a UNESCO World Heritage Site but also one of the world's most famous natural wonders. Few people know that the Halong Bay Complex is comprised of two other beautiful bays, Lan Ha Bay and Bai Tu Long Bay.
With many landscapes, rich and diverse fauna and flora with significant archeological and geological significance, there are signs of cultural and historical value and near the international gateway, Halong Bay is considered as one of the most famous places in Vietnam for foreign tourists.
The best way to visit Halong Bay is booking a tour. You can book 1 day, 2 days or 3 days depending on the time you have. In my opinion, staying in Halong Bay at least 2 days is more preferred.
You can refer to some of the following overnight cruise options:
Halong Silversea Cruise
Halong Alisa Cruise
Halong Athena Cruise
Halong Royal Palace Cruise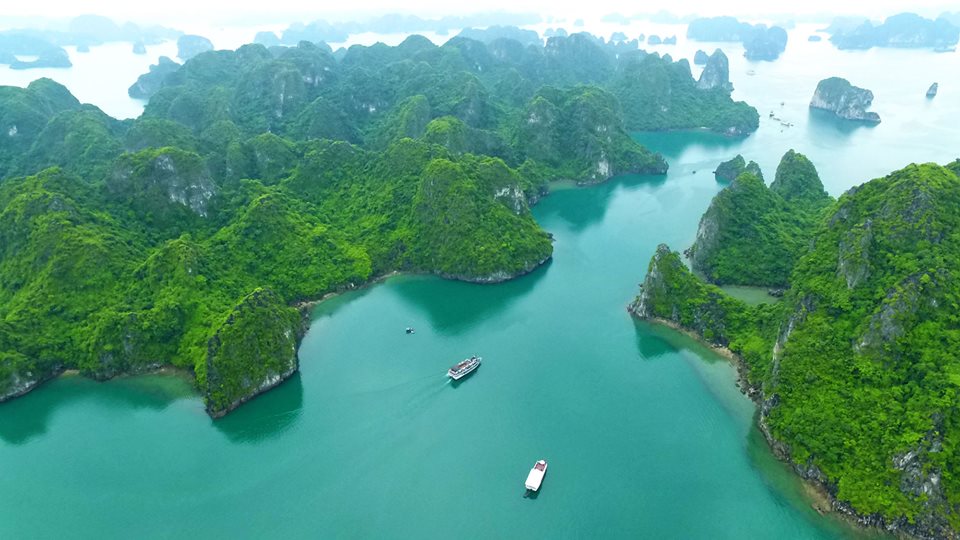 See also: 3 easy steps to choose an overnight cruise in Ha Long Bay.
3. Sapa - Trekking to terrace fields and villages


One other exciting activity in Vietnam is trekking in Sapa..Sapa is a mountainous town,a place far away from Hanoi, it takes about 6 hours by bus or train. Besides, with the very strong development of this place, you can easily book tickets from the city to the town of Sapa. Walk through the villages of the ethnic people, explore the life, the flowers of the village, or the highest mountain in Vietnam. Those activities will burn a lot of your energy.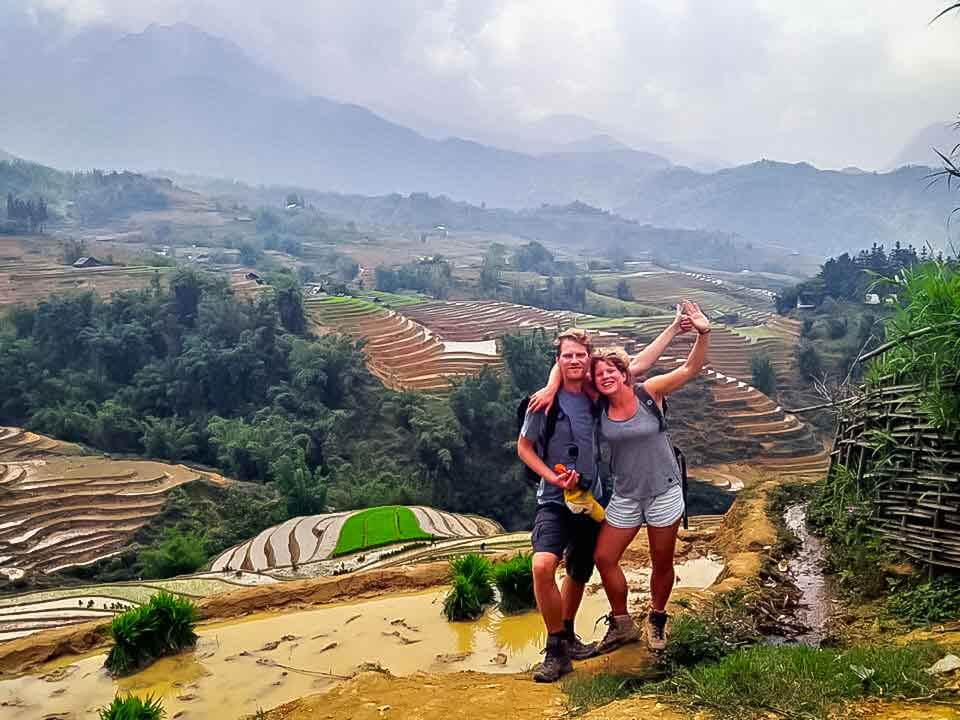 4. Ninh Binh
Boat trip in Tam Coc
As known as Ha Long on the land, Tam Coc is probably the next interesting destination on the journey from North to South Vietnam. What makes you feel interested will be sightseeing on a boat. A small boat carrying about 2-3 people, wading through the hills or fields of rice bowls. It is a beautiful scene.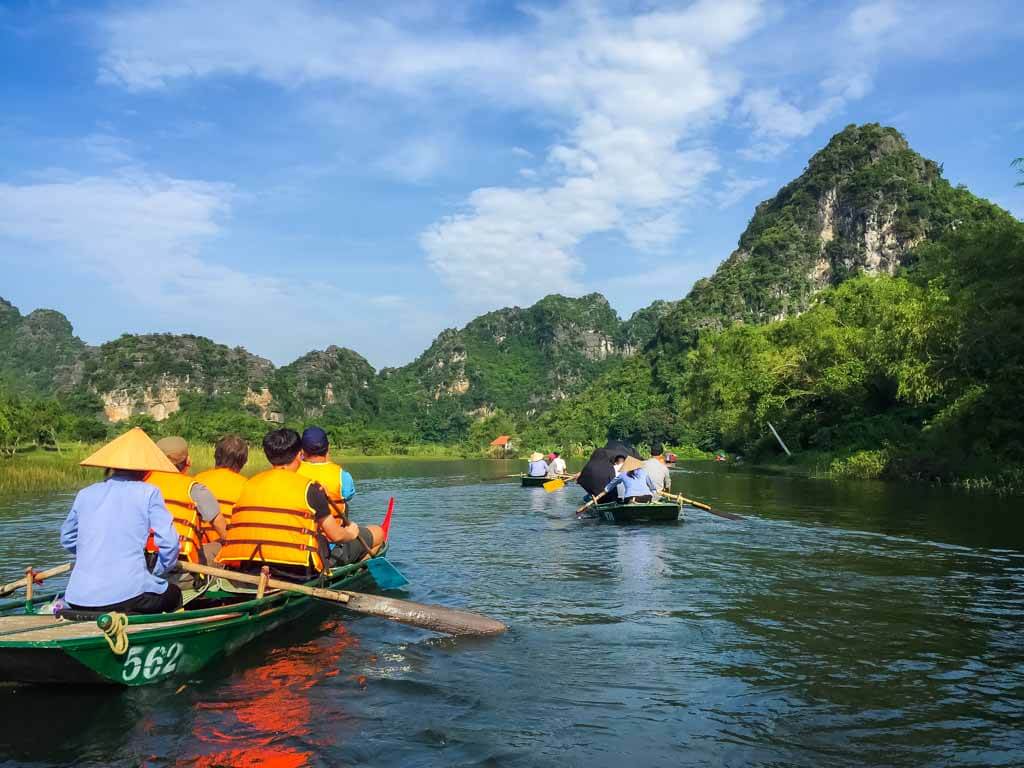 Discover Mua cave
A destination that should not be missed when visiting Ninh Binh is Mua cave. After going through 500 steps, you will reach the top of this mountain. From here, you will be able to admire the unique scenery of the mountains along with visitors taking boat trip in Tam Coc - BichDong .This all create a perfect, multi-color picture of the fantastic combination between nature and people.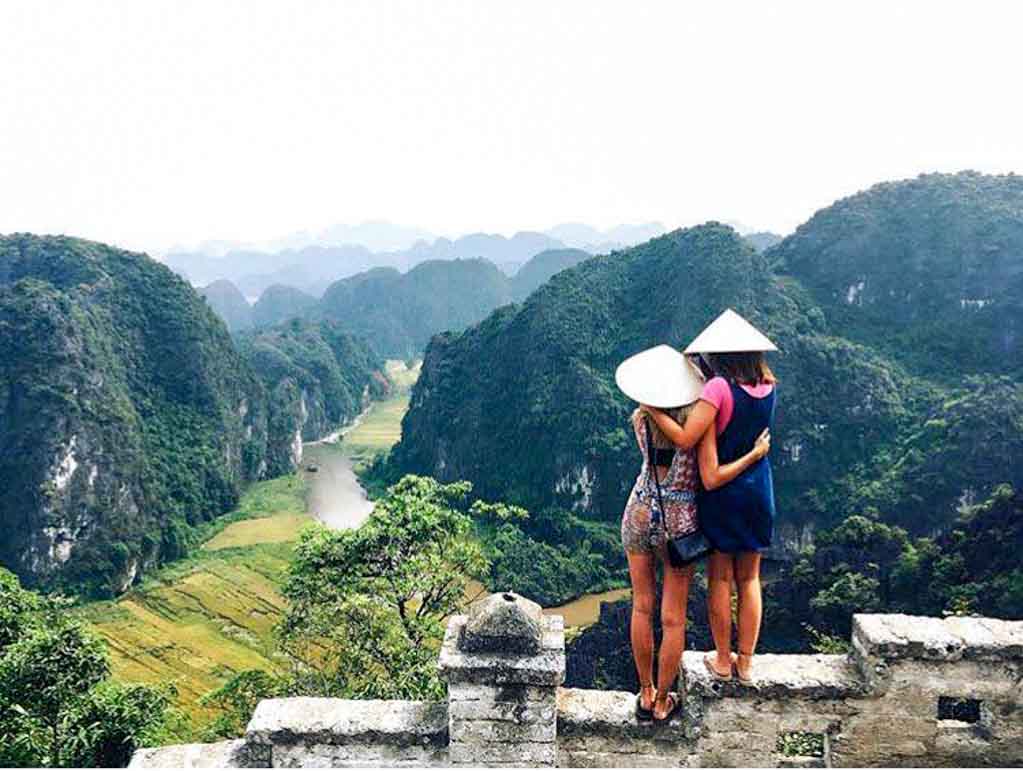 5. Thanh Hoa – Trekking in Pu Luong
Also a place to trekking but for me, Pu Luong is more interesting than Sapa. Compared with a Sapa developed strongly with many types of services as well as tourists, Pu Luong is not like that. This place is still very wild and hidden to many visitors and that is exactly what I like. Trek through rice fields, hill, terraced fields, go deep into the village to see the life and culture of the local people. Waking up in the morning with fresh air, looking through the window with a view of the green fields, evening drinking wine and eat the strange local food is reallyamazing and peaceful. Pu Luong is also located far from Hanoi. It takes about 6 hours to get here. So the best way is to book a tour for this trip.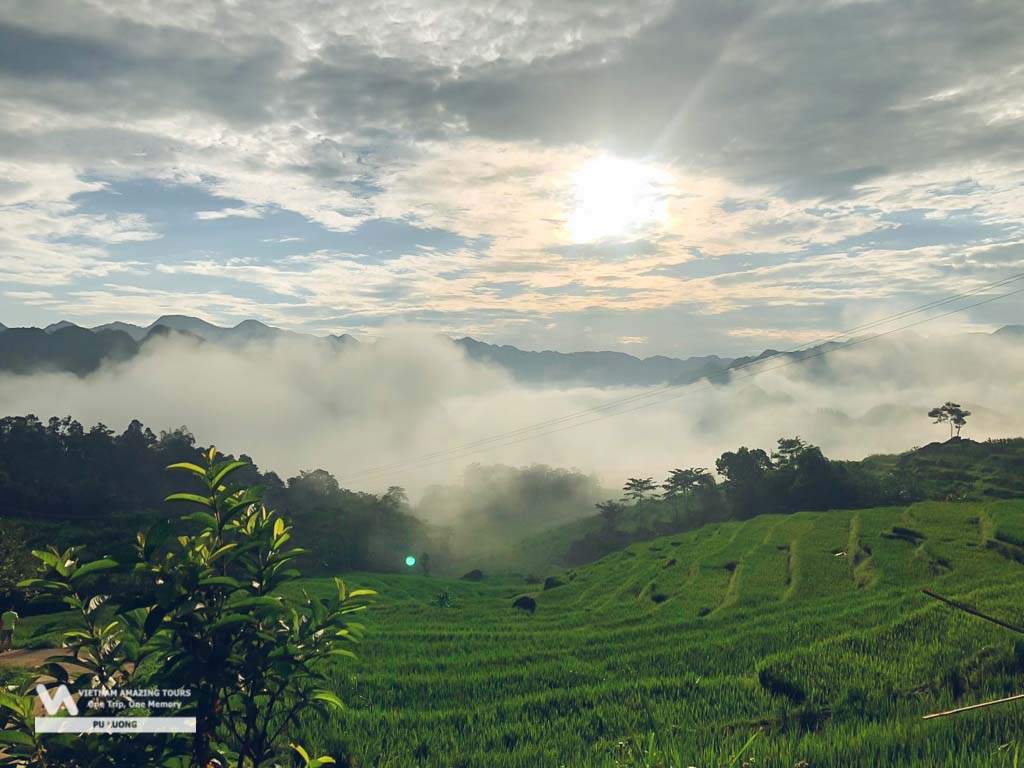 6. Take the night train
There will be many people wondering why we mention this experience. Actually, there are many modern types of transportation that help us reach our destination as quick as possible. However, we refer to the train for the following reasons:
A-Saving
Surely train ticket is cheaper than air ticket. We took the train with bed from NinhBinh to Hoi An only about 900.000 VND / person (~ USD 40). If you go by plane, a ticket is about USD 70 - USD 90.

B- Sightseeing
On the train, you have the opportunity to view the landscape of Vietnam through the small window. The train goes from North to South across the mountains, sometimes accompanied by the sea, or through the village. You also can take many nice photos.
C- Safety and Communication
There is probably no kind of transportation that is safer than the train, for sure.
There are 2 types of train ticket: seat or shared cabin with 4-6 beds. And that is the opportunity to chat and communicate with each other.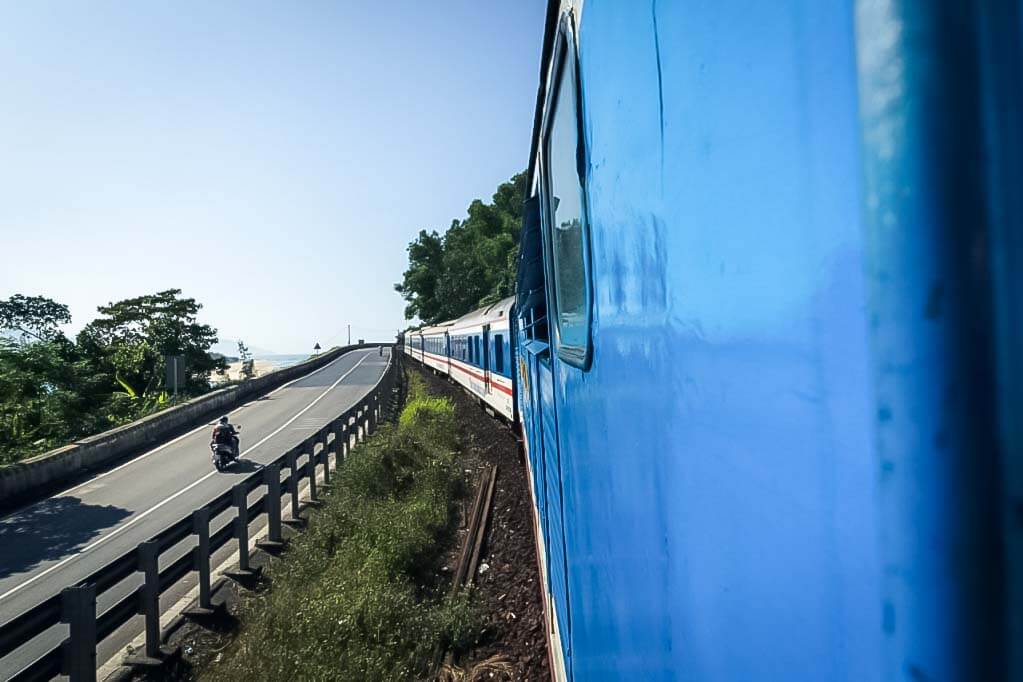 7. Hoi An
This is a must-visit destination for your trip. You will be amazed by the beauty of old houses that are hundreds of years old here, with lanterns decorating the streets, in front of each house and surrounded by small rivers. Coming here, you may feel like you are in Venice - Italy, however this place has its own beauty. There are many unique houses, temples and palaces that you cannot ignore. For example, "Hoi An symbol" - a pagoda located adjacent to Nguyen Thi Minh Khai and Tran Phu streets, cross the river. This is a unique architecture, typical in Hoi An, was built by Japanese merchants in the seventeenth century. To describe this place may be difficult to write all. If you have a chance, come and enjoy by yourself!
A- Join the cooking class
Either you are a food-aholic or just a person who wants to experience it. Anyway, food is always an important part of every trip. It will be very fun if you join a cooking class in Hoi An. You can book a tour including visits to vegetable fields such as try to farm in Tra Que vegetable garden, explore Vietnam market and challenge to make famous dishes here such as Vietnam spring rolls, pancake ... Try to wear farmer clothes and become a genuine Vietnamese farmer with a land-grabbing challenge, fertilizing the soil, growing vegetables, watering it ... do not be afraid of the mud. Next is to cook your own dishes under the guidance of enthusiasm of the chef. And finally enjoy the food made by you. That must be a beautiful day.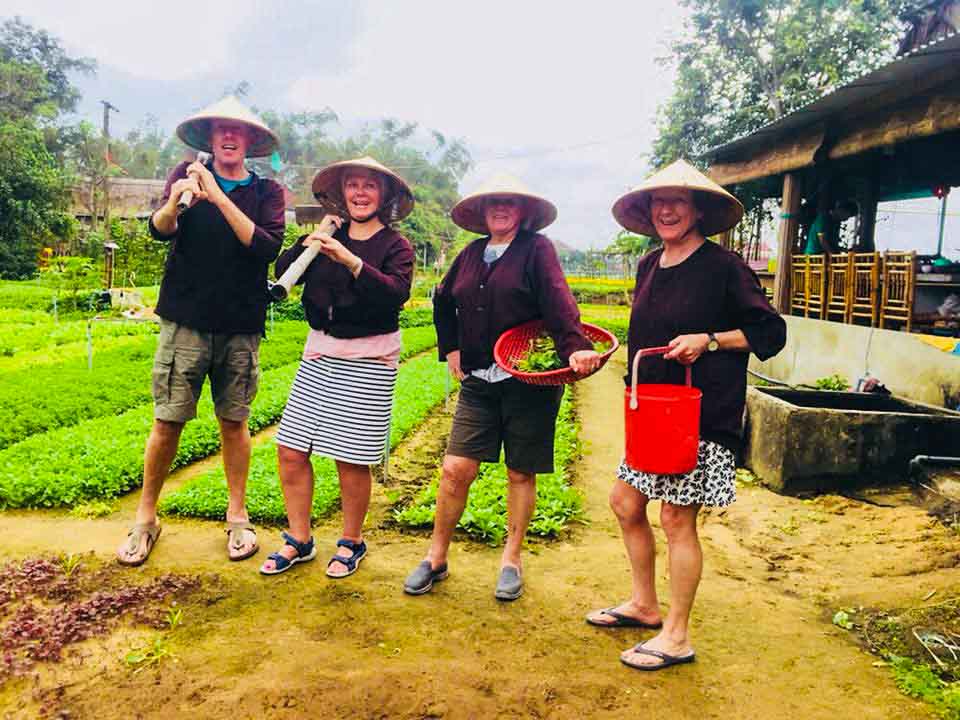 B- Discover My Son Sanctuary
Not too far from Hoi An, there is a very mysterious place called My Son - the legacy of the ancient Champa civilization is crystallized in permanent material sequelae, containing historical, cultural, architectural, and artistic values created for a long time (henceforth). My Son is considered as the most famous monuments in Southeast Asia such as Angkor, Pagan... Although has been damaged over time, this place isstilla historical values. You can rent a motorbike from Hoi An to explore My Son or take a bus.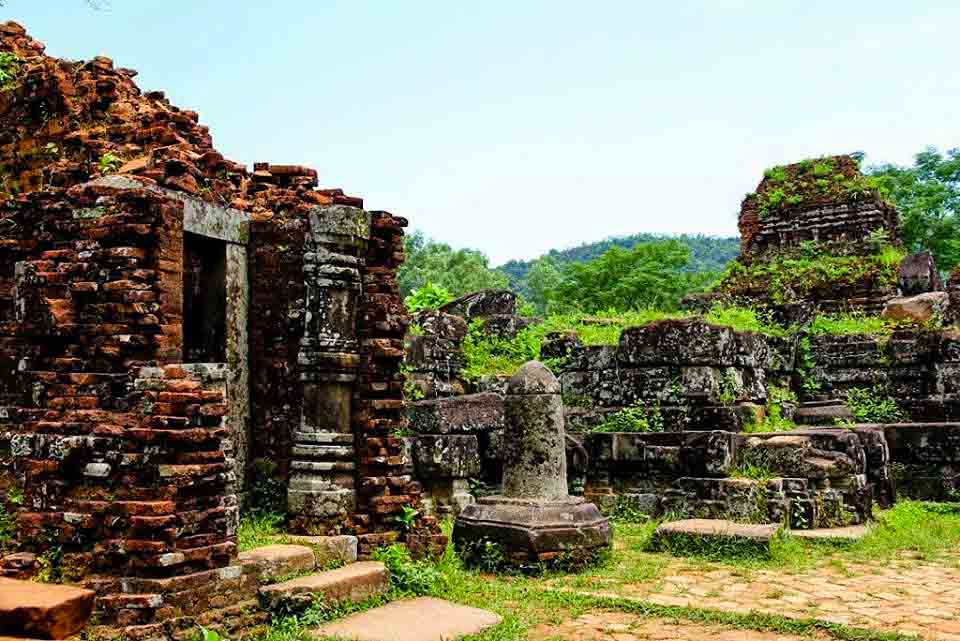 C- Try the best bread in the world
Yes! "Banh mi Hoi An" is the best bread I've ever had in my life. You can find a lot of reviews about the bread in Hoi An on internet and all are very good reviews. Of course, we cannot miss the chance to try it. Hoi An bread with crispy crust, hot inside with slices of pork, pate, cucumber, herbs and meat sauce is very delicious, attractive. And to taste this famous bread, you sometimes have to get in the long line to wait for your turn.
The famous bread address:
#1: Banh mi Phuong
Address: 2B Phan Chu Trinh, Hoi An

#2 Madam Khanh - The Banh Mi Queen
Address: 115 Tran Cao Van, Minh An Ward, Hoi An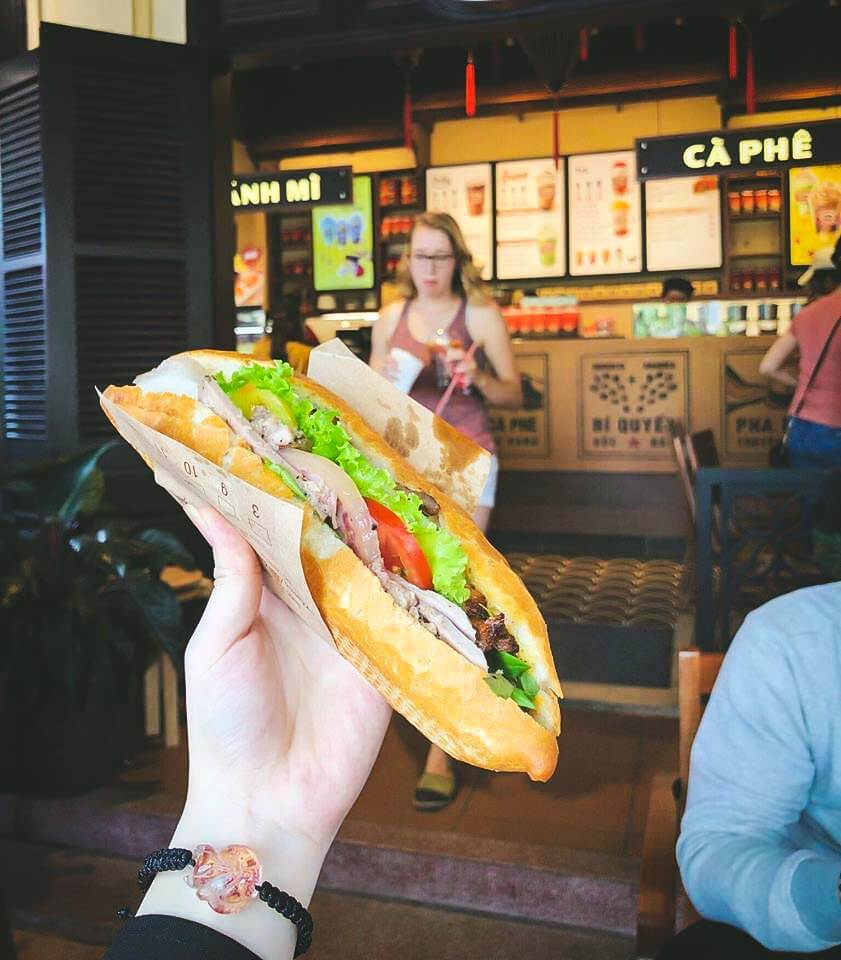 D- Get the cheap suite
Making a suite or dress in Vietnam is a very popular thing. Why? Because it is incredibly cheap!
There are plenty of garments in Hoi An and the quality is excellent. It is the answer why engaged couples visit Vietnam. Not only to explore the country but also to get tailor-made dresses that fit them. A full suit without shoes costs you $ 100. Hoi An is probably more expensive than other cities in Vietnam as Hoi An is famous for it.
You can even send it home through the shipping service - by boat or plane, it depends on what you want to pay for the transportation and the time you need.
Some famous tailors:
1. Yaly - 358 Nguyen DuyHieu, Hoi An
2. A Dong Silk - 40 Le Loi, Hoi An
3. Lana - 130 Tran Phu, Hoi An
4. BaoKhanh Silk - 101 Tran Hung Dao, Hoi An
5. Thu Thuy - 60 Le Loi, Hoi An
6. Tony the tailor - 294 Nguyen DuyHieu, Hoi An
7. B'lan Silk - 23 Tran Phu, Hoi An