Vietnam – Exploring the mysterious lands
A long time ago, Vietnam has been known as a country with long wars. Nowadays, Vietnam is a tourist destination, attract a lot of international visitors. What makes a country to be amazing, what attracts visitors or why this is one of the top tourist spots on the list to explore, so many questions ... To answer these questions, we would like to list the best secret list of places, restaurants and hotels that we have just completed a trip to Vietnam travel one month ago.
# Day 1 - Hanoi
Our first destination is Hanoi. We booked air tickets from our country to Hanoi. After about 30 minutes at Immigration counter, we met the local drive at the entry – who will take us from airport to the hotel. He does not know English, just say hello, and help us carry our luggage. It takes about 40 minutes from the airport to city center. The street is quite wide, but the traffic is a little bit complicated. I see lots of motorcycles, they do not follow a rule at all :). We check in with a warm greetingsfrom hotel reception. Just in a few minute, we have got our room key. The hotel is located in the Old Quarter of Hanoi. If you follow our travel tips, you should also book your stay in this area for your convenience, sightseeing, and local food around Hanoi. We arrived in Hanoi in the afternoon after a long flight from the US and transit in Hong Kong, what a tired time. Being relaxed and getting a good night sleep to regain balance is what's needed right now. Our hotel is located on Hang Be street - very near HoanKiemlake. Perhaps this is the downtown line so many tourists. In the evening, we need to find a good local restaurant which can satisfy the hungry stomach. We walked around the streets and decided to go to a nearby restaurant.
It's Gecko Restaurant. Honestly, according to my personal assessment, this restaurant is only temporary. The price is not too expensive and the food is average. (score: 6/10)
Today is Saturday. In the old town, you can see the busy crowded Night market. They sell lots of things, from food and drink, clothes to souvenirs. If you come to Hanoi on the weekend, you need discover this market. We are the "food-lover"so we cannot miss this chance to taste many delicious and unique street food.
Highlights of the first day:
Total cost:
Destination:
Old Quarter Night Market: 8/10
Gecko restaurant: 6/10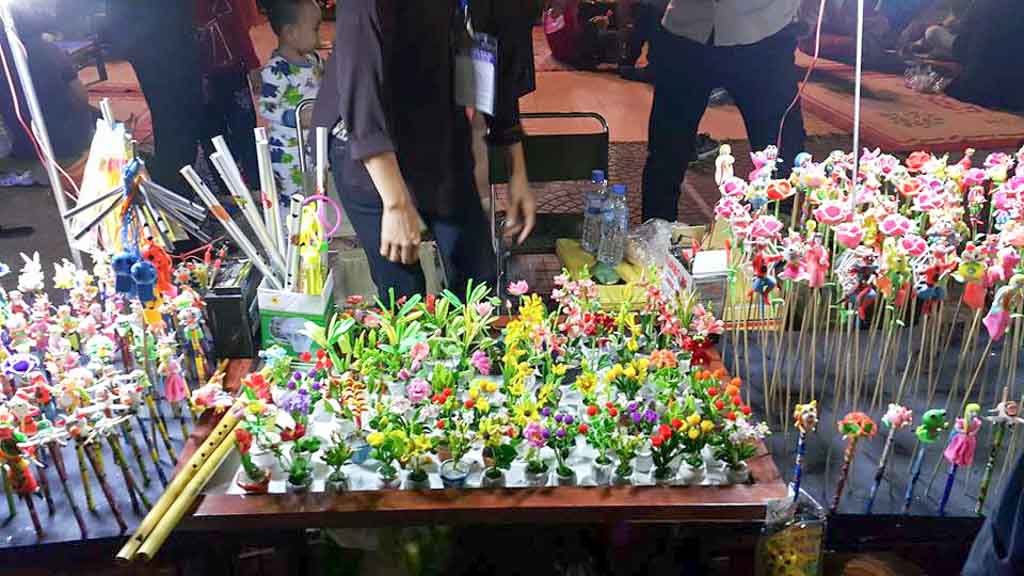 # Day 2 – Hanoi City tour
Highlight:
Take a walk around the old town and the Sword lake in the morning
Hanoi is the paradise of street food
Constructing frescoes
Hanoi Railway
Wake up early to find out the morning life of Hanoi is interesting. If you want to know about culture, people, morning a good time to discover it when the street is not too crowded with vehicles. Exactly, just one step from the hotel, our eyes caught a lot of interesting things. It is a roadside restaurant, right next to the small alley, very simple with just a few chairs and a small table, they sell some bottles of soft drink and cigarettes. You can find many shops like this in Vietnam. Perhaps it is because the culture of Vietnam is to drink tea. Besides, I also see a lot of breakfast stalls for everyone, and the special thing is they use the sidewalk for business. Sometimes it's just a small corner with 1 or 2 chairs around a table to feed on and a pot of water next to it, I guess it's a noodle soup like the pictures I see on internet. The next destination is the Sword lake – very popular for tourist. Morning in this place is quiet, there are many people out there doing exercise, or jogging. Perhaps this is the coolest and the freshest air because the old town is crowded whole day. We walked around the lake and returned to the hotel for breakfast and started the journey to explore other places.
After breakfast at the hotel and a short rest,we continue exploring Hanoi city. The next destination is "Dong Xuan" market - a quite old market. (more about Dong Xuan market) Although it is very near on the map we had to walk for 30 minutes to get there. In my opinion, this market is quite bustling and crowded with shops milling together. A lot ofcustomers, visitors are shopping around. The sound of seller's offer, bargaining from customers, it all make a very busy market. You can buy a few items here but please take my advice, always discuss the price with the seller – they will mark up a lot for foreigners. If you do not play with the price, you buy will buy very expensive items. If the seller says this $10, let's ask for $5 and buy finally it for $7.
Rating: 8/10
Wandering around some streets, we came to the next fresco road, where they drew pictures of the ancient streets of Hanoi on the walls of railway. After taking some pictures here, we follow this track. This is probably an very unique road as it runs across residential areas, breaking down the traffic safety rules aswe all know. They even use this place for business, as the little coffeeshop with signposts when the train is passing by, even they also let visitors sit and drink coffee on the track. Very nicely and strange. Of course, we did not miss the opportunity to wait for the train passing by and take some pictures.
Rating: 9/10
Now it's lunch time when we need to fill our hungry stomach. A list of dishes had beenmadeby usafter reading reviews. At the end of the day, we choose the first famous dish - "bun cha". Of course, it must be the very famous restaurant that president Obama has enjoyed when he was in Vietnam. That is bun cha Huong Lien restaurant. Because of the distance, we could not walk and had to take a taxi there. It takes about 20 minutes to get to this bun cha Huong Lien. And smashing our eyes is a shocking sight, there are too many customers waiting to be served, it was a long line. Probably because the restaurant is so famous. After 15 minutes waiting for seats we finallygot our dishes. The taste of it is not impeccable, a really delicious food.
TIPS: Do not forget to order beer while you eat.
Rating: 9/10
The next destination for the culinary journey is Trang Tien ice cream. In the midst of hot afternoon like this, having ice creams is fantastic. Address is no 35 Trang Tien street. There are many creams and the price is very cheap, only 7 000 Dong (0.3 usd) for 1 ice cream.
Rating: 8/10
The next dish we would like to introduce in the list is egg coffees. This one is quite famous that many people mentioned. The address is 39 Nguyen Huu Huanstreet, the name of this shop is "Giang Café". However, it is quite hard for us to find this cafe, because it is located in a small alley. Take a look from outside, it is quite small but when you get in, the space will be wider and airy. You should choose the second floor of this cafe for a good seat and enjoy this strange drink.
Rating: 10/10
Perhaps today we spend most the time exploring the famous dishes around Hanoi. And the next is "pho" –the traditional Vietnamese dish. Vietnamese usually have it for breakfast. You can see a lot of pho restaurants from upscale restaurants to street food stalls. If you come to Vietnam to explore food, recommend you to choose the street restaurant, the taste of food will be more original. Note: Pay attention to the places where many locals eat and ask price before take a seat. Go back to the pho we would like to introduce today, it's"Pho Bat Dan restaurant" with a very high review rating on Tripadvisor. The address is 49 Bat Dan, Hanoi. The price for a bowl is 50 000 vnd (~ 2 usd). And the food is really delicious.
Rating: 10/10
This is also the end point for today's journey.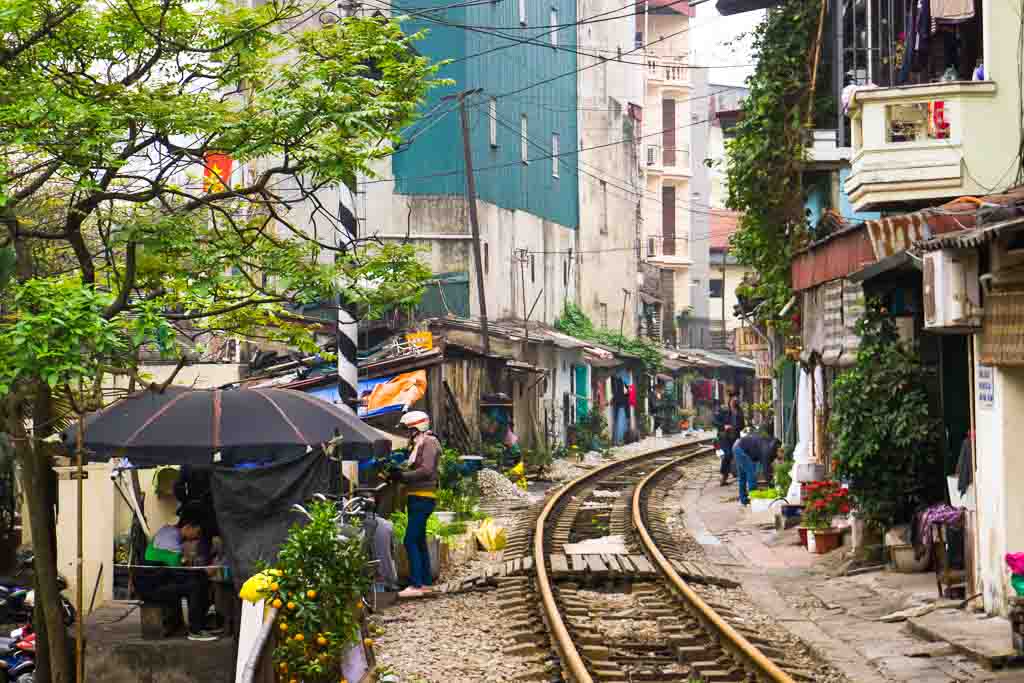 # Day 3 – Halong Bay (Overnight on the cruise)
Highlight
Halong Bay
Kayaking
Swimming
Sunset
Before coming to Vietnam, we have heard a lot about Ha Long Bay and this is also the destination that we have listed on the need to visit Vietnam. However, the process of finding a Halong Bay tour takes us a lot of time,all because of the price - too different for one ship. We received the first consultation from the main hotel that we stayed, they offer a lot of trains from 2 * to 5 *. At the end we also chose a train according to their advice is Halong Silversea Cruise for $ 155 per person – it's a 4 stars cruise. However, the problem is that this is not a good price. We walked in the old town area and saw lots of tour offices. We also visited 1, 2 of tour desk to find information and we were very surprised. Along with the products that the hotel introduced us here they only sell $ 130 per person. Unbelievably, the price has dropped by $ 20 per person, $ 2 is $ 40. We started to doubt about the product and price here. I really do not know what is true. We search through google and visit some sites or check with booking.com, expedia, agoda... The price is notbetter than the hotel. We continue to visit other site, there is a site that we pay attention that is Vietnam Amazing Tours. This is also the company that suggested us to write for them to have a big discount with our booking and of course, we agreed. However, I appreciate this website because they give us many good advises and tips very profession although we do not book with them.
Finally we book the tour to Halong Bay with Vietnam Amazing Tours. The cruise we booked is Halong Silversea Cruise for $ 125 per person. The price includes 2 ways free shuttle bus, all meals on beard, entrance fee ... They will pick you up right at the hotel between 8:00 and 8:15 am. It takes 4 hours from Ha Noi to Halong Bay, a quite long way. However, we really do not like the shuttle bus because the seats are quite tight, not comfortable and crowded visitors on the car. Often, tour prices are not included and they offer a variety of vehicles from 35, 29 to 16 seats. In addition, they also offer luxury limousines. Of course, you will have to pay extra if you book this car. We arrived in Halong at about 12:30 then boarded. After checking in, we had lunch on the cruise. Then there are many activities such as mountain climbing, sea bathing and kayaking. The best thing I like is kayaking adventure exploring Halong bay. It's about 40 - 45 minutes for each activity. In the late afternoon on the ship's sundeck, they held a small party with mocktail and fruit so that visitors can exchange with each other as well as watching the sunset. After dinner, there are several of other activities such as squid fishing or karaoke organized by the tour guide.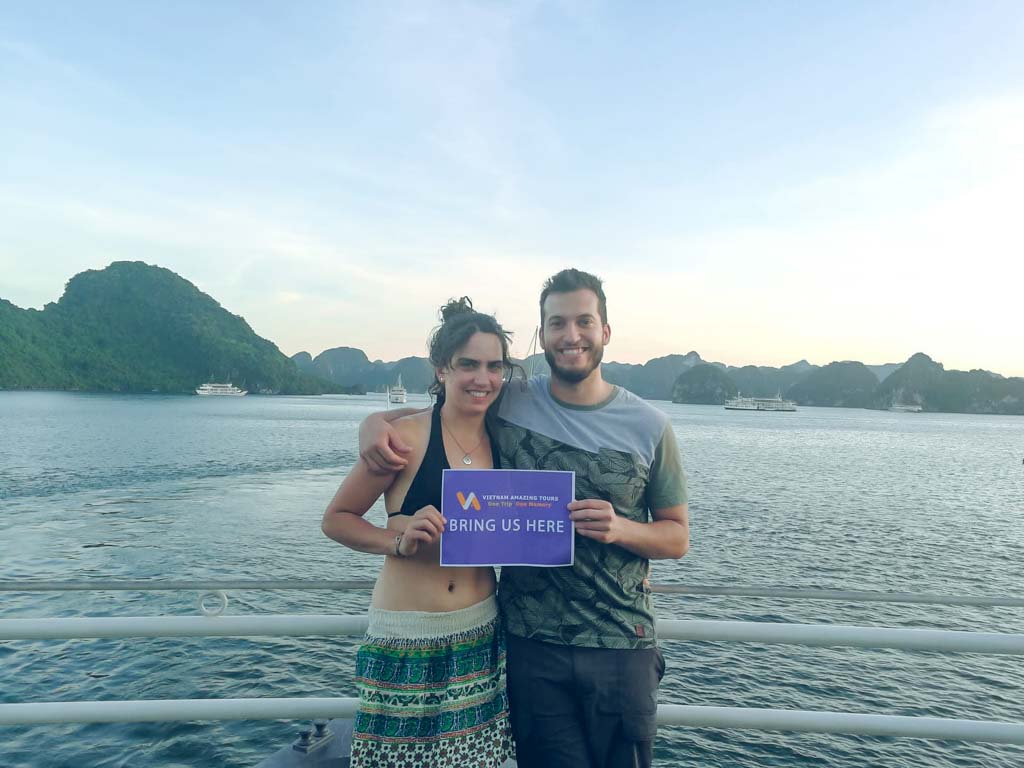 # Day 4 – Back to Hanoi
Waking up in the early moring on Halong Bay is great. The fresh air with pleasant sunshine across the rocky mountains.What a beautiful scene and you for sure should take some pictures. On the top of the cruise, there is also Tai Chi activitiy that we did not participate. After breakfast, we started to visit Sung Sot cave -one of the most beautiful caves in Ha Long Bay according to the guide. Plenty of visitors also visit this cave. However, the interesting point here is climbing up the moutain and taking pictures. The view on top is amazing. After that, we check out of our cabin and prepare for the brunch. There is also a small cooking class on the train. They teach visitors how to make spring rolls and enjoy this product.
Around 12:00 we started to leave the train, boarded the car and came back to Hanoi. Finish the trip to Halong Bay
Rating:
Staff: 9/10
Food: 8/10
Activities: 9/10
Moving vehicle: 6/10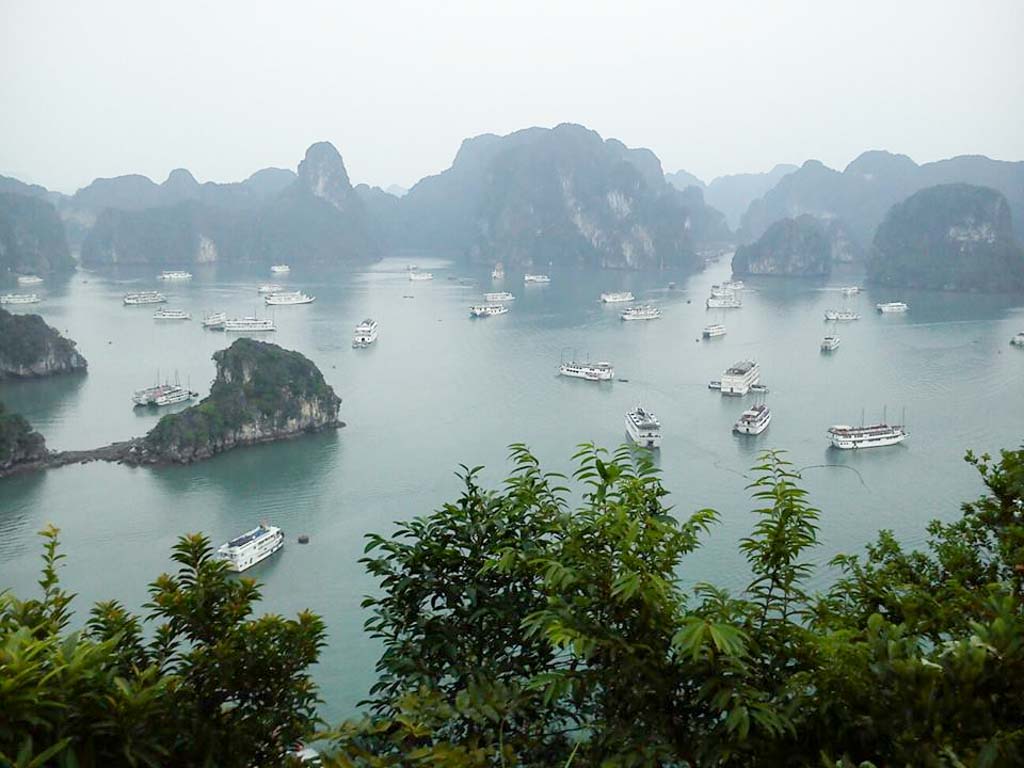 # Day 5 - Pu Luong retreat
Highlight
Walk through terraced rice fields
Discover some villages
Drinking alcohol
The next destination of the journey is to exploring Pu Luong. In fact, before we visit this place, we do not know anything about this place, we planned to go to Sapa. However, after listening to advice and information, Sapa is now developing so the number of visitors here is very high and the landscape is not as old as before so we decided to visit Pu Luong .And we were right! The scenery is beautiful and imposing. This place is quite far, we took 5 hours journey to get there. After lunch with some strange local dishes, we started our trekking trip to the villages terraced rice fields. Not only enjoy the scenery , we also learned about the culture, customs of the locals. Dinner was served by local dishes, and we had chance to taste the "rice wine" of the local people. We spent the night in a private bungalow. The facilities are just basic, but the living room is clean and quiet. End the day with lots of fun experiences.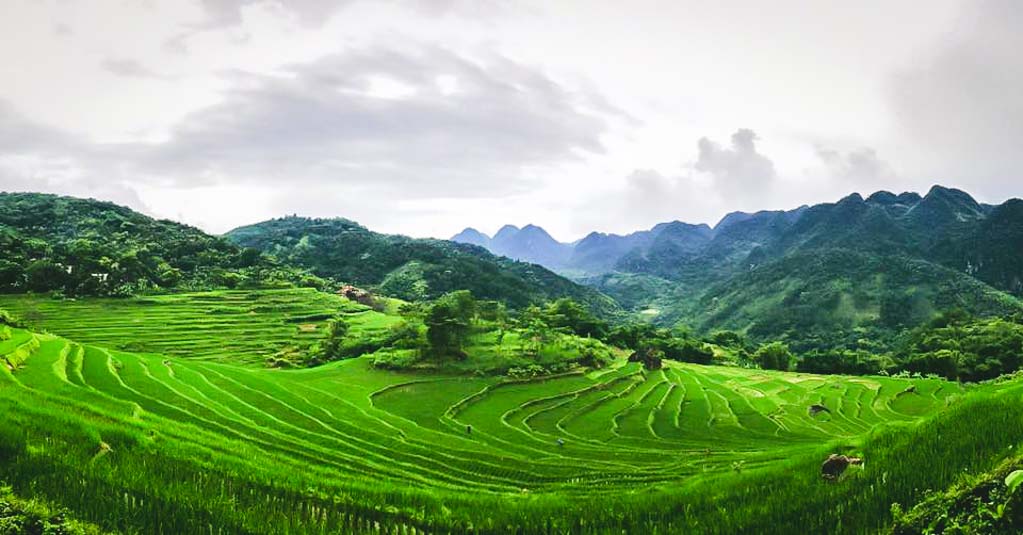 # Day 6 – End of the trip
Wake up in a wooded area with bare fields, simple wooden houses are interesting. After enjoying a simple breakfast, we continue our journey of discovery. We walked along the terraced fields, crossed the small suspension bridge, then visited the other villages and stopped in the giant water wheel. In addition, we also take a bamboo boat on a small stream before returning for lunch. After lunch, we got in the car, back to Hanoi. About 19:15 we arrived at our hotel. End this tour.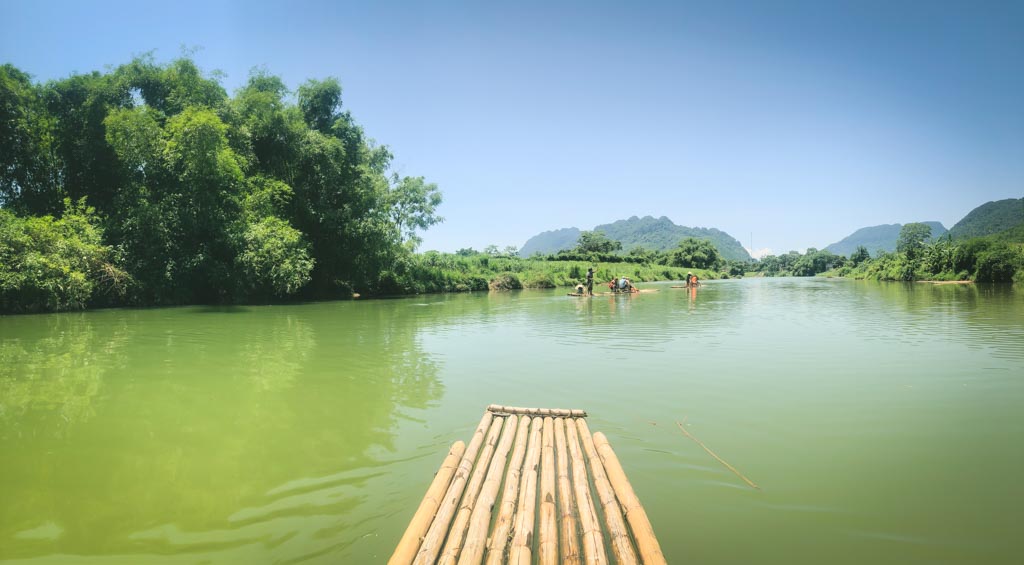 The five day trip to Northern Vietnam has brought us a lot of fun from local people, food and places we visited. Everywhere we go, there are always things we do not know,from the cultural experience with the locals, to the overwhelming scenery or the exciting activities on the itinerary, although there are still things we actually find annoying but generally, this is a great start to a trip to a mysterious country.
The next destination on the itinerary is the discovery of Ninh Binh – as known as Halong Bay on land and then Quang Binh, Hoi An – located in Central Vietnam.
The last destinations will be in Southern, asHo Chi Minhcity andMekong Delta. We will let you know about this trip in the next blog.
Thank you and wish you a good day!