3 easy steps to choose an overnight cruise in Ha Long Bay.
I have just finished a 2-days-1-night excursion to Halong Bay. This is probably a good choice for your trip to Northern Vietnam. Not only me but a lot of tourists alsowill choose a trip on a cruise over night in Ha Long Bay. However, not all the travelers will choose to have a cruise like that, probably because of a lot confusing information, many reasons make it difficult for them to choose a cruise which is suite their conditions. So, this is the reasons I wrote down these 3 most important steps in my opinion to choose a suitable cruise for Halong bay trip.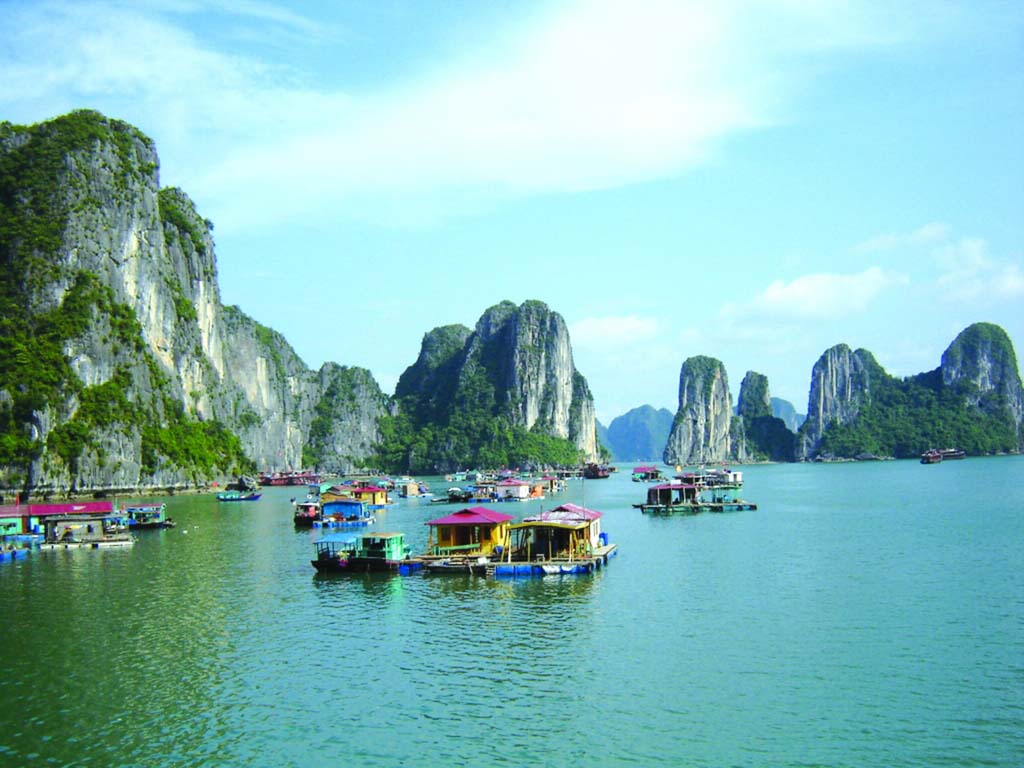 In Ha Long Bay, there are hundreds of small or big, wooden or iron, modernor traditional cruises, different schedules which according to the tour offices that I saw in the old town of Hanoi seem to be good and interesting. The equipment, facilities, what included, what is not and especially the price make me feel so confusing. I've done someresearches on google but the things I found were only touring websites, perhaps it made me even more confused because of too much unnecessary information. So what I write down here hopfully will help those who are looking for a good trip to Halong Bay like me.
So after finishing this 2 days 1 night excursion, I'll bring out to you 3 basic steps that you can base on to choose a suitable cruise.
First, you need to have a quick overview about Halong Bay and the reasons why you should visit it as your first landing site when visiting Vietnam.
What interest in Halong Bay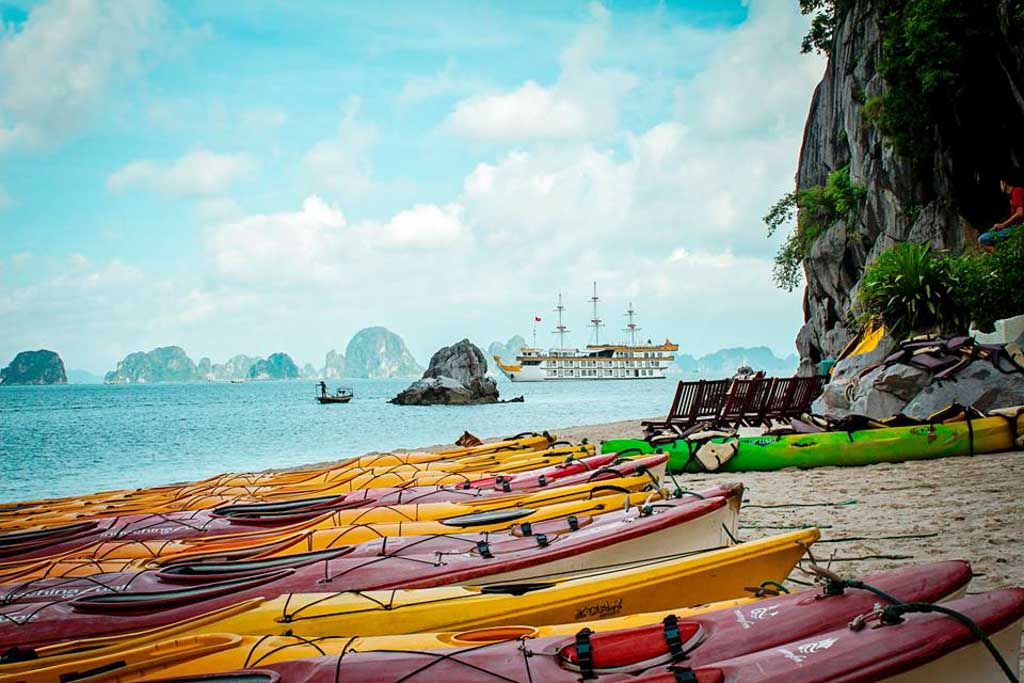 ► More about: Why is Ha Long Bay a Popular Tourist Spot
Halong Bay is one of the natural wonders of the world, is recognized as the world's natural heritage by UNESCO. Well I have to say this is probably the most popular thing that show up when you type "Halong Bay" on Google and our tour guide also told us about that a lot. With over 1600 small islands, countless limestones, mountains and natural caves, "Halong Bay" of Vietnam is an indispensable destination for all travelers to Southeast Asia. Perhaps because of this popularity, tourism here is very well developed.
Recently, American filmmakers have chosen Ha Long Bay as the background for their block buster movie "King Kong" with a beautifuly and magnificent scenery.
Why you have to go on a cruise in Halong bay at least once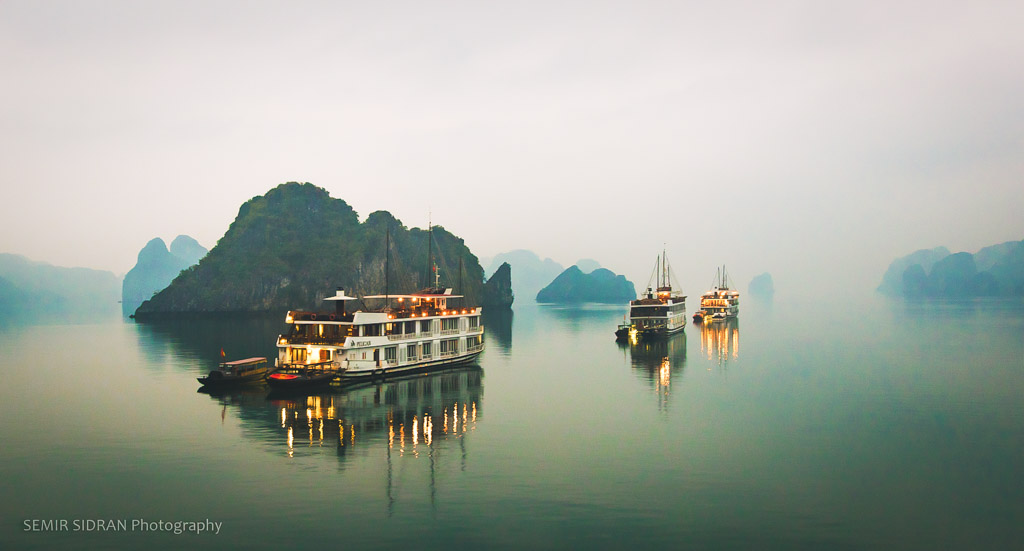 ⇒ Read also: 10 THINGS TO DO IN HA LONG BAY
Most of the cruises in Halong Bay are overnight trip or one full day trip. But the overnight one perhap will be more popular than, and I also take this popular an overnight trip. You'll just need to book a 2 days 1 night cruise for a price which is suitable with your budget. And all the things on the itinerary such as your accomodation on the boat, meals, entrance fee, activities are included in that package and you don't need to worry about anything. Of course, this journey is not only for you. There are at least 20-30 guests per trip, the bigger of the cruises, the more number of guests, unless you are a rich one and you can afford to hire the whole cruise. The fact that I prefer the privacy and also do not like the organized tour, but with this journey, the best way is to set the package. It will make sure that you can enjoy a trip to beautiful and famous places where you can hardly go on your own.
So let get into these 3 important steps that I have in my own experience.
#1 Time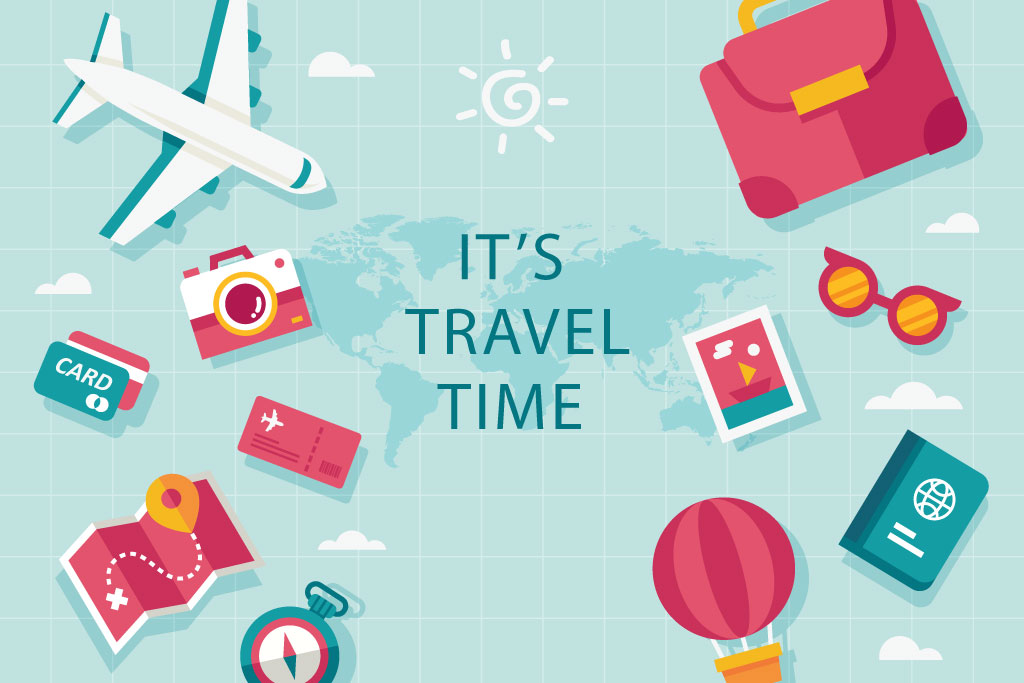 Time is the first factor you need to consider. How long do you have in Vietnam? How many daysdo you have for this trip? A trip to Halong is usually based on these following journeys:
Visit Halong Bay during the day:
Visit Ha Long 2 days 1 night, overnight on the cruise
Visit Ha Long 3 days 2 nights, one night on the cruise and one night on the island.
Visit Ha Long 4 days or more
If you don't have so much time, a day trip is the right one for you. Of course, it just gives you a glimpse of Ha Long, taking some beautiful pictures of the place. You'll have about 4 – 5 hours cruising around the bay. This kind of day tour is being sold a lot and you can easily book one from your hotel, travel companies or online.
With the option two, overnight on boat. This is a popular choice of many travelers. You'll have more time to relax and enjoy the scene of Ha Long Bay, you'll also discover the areas surrounding the bay. Beside that, you will have all the meal on boat, get a sunset party with a cocktail, wake up early to breathe fresh air with the sunrise on the bay, mountain scenery on the sea. What a beautiful and enjoyable experience!
With a schedule of 3 days or more, ofcourse you'll have more time to explore the bay. But you will have to switch to a small boat, not a big one. Activities and meals will also take place on this small boat until the evening you return to the main big boat.
Personally, if you have more than 4 days, you should choose an overnight cruise in Halong and also visit Lan Ha Bay. This is also a new bay in the same area. Cat Ba Island is also a famous place with its beautiful scenery and right next to Halong Bay,so moving from Ha Long Bay to Cat Ba Island is very simple. A visit to Cat Ba Island and Lan Ha bay will also be an interesting trip.
In short, time is yours, money as well, choose a trip that is suitable for both of your time and budget.
#2 Ha Long Bay, Bai Tu Long Bay and Lan Ha Bay. Please select one of these three.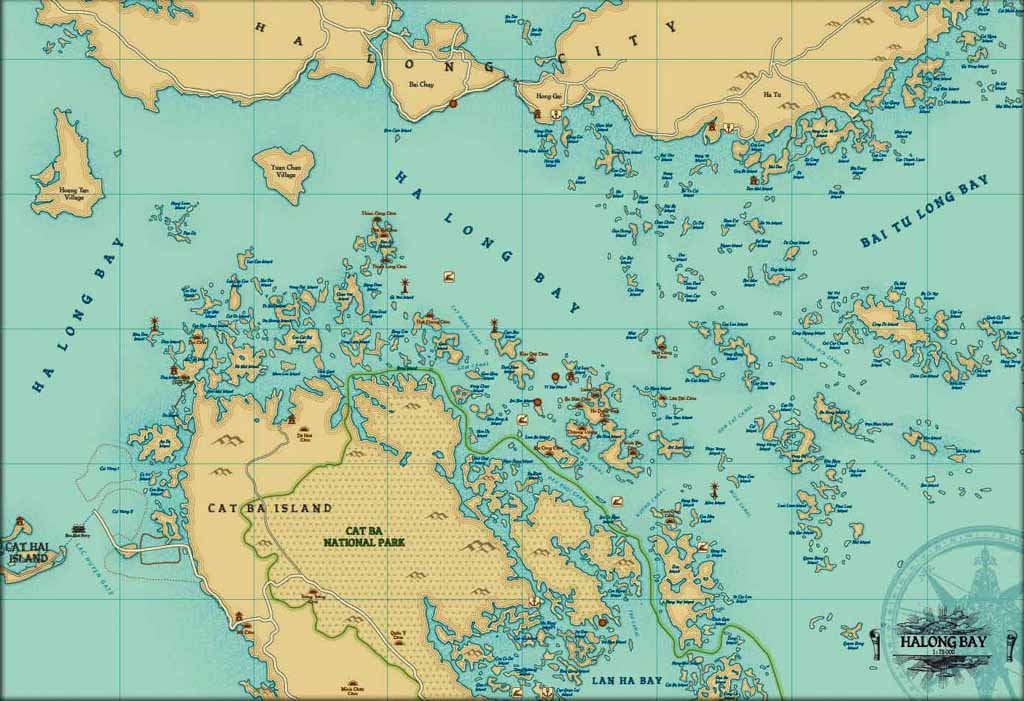 There are a lot of tourists and even tour operators are very confused about these 3 bays, and also on the internet, so what are the differences of those, Halong, Bai Tu Long or Lan Ha Bay. In fact, Halong Bay is divided into 3 zones, and these three areas also have different itineraries and landscapes. You should not think that Halong Bay is this whole area and once you go to HaLong Bay, you can visit all this three zones (you can see the exact location of the bay on the map below).
And the question is which bay that you'll choose to visit on your trip. There is some information about these bays and also the itineraries if you choose to visit one of them.
Halong Bay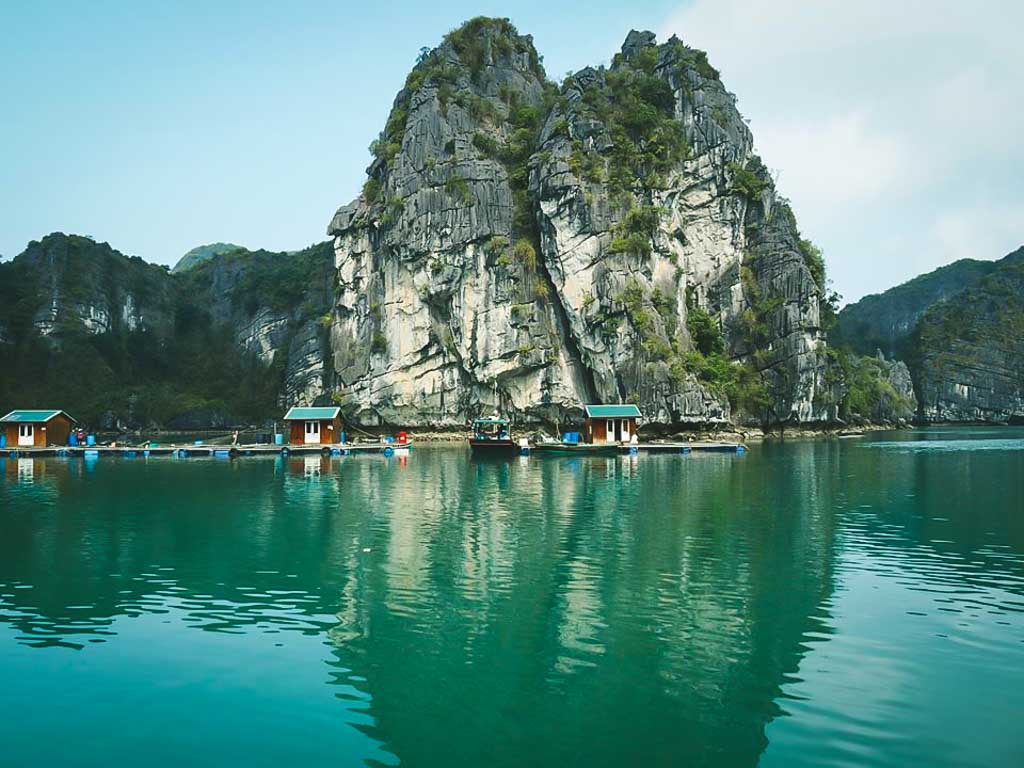 ⇒ See also: Best way to see Ha Long Bay
This is the basic route and most of the cruises in Ha Long are concentrated in this bay. From the wharf of Tuan Chau Harbor, the cruise will take you to visit the middle of the bay with all the attractions around such as the Supprising cave, the Titop island. Honestly, this one is too crowded and touristy. On my journey with this route, I noticed that there were dozens of cruises at anchor position. The attractions surrounding this area are so very very crowded. And it sometimes makes me feel not happy at all.
Bai Tu Long Bay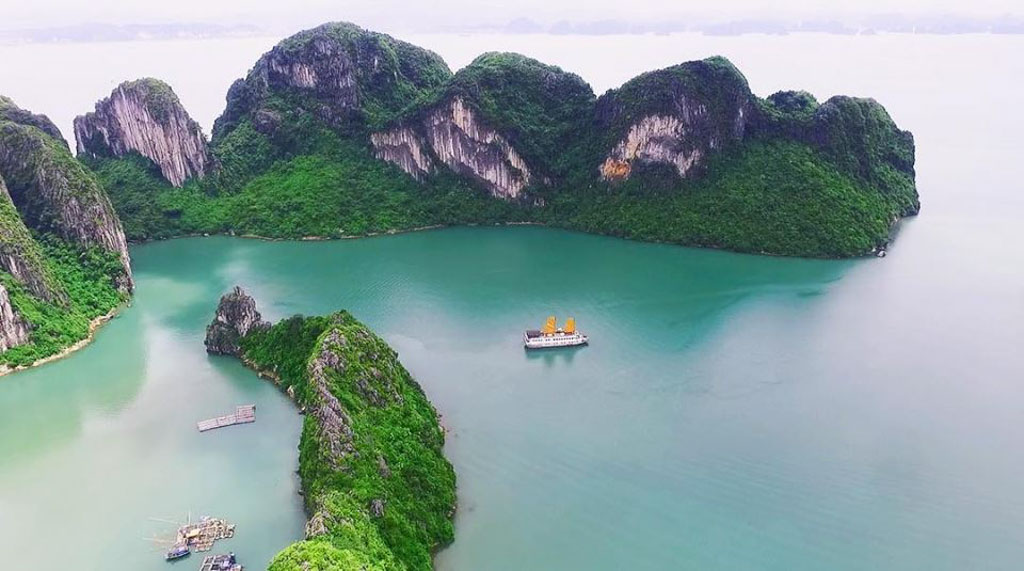 Bai Tu Long is not a new area, there are many cruises but less than Halong Bay. The cruises on this bay depart from Hon Gai harbor, so the travelling time will be farther and take a bit longer than cruises which depart from Ha Long Bay. About the landscape, Bai Tu Long Bay is as beautiful as Halong Bay but somehow the water here is much more cleaner and clearer.
Lan Ha Bay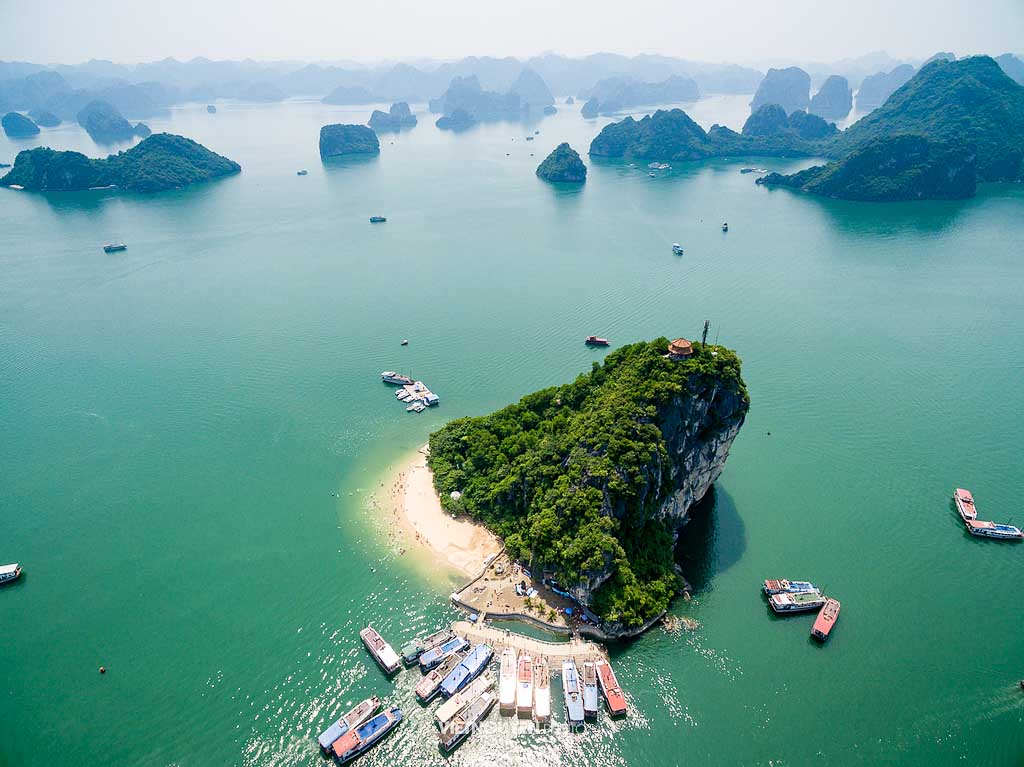 Lan Ha Bay is actually not in Ha Long Bay, Quang Ninh Province, it belongs to Cat Ba Islands,Hai Phong Province. However, Lan Ha Bay is close to Ha Long Bay so it is easily confused. Lan Ha Bay is a brand new route. Currently, this route also has many cruises, from normal to high class for travelers to choose. If you have a lot of time, you can combine the tours to both Ha Long Bay and Lan Ha Bay in this area.
#3 choose the best value cruise
This is probably a really difficult choice for travelers. How to choose the right boat you need? On the internet, on the cruise web site, you can find hundreds different types of cruises with a variety of traditional wood, iron railings, from small cruises with several cabins to dozens of cabin cruises and along with it the prices are very different. And even if you go to ask a consultant from a travel office, the company may not have the exact information about all those cruises.
So in this step we need to know more about the details of those cruises and will divide it into small steps:
A, Choose the type of cruise that you like
Almost all the cruises in Ha Long Bay will have 2 types, one is wooden boats, other one is iron modern boasts. Typically, small traditional design of Vietnamese boats, but it has not so many rooms and it is a bit old.The iron one is more modern, the level of safety is also higher and the number of guests ofcourse is also much more than the wooden one. In my opinion, too many guests on a journey make me feel uncomfortable. On average, each ship has a range of 20 to 45 guests. Therefore, you should carefully consider the size of the boat such as the number of cabins, the maximum number of guests, the type of boats and the service review of all the boats on the website.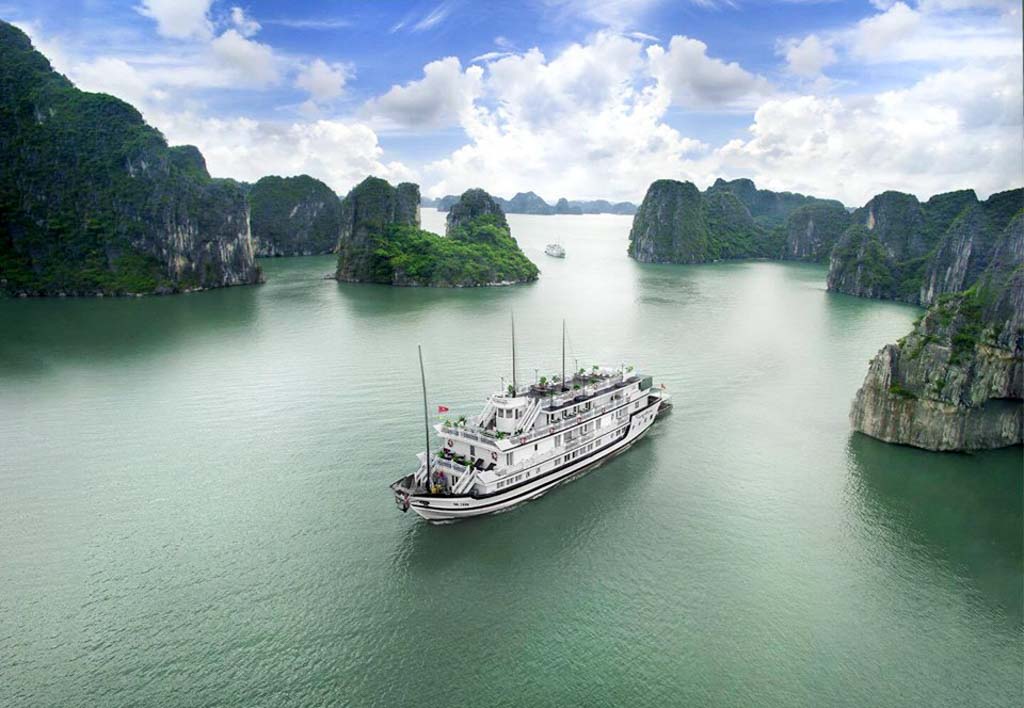 ► Read more: The Best Ha Long Bay Cruise Recommendation
B, Price, What is included and what is not, reliable travel agent.
Well, perhaps travelers will pay attention to the price first. I like a good trip but money in my pocket is only a limited budget, or I have to get the boat with a good price. A trip for two days or more will costat least 100 USD, so everyone wants to find a boat with reasonable price. When I came to Vietnam, I walked to see around Hanoi and saw lots of tour offices even right next to my hotel, I tried to check the price of some tour offices, but there are also so many cheats here, mostly from the things included and not included. You can see the price tag on the billboard at an extremely attractive price, when you come in and check it carefully, you might not be possible to book the trip with that price, even if you book it, they will cut down a lot of services. So my advice for you is not to choose these travel agents, you can book the trip from your hotel where also sell the trip. Sometimes when you book their room, you will be informed immediately about Halong Bay cruise, but the price they give is not better than the tour office that I checked at all, sometimes the price they offer is even more expensive than what I saw☺ Also, you can book online through some popular websites such as booking.com, expedia,…. The fact is you are not sure that the cruise you booked through the pages of great prestige such as booking.com, agoda, expedia ... is a good price. I have double checked by contacting directly with the cruise that made the offer and compared it to the price on booking.com and indeed they were higher than booking.com. I have contacted some companies in Vietnam and the price they give me is better than the price on booking.com. So this confuses me a lot because I do not know what is the true value of the cruise and where I should choose to book. There is a certain confusion. And finally, I chose book through some online companies like Vietnamamazingtours.com, Halongbaytours.com ... after comparing prices with Booking.com. Be sure to read carefully what is included and not included in the price.This is things that usually will be included: Accomodation, entrance fee, meals, kayaking, swimming, visiting caves, cooking classes, tai chi ....Pay attention to this, most of the booking website such as Booking.com, Agoda or Expedia will not included the shuttle in their price. And if you book a tour, remember to book a 2-way shuttle bus and add it to the payment.
Find a best cruise halong bay via vietnamamazingtours.com. Get best price and many promotion:
In summary, Halong is an interesting place to visit once traveling in Viet Nam. Make the right choice for a great trip with a good price and qualified service. Do not let the confusing information ruin your trip and I wish you have a memorable trip!