LAOS
The Republic of Laos is the sleeping beauty of Southeast Asia. It has been cut off from the rest of the world for decades, so tourism is still in its early stages here. Laos seems to be a place where time slows down, because even in the capital city, Vientiane, people don't seem to be in a hurry. The government is putting in place a green approach to development so that Laos's natural ecosystem can stay as natural as possible. This makes Laos a dream place to visit for people who love nature and wildlife and want to find out what it really means to get away from it all. And that is the reason you need to travel to Laos one time.
Laos is not only a place where no one is in a hurry, but it is also a Buddhist country where saffron-robed teens peek out of wats to see what is going on (temples). And while being the most bombed country in the world isn't exactly a glowing recommendation, a trip to Luang Prabang's World Heritage temples calms the soul. Explore Vientiane, the smallest capital city in the world, which moves at the same calm pace as the Mekong river that flows by it.
Best time to travel to Laos
Between November and February, during the cool part of the dry season, is the best time to visit Laos. During these months, the air is much cleaner and it doesn't get too hot. If you want to go on a trip in November or December, rivers will still be high from the rainy season, making river travel easier and faster. But this is also the busiest time to visit Laos, so there are more people around.
Dry Season
Laos's dry season is from November to April, and it is divided into two parts. The cool dry season is from November to February, and the hot dry season is from March to April. Both of these months are very hot, but April is the hottest month of the year. From March to May, farmers set fire to rice stubble and overgrown forests to make the soil better for growing rice. When making travel plans and arrangements, this is a time to be careful because the smoke in Laos at this time can ruin photos and make your eyes feel bad. But if you go to Laos now, you won't find as many people there because it's not a peak travel time.
Wet Season
Laos has a wet season from May to October, but it doesn't rain all day long. Instead, it rains for a few hours each day. Southern China and Vietnam may send rain early to the northernmost part and northeast of Laos. Because they are higher up, the towns along the Mekong River south of Vientiane get the least amount of rain. In most of Southeast Asia, the wet season leads to infrastructure damage. Laos has sealed roads, so rutted roads aren't as big of a problem there. However, Mountainous Laos is also prone to landslides because of the way the land is shaped. The rivers can get rough, and it's not unusual for bridges to break down and cause delays. Be ready for slow travel times and delays. On the bright side, the wet season is great for boat season. When it rains, the river's water level goes up. This makes it easier for slow boats to move faster. Another good thing about this time of year is that the air is cleaner and there are fewer people. As long as you have rain gear, traveling during the rainy season won't be a problem other than the chance that your trip will be delayed. Visit the Bolaven Plateau in southern Laos during the wet season to see all the plants come to life. The area is full of bright shades of green. Don't let the thought of possible rain stop you from planning a trip right now. Even though it sounds like it will rain every day for five months, it will only rain for a few hours each day during the wet season. There won't be constant torrential downpours.
Destinations Highlight
Luang Prabang was named a UNESCO World Heritage site in 1995. It is best known for its many Buddhist temples and peaceful location on the banks of the Mekong River.
The Mekong River flows from the northwestern corner of Laos to its southernmost point, where it forms a natural border with Thailand. Cruising on the river is a great way to see parts of the country that are hard to reach by road.
Plain of Jars is a place in Laos where hundreds of mysterious, old stone jars dot the landscape.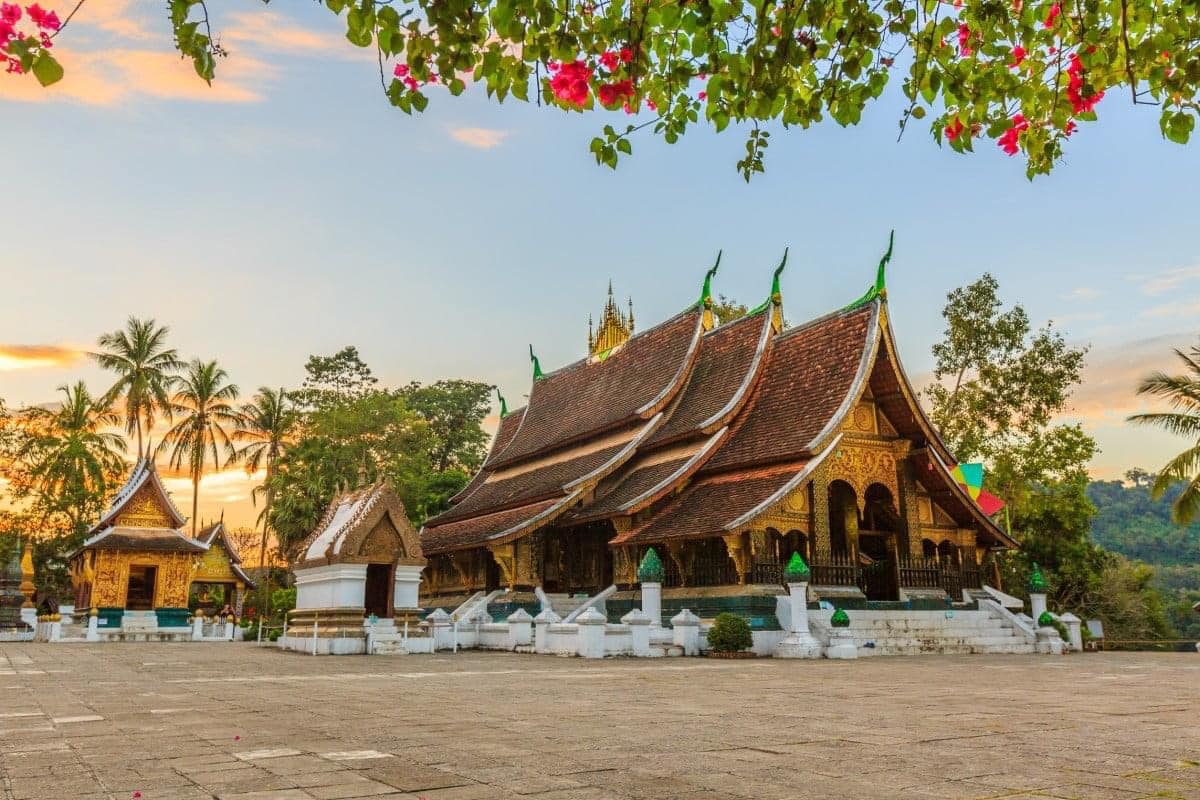 Obtain a Laos visa
Visa
Tourist visas are required to enter Laos. Tourist visas for 30 days are given out by the Lao government at all international airports and most border crossings.
Go to the visa desk when you get to the airport, and staff will walk you through the process. The process is fast and easy to understand.
What you'll need:
$30–$45 USD or CAD $40–$60 in cash
One photo the size of a passport (4cm X 6cm).
Your hotel's name and address.
To get in, your passport must have at least 6 months left on it.
Your passport must have two blank pages for the visa and entry/exit stamps. (Check your passport before you leave so you don't get turned away) (endorsement pages are not considered blank).
Currency limits for getting in and out
Local currency cannot be brought in or taken out of the country. 2,500 USD or its foreign currency equivalent must be declared.