Hoian Street Food
Vivid images come to mind when come to Hoian. Yellow heritage buildings, quirky cobbled streets, Rows of multi-colored lanterns, and a lot of others. All create a destination to must add to the list of things to visit. And the cuisine is a part of that. You should sample Hoi An's food to truly get a 'taste' of the place.
Hoi An's fascinating history as a trading port is not only evident in its architecture. It's reflected in its food, too. As a former 'melting pot' of traders, Hoi An street food features influences from China, Japan, the West, and more. that is dishes that are distinct 'Hoi An. These delicious creations incorporate ingredients that can only be found here. And all are served the freshest greens from the nearby Tra Que Vegetable Village.
The diversity and distinctiveness of Hoi An's food have caught the attention of travel bloggers and chefs around the world. If you are a local food enthusiast then this is truly a destination that will not disappoint you.
Now, we will take a look at the extremely attractive dishes in Hoi An. Foods to put on the list for a trip to Hoi An.
#1 Cao lầu (pork rice noodles)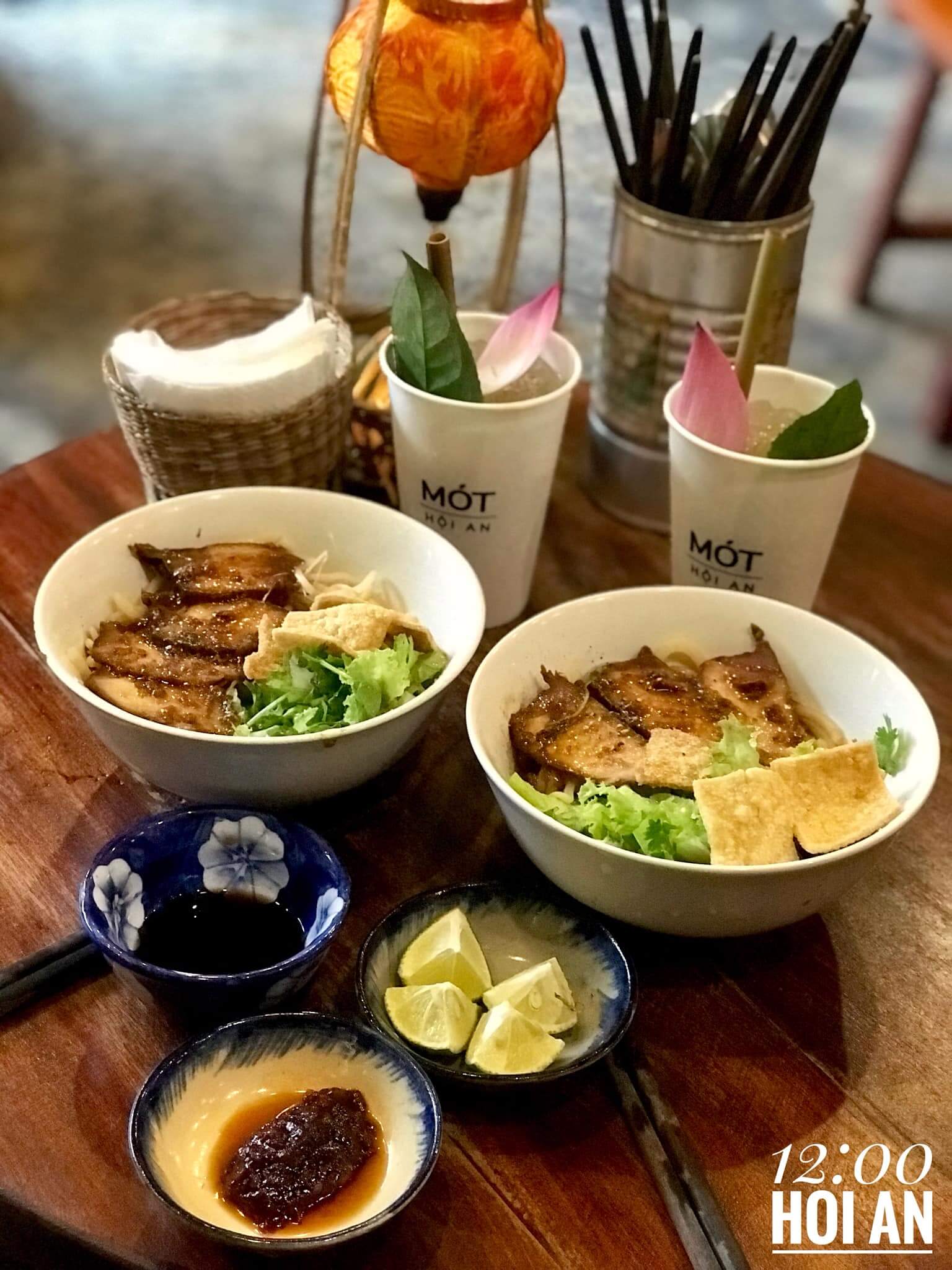 If you're going to try just one dish, this is 'Hoi An in a bowl'. It's unique to the town and made from local ingredients according to a secret recipe. The origin of the dish is vague, and while some believe it was inspired by Chinese cuisine, some claim that it was modeled on Japanese culinary tradition. What's special about it? this is a noodle consisting of noodles made from fresh, locally grown rice, lye solution made with ashes of local trees, and water from the local well (Ba Le). Wood ash from Melaleuca trees on the nearby Cham islands is mixed into this water. Along with the steamed rice noodles, a bowl of Cao lầu also consists of thinly sliced roasted pork (char siu), greens, bean sprouts, and just a splash of flavorful stock. This is finished off Vietnamese-style: with a spoonful of broth, chili, and lime. Superb!
TRY:
Cao Lầu bà Bé: 1 Trần Phú, Cẩm Châu

Quán Cao Lầu Thanh: 26 Thái Phiên, Phường Minh An

Morning Glory Original: 106 Nguyễn Thái Học, Phường Minh An

Ong Hai (Mr. Hai Restaurant): 6A Trương Minh Lượng, Cẩm Châu
#2 Bánh ướt thịt nướng (grilled pork spring rolls)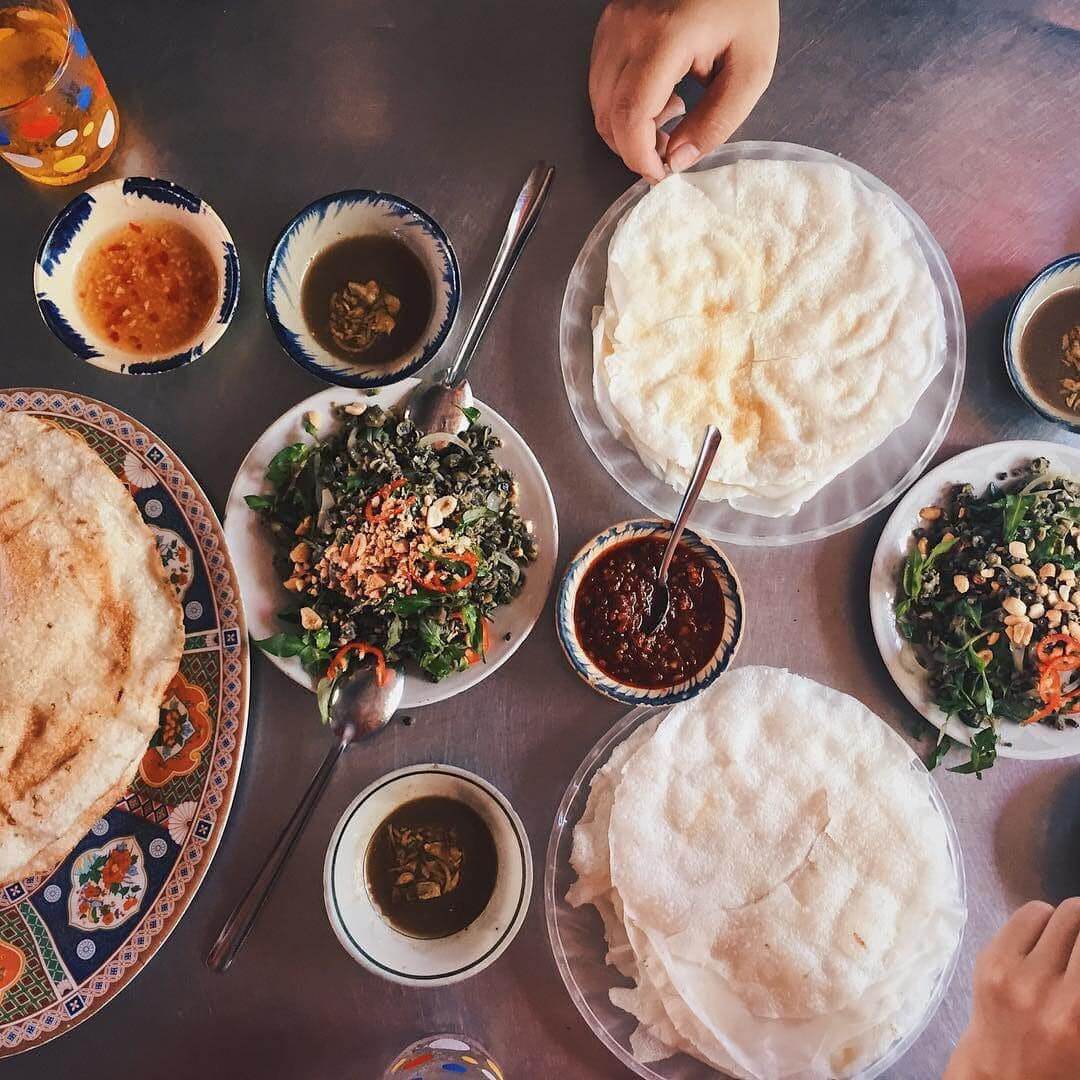 Banh Uot Thit Nuong or grilled pork spring rolls was worth trying when walking around. Fun! The main ingredient is marinated pork cooked on lemongrass skewers over a charcoal grill ('thịt nướng').
The pieces of pork are then wrapped into the rice paper to make a spring roll. Two types of rice paper are used. One is a common rice paper sheet and the other is a "wet" rice sheet called "Bánh Ướt".
Finally, the rolls are dipped in a sauce, usually made from soybean paste, peanuts, sesame, fish sauce, and chili. The result? A delicious combo of smokey and fresh tastes and textures.
TRY:
Bale Well Restaurant: 51 Trần Hưng Đạo, Phường Minh An

Sidewalk stalls next to Kazik Park: 13 Trần Phú, Cẩm Châu

Bà Hường: 31 Tiểu La, Phường Minh An
#3 Mì Quảng (quang noodles)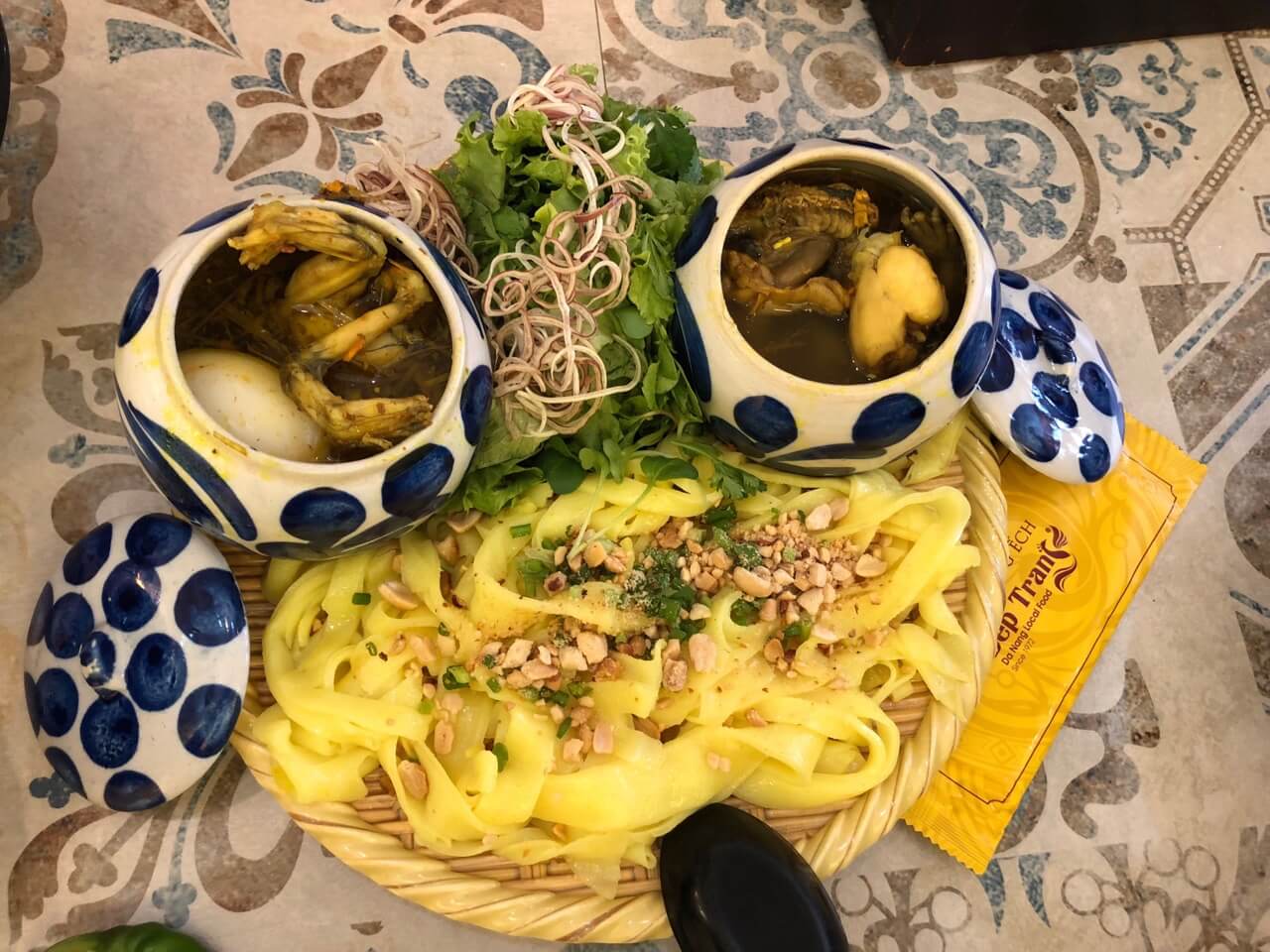 Unlike other Vietnamese noodle soup bowls whose broth will cover the noodles almost completely, Quang noodle broth is barely enough to slurp during the meal. This dish's ingredients include rice, vegetables and meat. After being soaked in water, the rice is ground to a fine powder and made into attractive smooth white noodles. Accompanying vegetables are water morning-glory, cress, young banana flowers, and herbs. Especially, the famous Tra Que savory of Quang Nam Province will give the dish more flavor.
TRY:
Mì Quảng Dì Hát: 81 Phan Chu Trinh, Phường Minh An

Mì Quảng Ông Hai - Mr. Hai Noodles: 6A Trương Minh Lượng, Cẩm Châu

Mì Quảng Hát: 4 Phan Chu Trinh, Phường Minh An
#4 Cơm gà (chicken rice)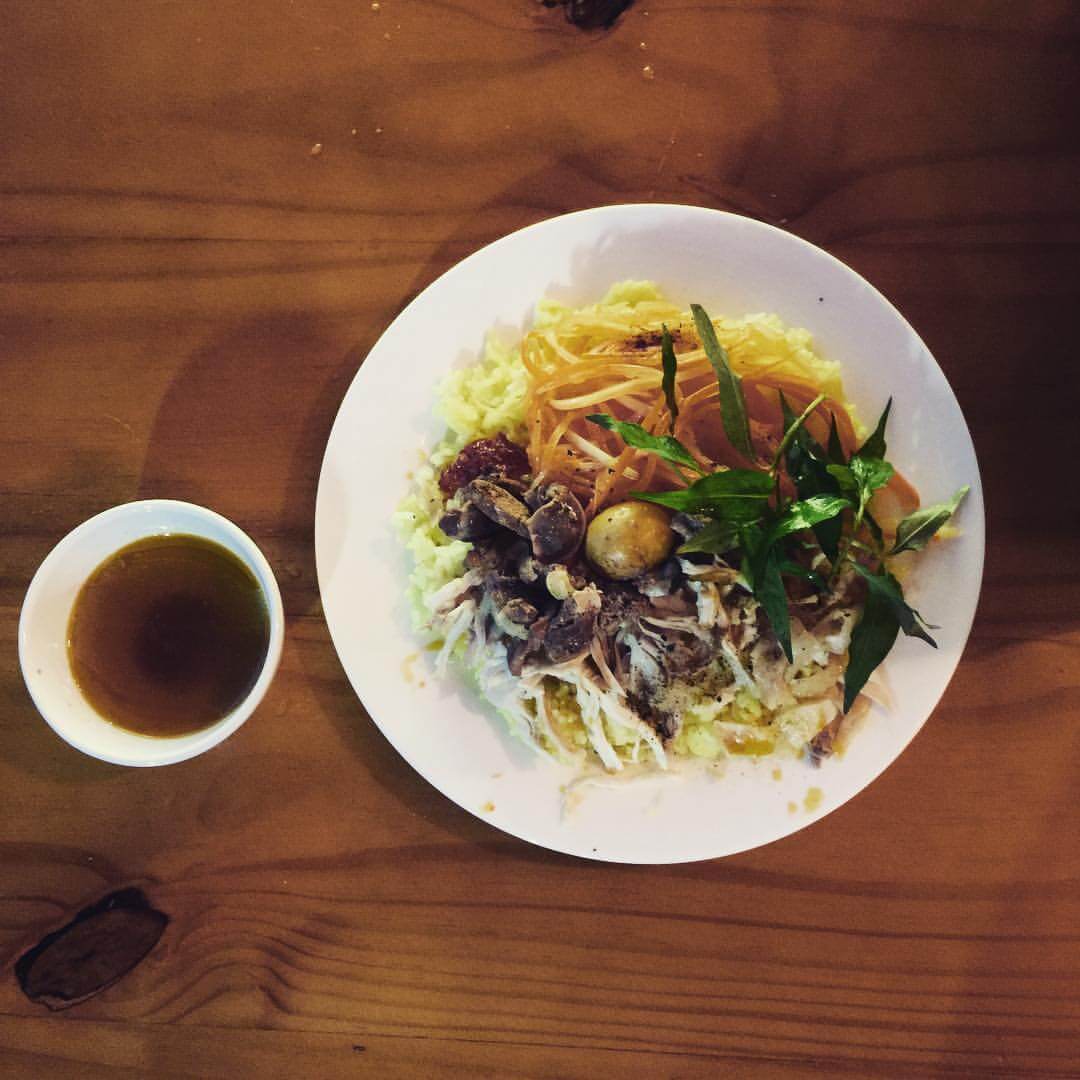 It's not hard to find a local restaurant for Chicken Rice. There are three main ingredients for Com Ga: chicken, rice, and vegetable. Since it's similar to the chicken rice from countries such as Singapore, Thailand, and Malaysia, it's believed to have originated from the Hainanese dish imported by Chinese immigrants. The chicken rice will be served with rice on one side of the plate, and the vegetable on the other side. The chicken will be on top of the rice with the sauce and some chili sauce. Then you just need to mix it up and serve. The fresh vegetable will be a very good balance with the taste of chicken and the rice. All in all: a well-balanced meal.
TRY:
Cơm Gà Bà Buội: 22 Phan Chu Trinh, Phường Minh An

Hoi An chicken rice: 47/2 Tran Hung Dao
#5 Bánh xèo (savory Vietnamese pancake)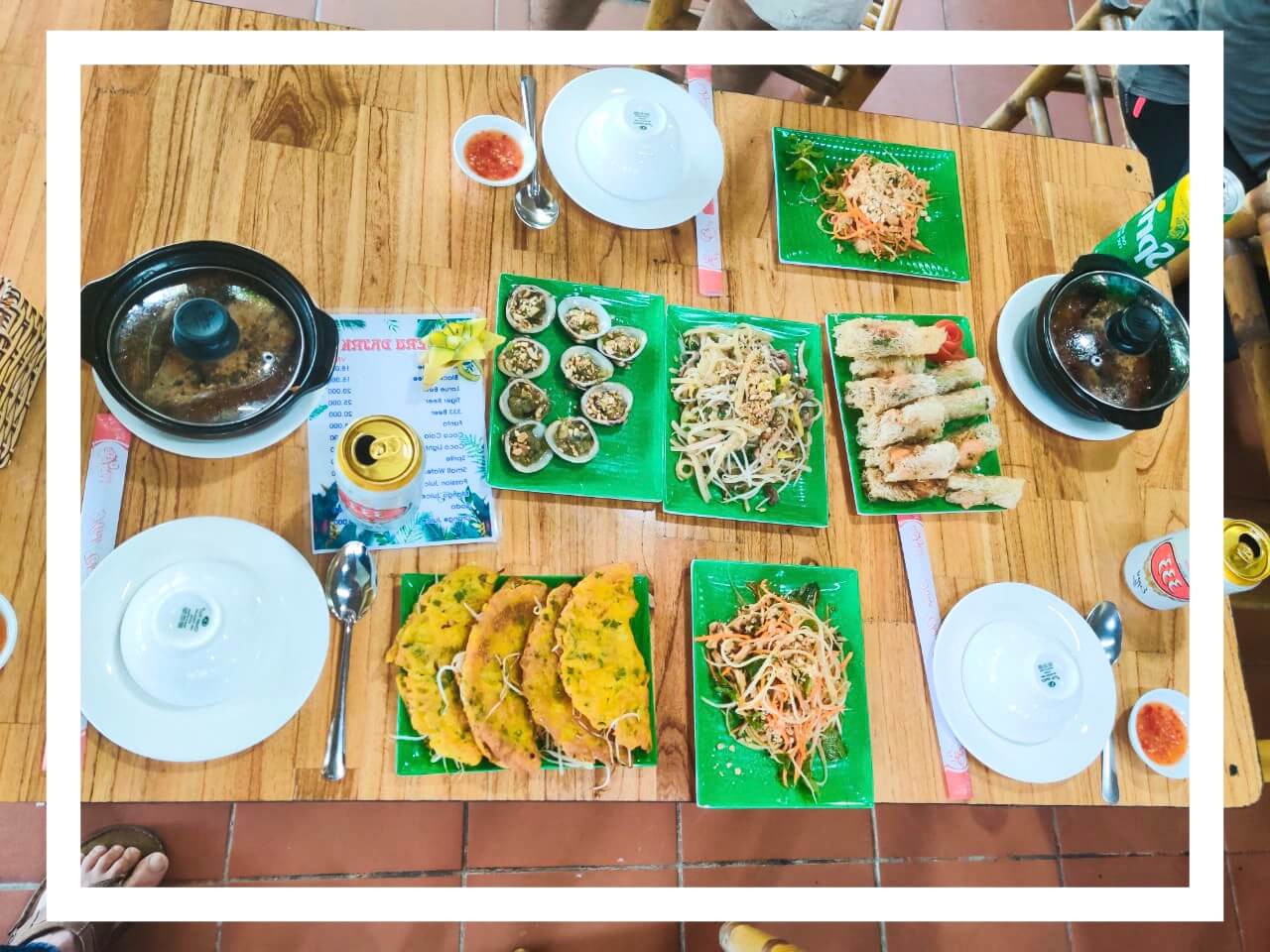 Banh Xeo is a Vietnamese sizzling crepe or sizzling pancake. It is named for the loud sizzling sound it makes when the rice batter is poured into the hot skillet. You are easily enamored by the savory 'pancake-spring roll' you can get all over the country. it's the perfect combo of fried food with fresh food. This savory thin pancake is filled with thin slices of pork belly, whole shrimp, mung beans, and bean sprouts. It is served with a variety of fresh vegetables and Vietnamese herbs and a side of fish sauce dipping sauce. The first eat will melt your taste buds. Trust me!
TRY:
Bánh Xèo Cô Anh, Sông Hoài: 59/32, 18/8 Phường Minh An

Bánh Xèo Minh Tú Chợ Hội An: Chợ ẩm thực, Old Town
#6 Bánh mì (Vietnamese baguette sandwich)
What can I say now? Yes. The best bread in the world that I can confidently recommend to everyone. It has appeared here, Hoi An Old Town. It is serving a huge number of customers from foreign to local people. But at a very cheap price. Do you believe it? For only about 1.5 USD you have bread with a crispy crust, inside with meat, vegetables, and pate... All these ingredients make for perfect bread. I loved it from the first bite. However, I had to queue for 30 minutes to get it, but I'm happy to have to wait. It's worth it. So, It is the first one to try when traveling to Hoian.
As with all places in Vietnam, you can find this baguette-like staple sandwich at street stalls across Hoi An. While you can get bánh mì everywhere, the late American chef and travel journalist Anthony Bourdain said those served at Bánh Mì Phượng are the best in Hoi An.
Note: the late American chef and travel journalist Anthony Bourdain said those served at Bánh Mì Phượng are the best in Hoi An.
TRY:
Bánh Mì Phượng: 2B Phan Chu Trinh, Cẩm Châu

Madam Khanh - The Banh Mi Queen: 115 Trần Cao Vân, Phường Minh An
See more: Things can not be missed while touring Hoi An
#7 Bánh xoài (mango cake)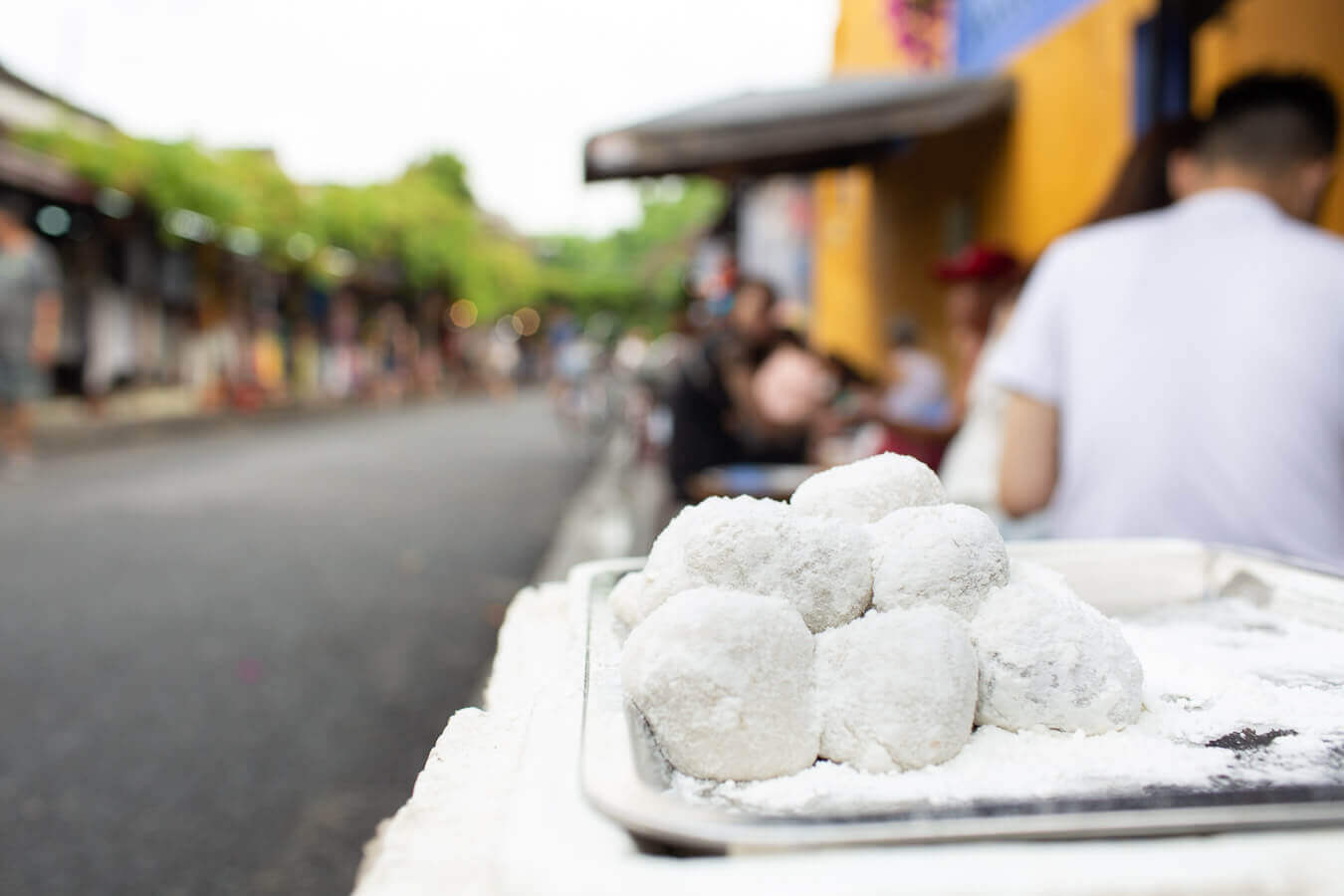 It is named "mango cake", But, this is a cake made nothing from mango. Because the name actually comes from its shape being like a mango. You can find it from the street vendors as you stroll about the Old Town. Mango cake is made from sticky rice outside, peanuts, and sugar inside. It is a kind of sweet cake that you can eat as your dessert or as a kind of snack. Some compare it to Japanese mochi or Chinese tang yuan rice balls.
TRY:
The street-vendor stalls close to the Japanese bridge.