Golden Bridge - Bana Hill - the can't miss spot in Vietnam 2018
There is a bridge in Central Vietnam, which you will think only in the legendary film as the lord of the ring... A mountain bridge supported by giant hands. That is Golden Bridge. Recently, Golden Bridge (Cau Vang) is a hot key word on google and the heat has not cooled down yet. If you have a chance to travel to Vietnam, take a look at it.
It took nearly one year to finish the construction of this bridge. The 150-metre (500 feet) long footbridge, perched 1400m above sea level, costs almost 2-billion USD investment to attract more tourists. Two giant stone hands, emerging from trees, hold up gleaming walkway to the sky – as the concept of where it is located, Ba Na Hill – the road to heaven.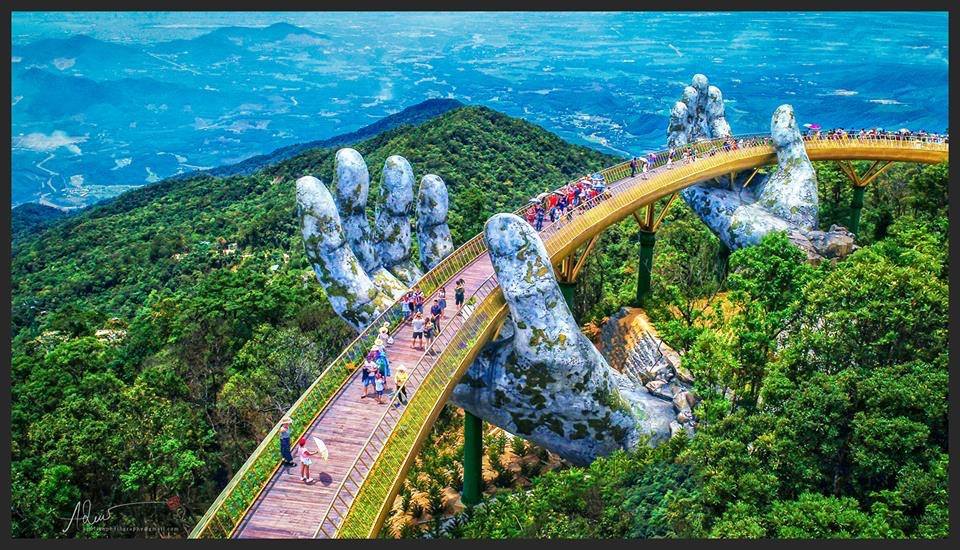 Golden Bridge (Cau Vang) – Photo: banahills.sunworld.vn
⇒ Read more: What is so interesting about Hoi An anyway?
The two giant hands are considered as God's hand supporting Vietnamese bridge in particular, or we can say God supports Vietnamese tourism in general. On the other side, the bridge could be like a long silk flap carefully held up through forest hills by two hands of a woman. From here, visitors can get a glimpse of Da Nang city with beautiful coastlines or simply enjoy themselves among white clouds, blue sky and green forests.
Opened up in June 2018, the Golden Bridge has drew more and more attention, not only from Locals but also from Internationals. The Bridge places in Thien Thai garden, a part of Ba Na Hill – a hill station and resort located in Truong Son Mountains, west of the city of Da Nang, in central Vietnam.
Ba Na is a name having many interesting meanings behind. This region was discovered in 1919 by French colonists. There was a rumor that once French came up to this area and found out there were a lot of Bananas (Banane in French), so they called it Banana Hill but Vietnamese pronounced it as Ba Na. According to writer Nguyen Ngoc, Ba Na means "our mountain" in the Katu's language. The French built Ba Na into a resort to serve French authorities and officials. Ba Na has become a promising tourist spot with rich variety of entertainment choices and is a must-to-visit destination when coming to Da Nang.
Because of the high location, the weather in Ba Na is cool year around, which is ideal for escaping from hustle and bustle or having a relaxing mind away from stress and daily worries. With various flora and fauna existing there, Ba Na is recognized as a nature reserve by Vietnamese government.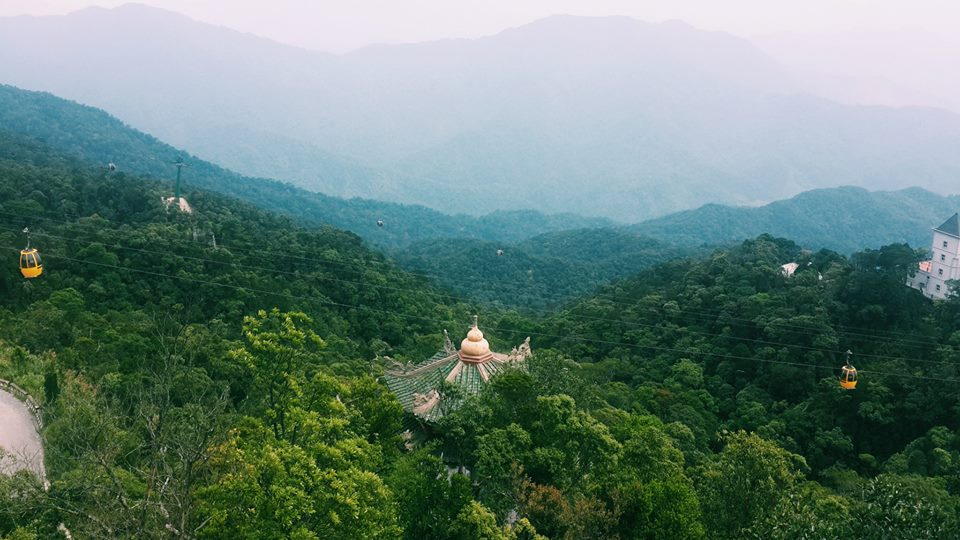 In the middle of forest hill, view from cabin cable car
► See also: Things can not be missed while touring Hoi An
Before the Golden Bridge, Ba Na is well-known with the worldwide longest non-stop single track cable car at 5801 metres in length and also the world highest difference between departure station and arrival station 1,368m. From the cabin, you can get the breath-taking view of landscape with floating clouds, spectacular mountains, smoggy forest and magnificent waterfalls.
Ba Na is a place for everyone: it suits for teenagers – who want to take a lot of nice photos, they can take photos with famous person in wax statue museum, they can walk around while taking snapshots at Le Jardin D'Amour – a romantic flower garden or French village with ancient French architecture; it suits for family – those want to make memorable moments with each other, there is amusement park with variety of games, there are hotels for a pleasant stay, there are stylish and sophisticated restaurants serving delicious dishes; it suits for those, who are interested in Buddhism and they will find peace in spiritual landmarks with the outstanding architecture structure – Linh Ung Pagoda, where the 27m-height Shakyamuni statue on 6m-height lotus is placed; it suits for newlyweds – a large number of impressive pre-wedding shoots are filmed here, etc.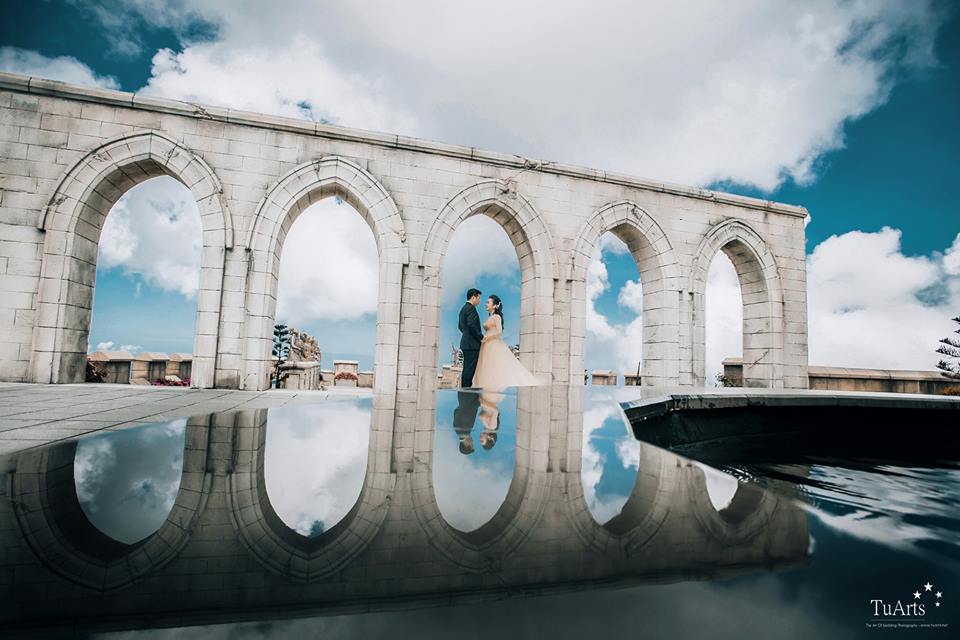 Pre-wedding photoshoot at Ba Na. Photo: TuArts
Reaching Ba Na Hill is a piece of cake, most of hotels in Da Nang offer 1-day tour to Ba Na including lunch. You can easily book a tour with your hotel and then get on the bus with your experienced guide. He or she will explain a lot about Ba Na and attractions around Da Nang in a fascinating way. You may find more ideas for the stay in Da Nang – the most worth-living city in Vietnam. You will spend whole day to discover the highlight in Da Nang city, experience the Guinness world record cable car leading you to the sky. If you are lucky, you can attend some busy activities like Carnival Show, Halloween Festival, Beer Festival, etc. After playing around, your stomach will be tired and in need of refill, local operators do prepare a buffet lunch right in Ba Na or a set menu at a local restaurant for you depending on tour price. In case you want to spend more time in Ba Na and do not want a strict time limit, you can rent a taxi to Ba Na and get tickets (around 32$ for adult and 25$ for children) at entrance.
So with these above attractive reasons, will you come to see the Golden Bridge and Ba Na Hill at the drop of hat?