2 days 1 night Get away on Silver Sea Cruise Halong bay
As you all know, whenever you are in Vietnam - a beautiful Indochina country lying beside the ocean with a long beach. I'd like to share with you guys my experiences to that destination - Halong Bay. Before going there I was really curious about what is the specialty of this place that making people once think about Vietnam, they immediately think of Halong Bay – one of 7 wonders in the world.
I have done some researches about how to get a full experience of Halong Bay, there are so many ways such as you can go yourself to Halong then get a hostel and get a day trip, or you can stay on a cruise for 1 or 2 nights that going through islets, limestones,…while you're having lunch or maybe sleeping. I decided to choose a cruise which goes for 2 days 1 night to enjoy fully Halong Bay and the trip will not too long for my schedule.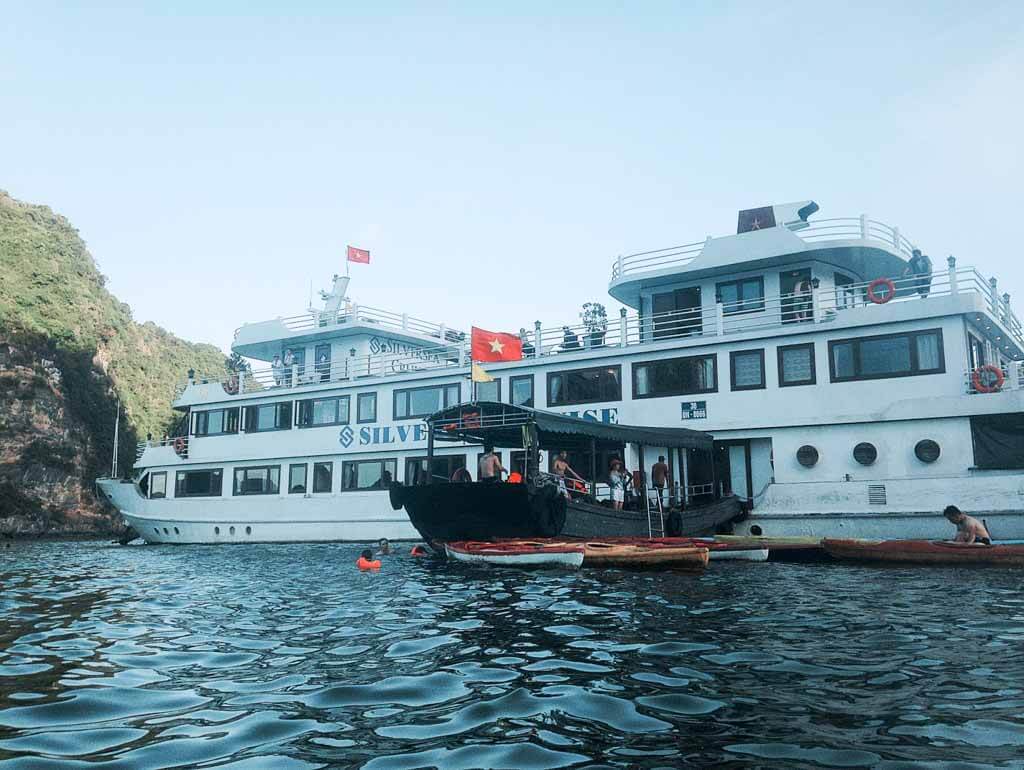 After doing some research about cruises in Halong Bay, I had to ask around, from my friends who went there already, from Tripadvisor to get their recommendation, and throughout 500 cruises in Halong Bay, I finally chose one – which have enough qualification at a good price. After seek and compare prices on the web. We booked Silversea Cruise via web vietnamamazingtours.com. I got the price of them better than or Expedia ... And they also support me very enthusiastic. You'll have a package which included accommodation, meals, tour guides, transportations… In general, you don't have to pay anything else except for your personal requirements.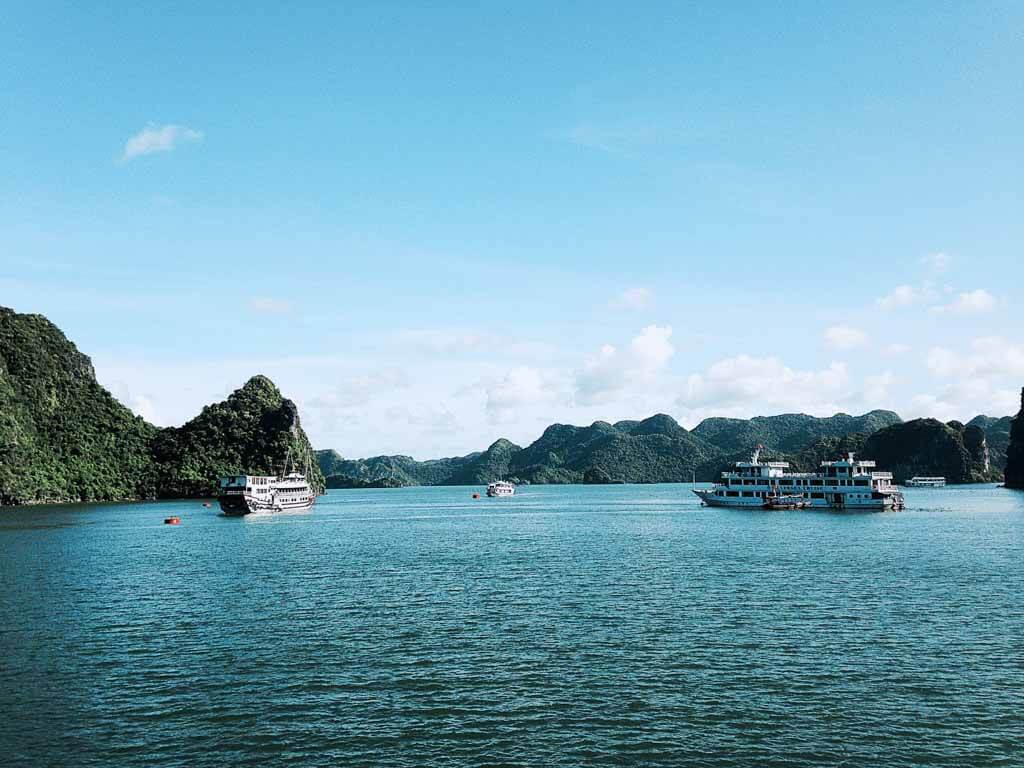 -> Read more 3 easy steps to choose an overnight cruise in Ha Long Bay.
In the morning, about 8:00 a tour guide will pick us up at our hotel in the old quarter or their office, so you don't have to walk anywhere unless you're staying in Hanoi old quarter. After breakfast, just be ready at your hotel's lobby, a tour guide will come with his bright smile then we get on our bus heading to Halong Bay.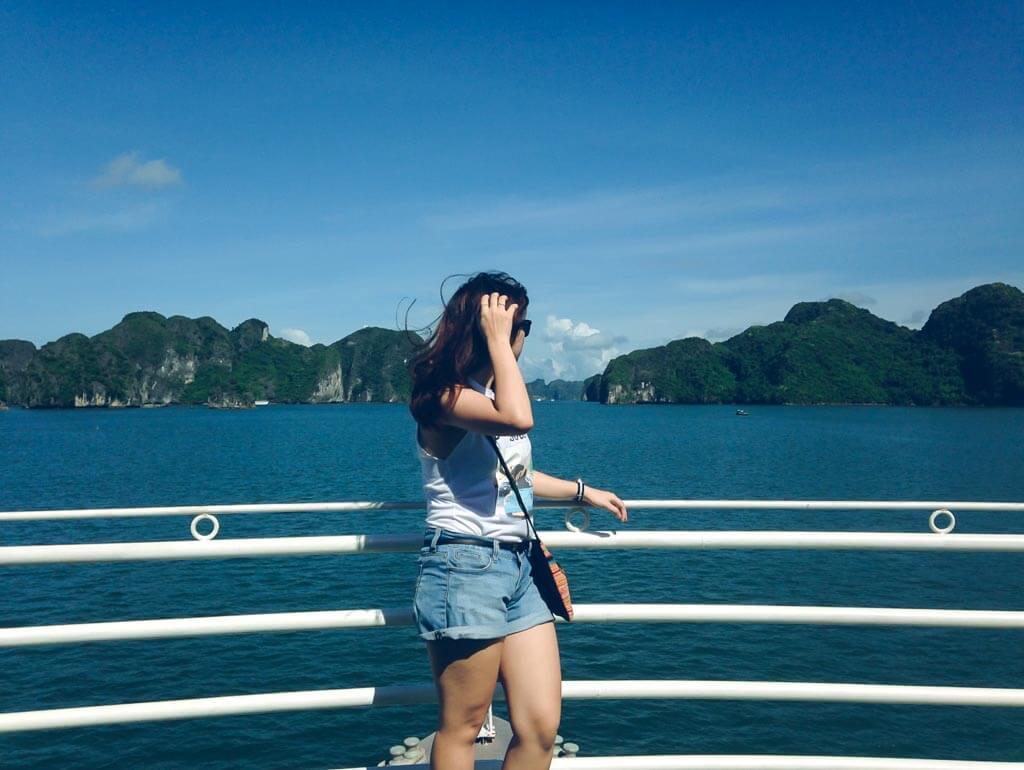 In a middle way, we stopped at a handicraft shop to have a break and maybe some people do not have enough time to have breakfast, they can have here but the price I will not recommend because it was higher than normal.

Keep going after 3,5 hours we arrived in Tuan Chau harbor to get on our cruise. The cruise team welcomes us with their friendly attitude, giving us cool handkerchief, then the captain explained some of their policy on the boat such as things that should do and shouldn't do.

After that we check-in our cabin, it was a big-enough cabin with full furniture inside: a big double bed, closet to put your stuff into, a bathroom with full furniture inside with a cabin shower… Cool view as well.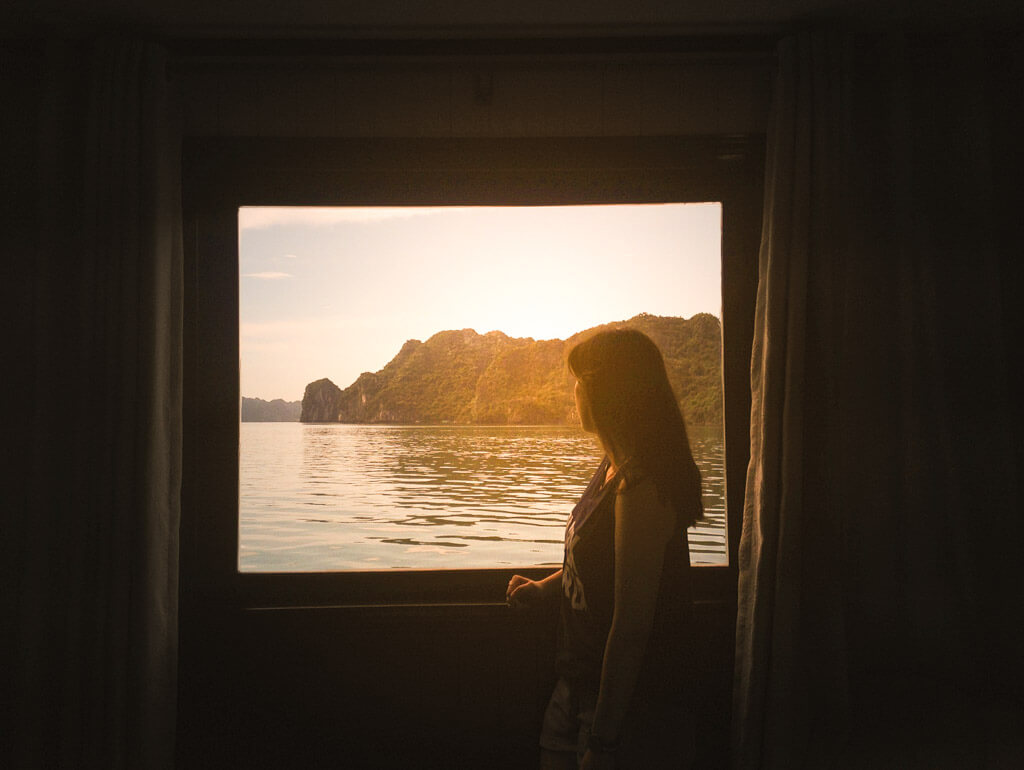 -> See: Discover Halong Bay by cruise or seaplane

After checking in then settling down, we headed to the restaurant to enjoy the lunch served in a European way while cruising around the bay.
Many courses were served one by one in the European style but Vietnamese food.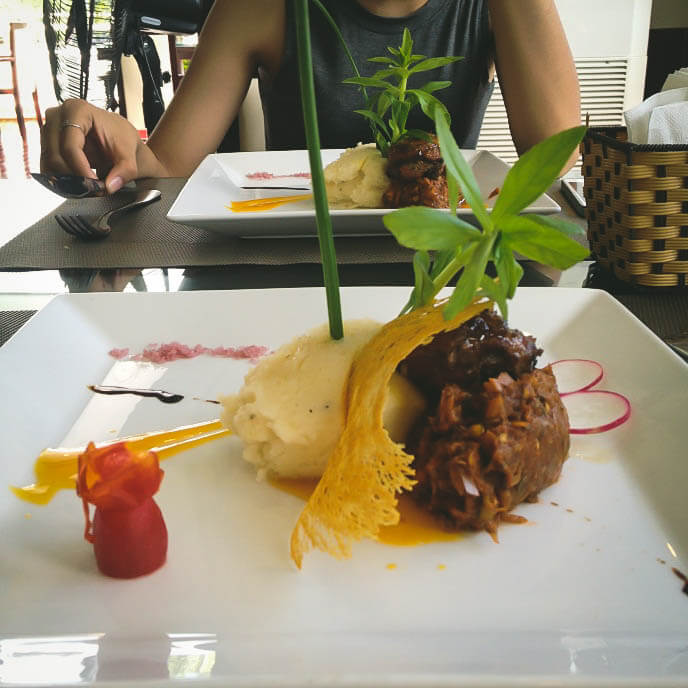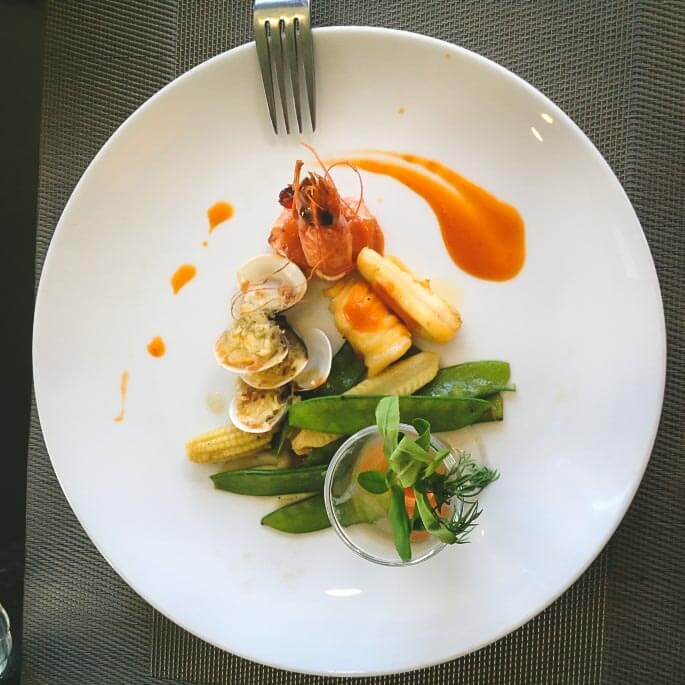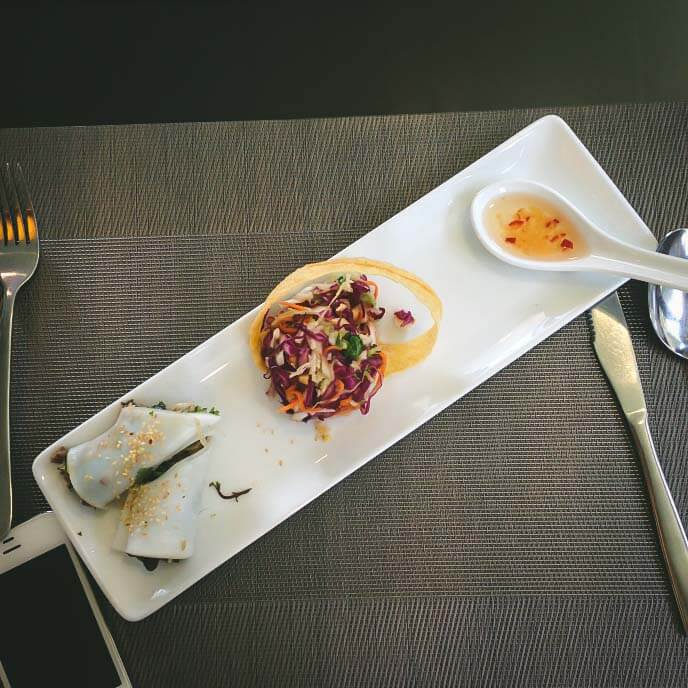 Went through so many islands and islet with different shapes in Halong Bay and having this fantastic lunch was a very unique experience that you need to try once in your lifetime.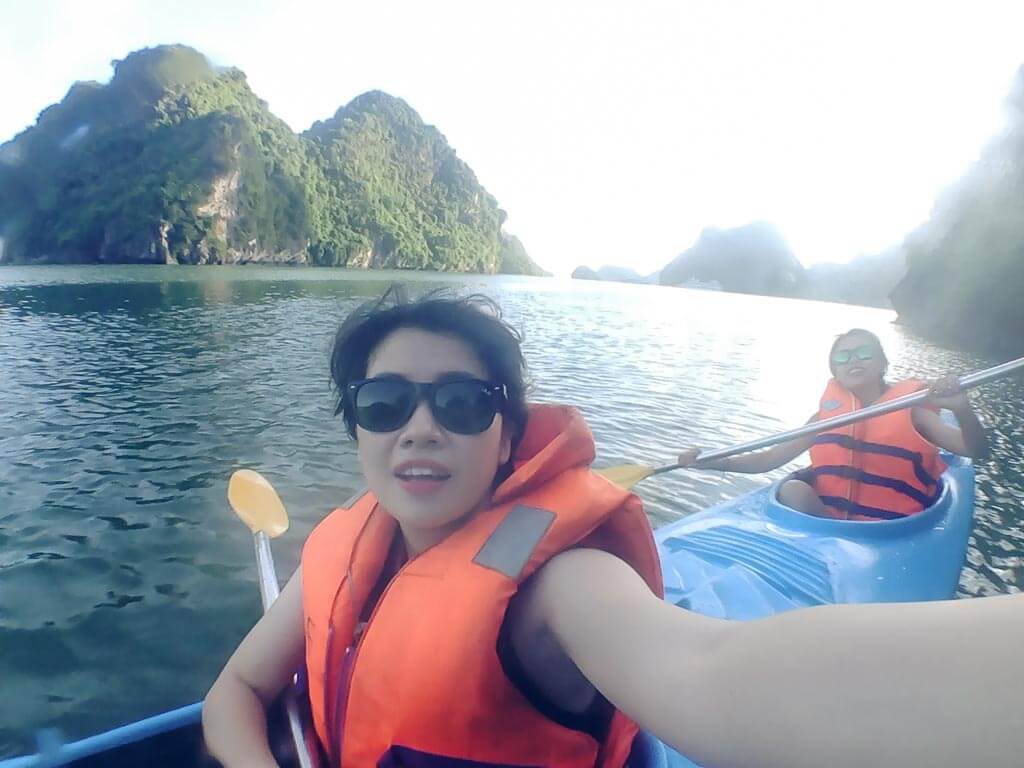 Then in the afternoon we had some water sport: Swimming and doing Kayak. Kayaking for an hour, at the beginning I can not be able to control it but after guiding by the cruise team, I and my friend did it and sift through some caves around the area that the cruise sailing. Some of my groupmate was jumping from the boat into the water to swim, what a really cool experience!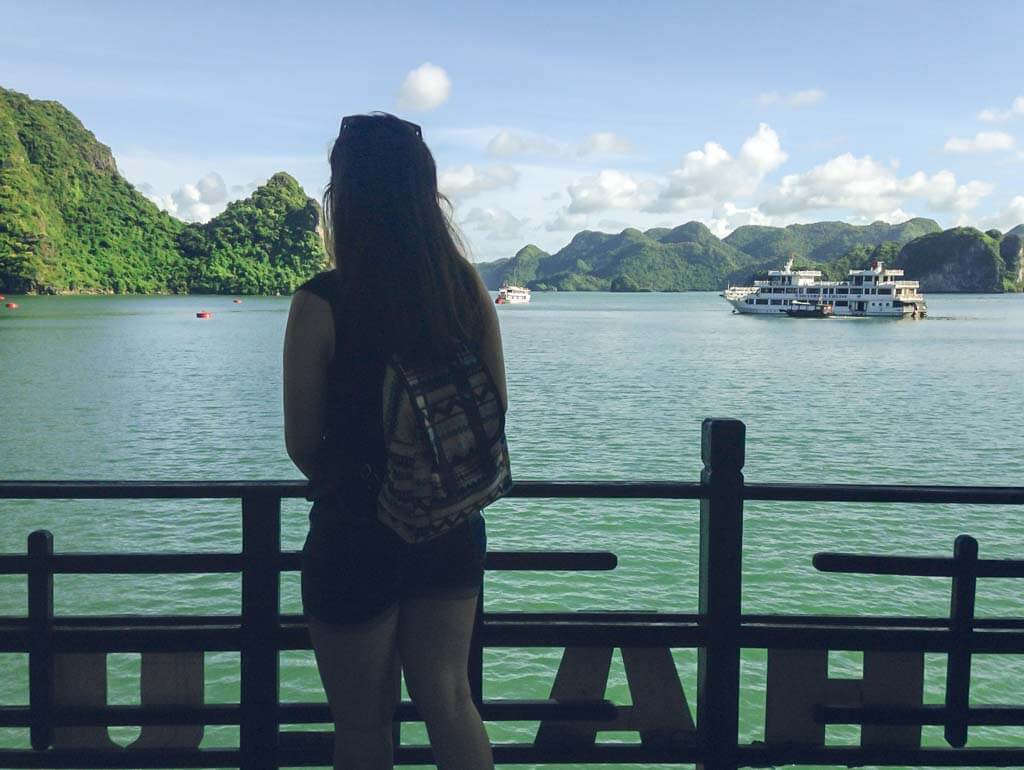 -> Read more: Brother of the Halong Bay, The Lan Hạ Bay. A small budget, great tour from the Catba island
Get on the cruise to take shower and well-dressed to joy the sunset party organized by the cruise team. They even offered free cocktail and great dance music for us, totally chilled out in the middle of Halong Bay, where the sunset was an amazing scene. Lying on the sundeck, taking the fresh air breath, drinking a glass of cocktail, listening to good dance music, wonderful experience I ever have in life.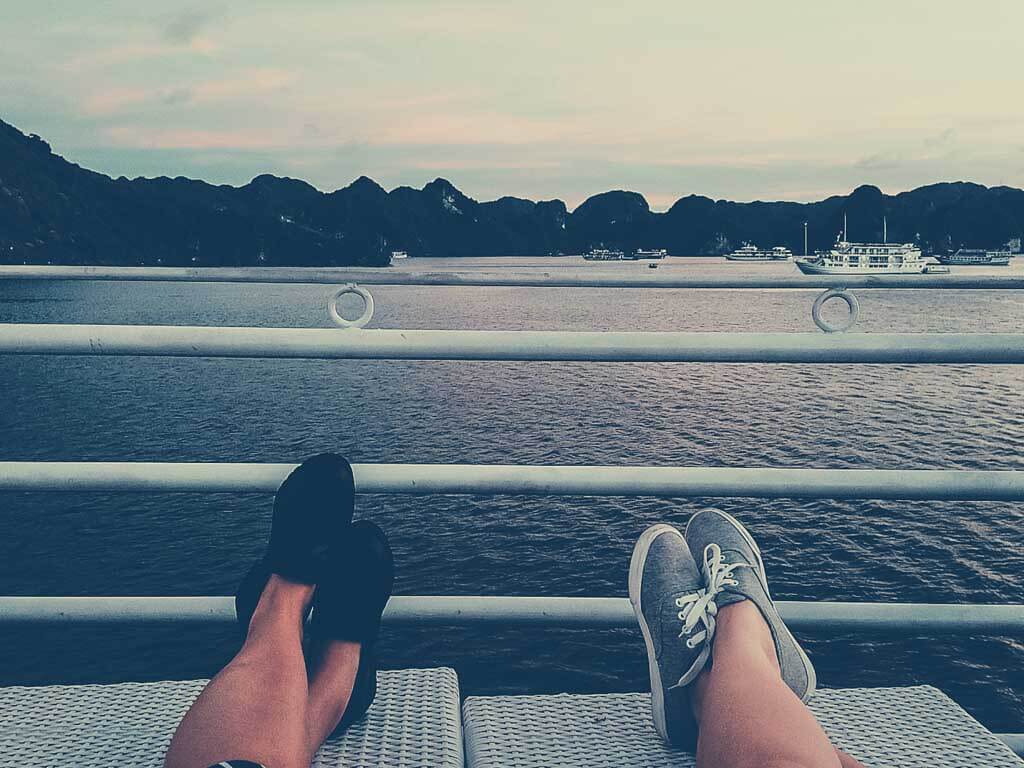 Dinner time, this is as the itinerary said will be the most expected meal of the trip because it will be served all the seafood by the chef cooking it in front of us. Wow to see how they make the fresh food on the cruise sailing in the middle of the sea is a thing that not anyone can have in life.
Especially the grilled shrimp will be cooked by the main chef in the middle of the restaurant. Good fun experience, each of us also being offered glass of wine, as the tour guide said it is a longtime remaining wine from the grape. I can not drink wine so I did not take it but everyone seems to be really happy about the drink. The atmosphere of the dinner is closer than in the morning because everyone already gets to know each other and there are some common things between them also. From stranger to befriend is the thing that the cruise has made, connecting people around the world was a meaningful slogan of them.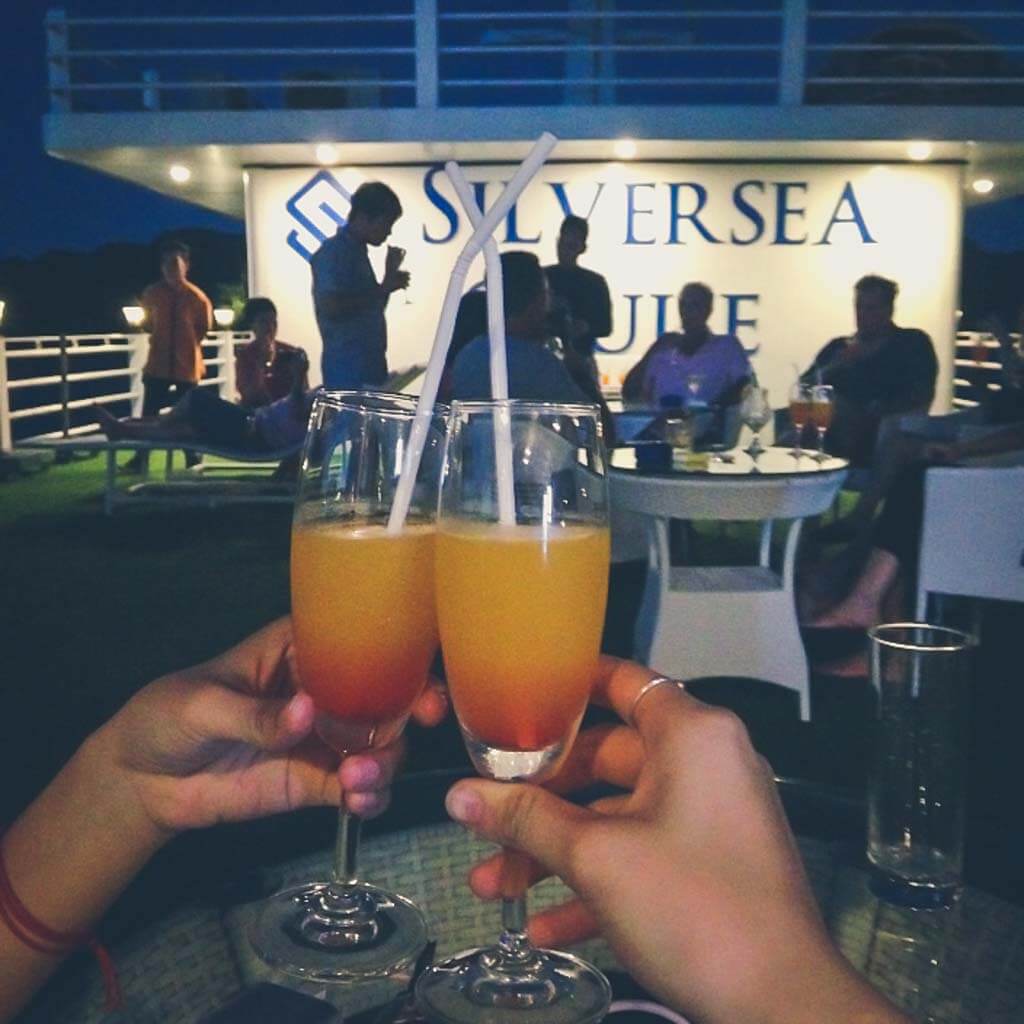 Cruise team even offer us to singing karaoke in the restaurant after dinner and play some board game or some people even do squid fishing down to the bow of the boat. I and my friend decided to have some mixed drinks on the deck and played our favorite songs. Followed the melody, starring at the stars, lying on the sofa, it was a perfect relaxing out of the hustle and bustle Hanoi. The Internet was not so good, so we will do not take the phone with us, just us and the natural beauty, feeling like your life just has some moments like this it could be enough already.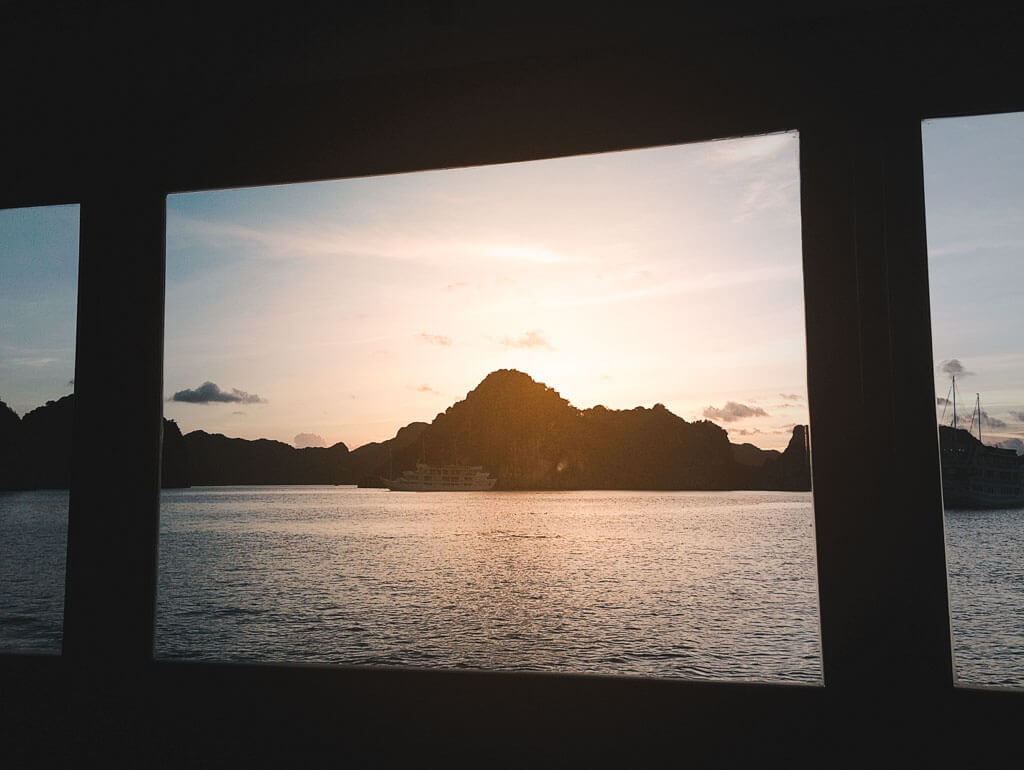 I went back to our room, had a nice sleep on the big bed we'd been offered by the cruise team.

The next morning, catch up sunrise through our room's window. The sun raised up behind those mountains is a scene that you have to wake up early to see because I'm sure it's worth your early morning wake up! The bright light of rising sun went through your window, make your room lighten up without any light bulb. Morning call from the guide to get us to breakfast, honestly instead of doing Tai Chi on the deck, I enjoy my sunrise view in the room so I just come to the breakfast room when everybody just finished their exercise. Breakfast the second day was buffet style with Vietnamese food. It's okay for an early morning to start another discovering day.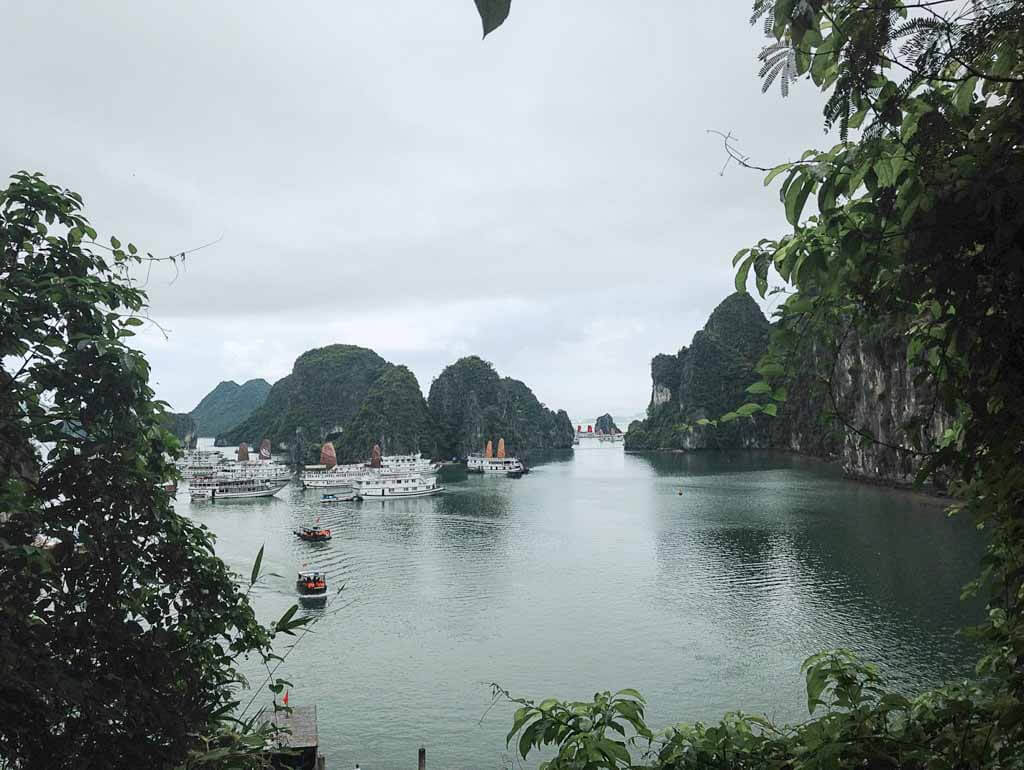 A small boat has taken us to visited the cave they call the most beautiful and largest cave of Halong Bay area. Climbing up a bit I saw a slight overview of Halong Bay.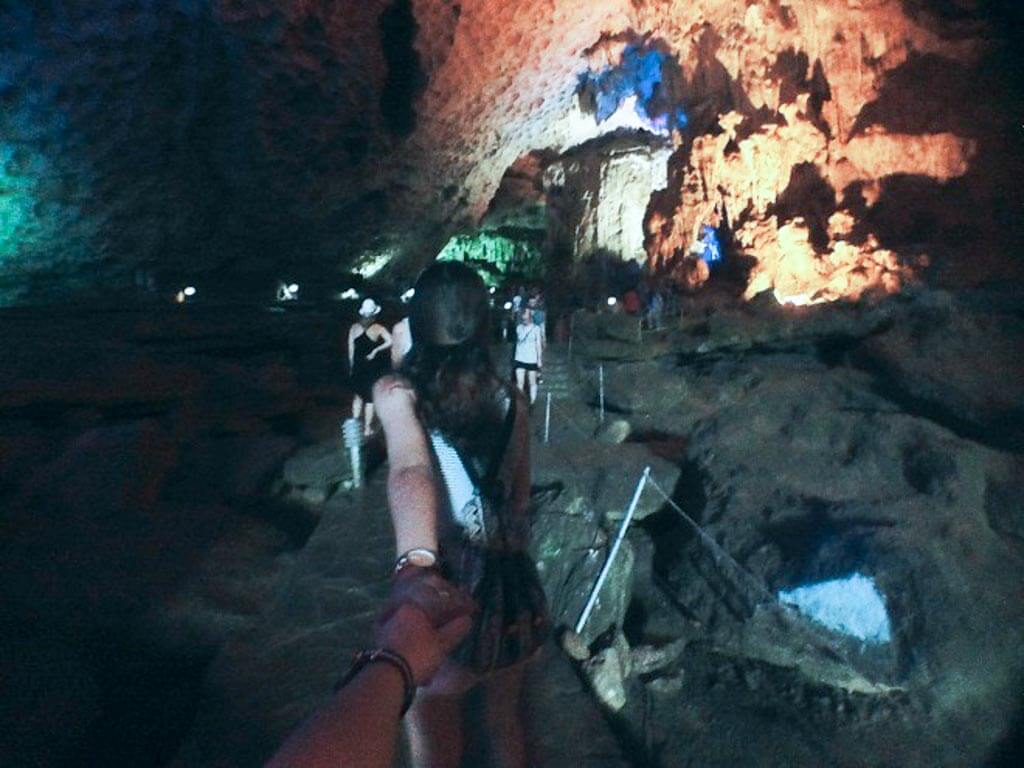 Inside the cave, it was started from a really really small area then follow up is another bigger cave, the more caves you get in, the bigger are you can see. The tour guide explained that this is the reason why they call the cave as Surprising Cave. The name was totally spoken out how the cave make us went for a surprise to another surprise. Colorful and magical are the 2 words that I have to say about this cave.

Then we went back to the cruise and joined the cooking class which taught by the chef last night. Learn how to make Vietnamese fresh spring rolls is one of an interesting thing that I have learned while relaxing.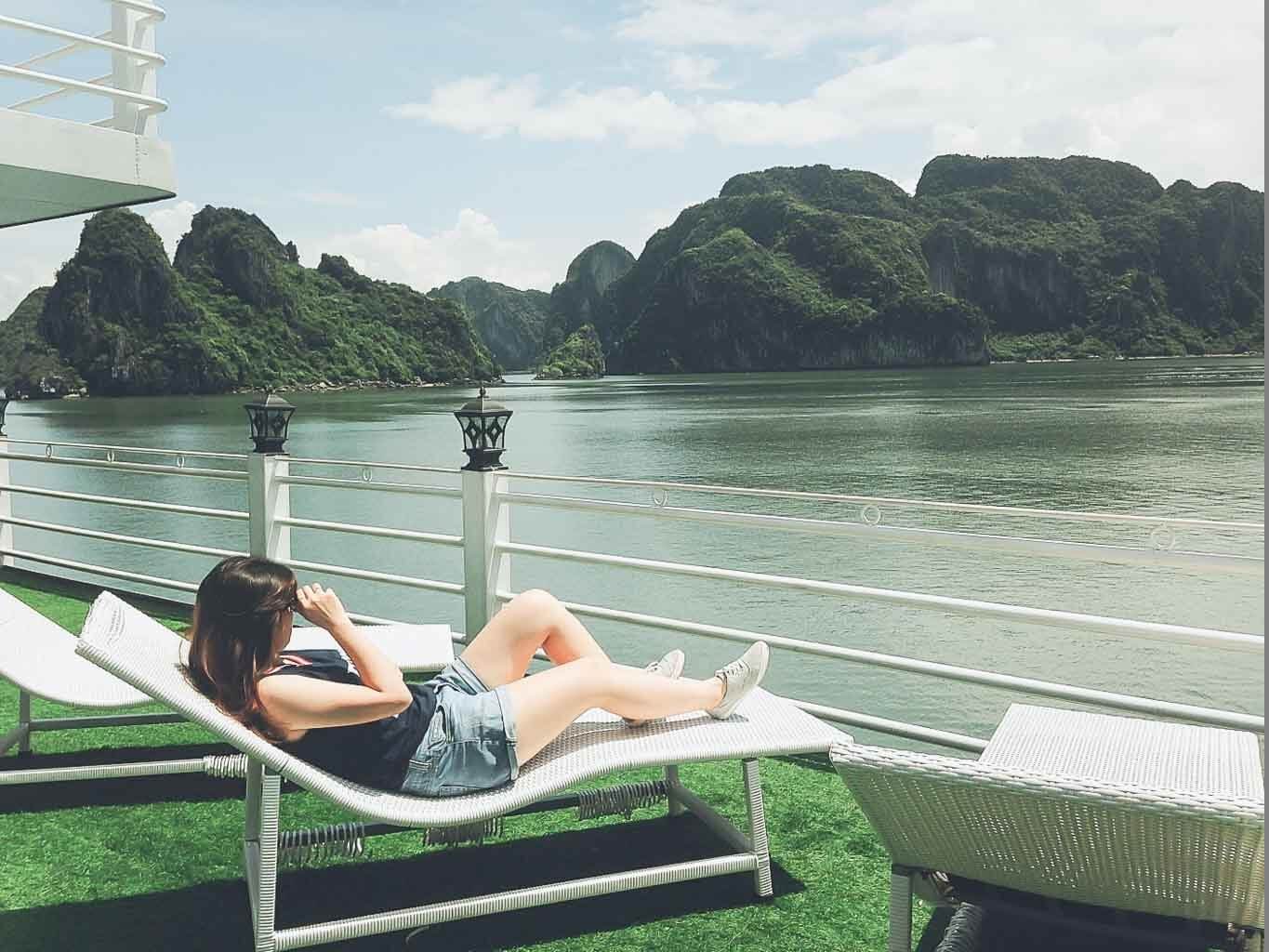 We have some free time to enjoy the bay ourselves before having lunch and heading back to the harbor. The last lunch was also buffet style with so many options such as chicken wings, french fried, seafood...

Like that my overnight trip in Halong Bay was finished slowly on the bus back to Hanoi that night. Even I traveled to Halong Bay many times before and maybe after but I still really like the feeling while cruising softly through the bay.