Mu Cang Chai - The Spotlight of Northwest Vietnam
"Where to get a perfect encounter with local and experience the most rural feelings in Vietnam?" – Whenever this question comes to me, the northern mountains are automatically come to my mind. The Northern Mountains divide into 2 sub-regions, namely Northwest and Northeast. Northwest consists of 6 provinces: Dien Bien, Son La, Lai Chau, HoaBinh, Lao Cai, Yen Bai. Sapa is a prominent name, when people think of rice terraces and minority groups in Vietnam. That is the reason why Sapa now is too touristic and cannot keep the innocence of rural areas. In this article, I would like to introduce Mu Cang Chai – the land of rice terraces as a place where you still find the purity and honesty of local minorities and of landscape itself.
Mu Cang Chai is a name reminding me of remote and solitary land. Literally, Mu is locally pronounced from Mo, which mean the woods, Cang is locally pronounced from Căng, which mean dry and Chai is Land. So, Mu Cang Chai is Dry Land of Woods. Mu Cang Chai is about 2000km² large, located at the foot of marvelous Hoang Lien Son mountain range and roughly 95% H'mong live there. The specialities of Mu Cang Chai are 2.500ha rice terrace fields in La Pan Tan, Che Cu Nha and De Xu Phinh. These are accomplishments of the local, have been recognized as national landscapes by the Ministry of Culture, Sports and Tourism. The road to Mu Cang Chai has been much better than before and there are many hostels and hotel to choose or simply you can overnight at stilt houses to get the real local touch. There are many ways from Hanoi to Mu Cang Chai, but the popular one is along highway no. 32, pass through Khau Phạ Pass, which is one of four imposing passes in the northwest of Vietnam. The length of the drive is about 7 hours. Besides, you can go through the highway Noi Bai – Lao Cao, get to Sapa and pass through O Quy Ho Pass, and then Mu Cang Chai. Such a good combination to gaze at scenery in astonishment! In Mu Cang Chai, let's hire a motorbike to move or if you're afraid of driving, there are many Xe-Om (motor-taxi) just waiting to lead you through picturesque landscape.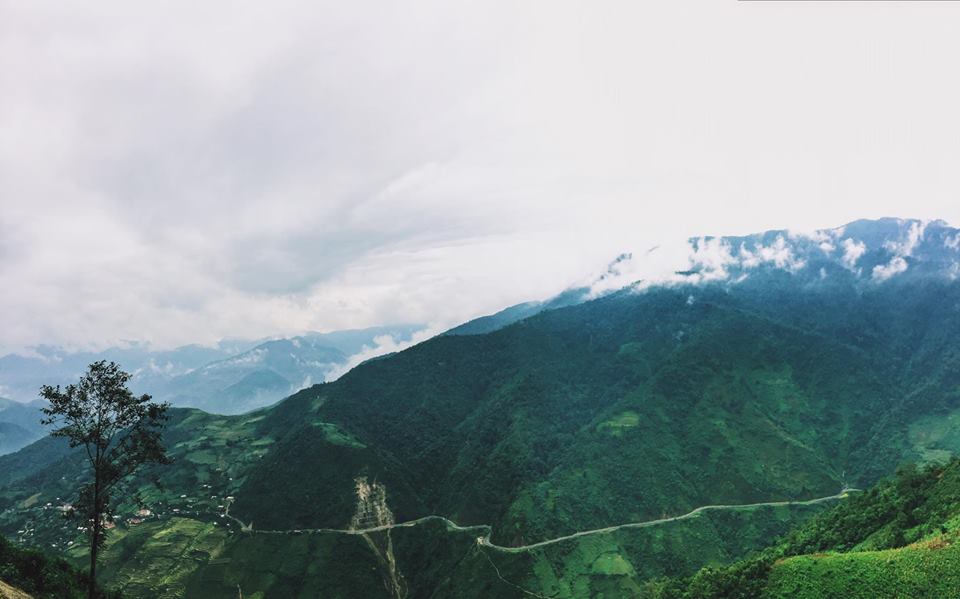 Khau Pha Pass
Mu Cang Chai is not beautiful for a specific village, but the way lead you there is amazing. You will feel so small amidst impressive scenery. You will find that kind of peaceful feeling, which is way too hard to find in the bustle of metropolis. And that kind of peace you can find in every children faces you meet on the way. They are curious with urban people having pretty dresses, driving a long way just to see the terraces, where their parents work daily and certainly their parents are not happy seeing terraces like urban ones. That kind of peace you can find while seeing an old but very strong grandma, who is carrying a huge basket of rice on her back and still smile with young tourists. It is the same smile of every grandmother in the world looking at her delighted grandchildren. You can burst into laughter while catching a wife dragging her drunken husband to home. Apparently, everyone in mountainous town is enjoying heart and soul weekend, no working, no doing farm, just drinking and having fun. Or just a big party because they are proud of their achievements – the rice terraces attract a lot of visitors, both national and international.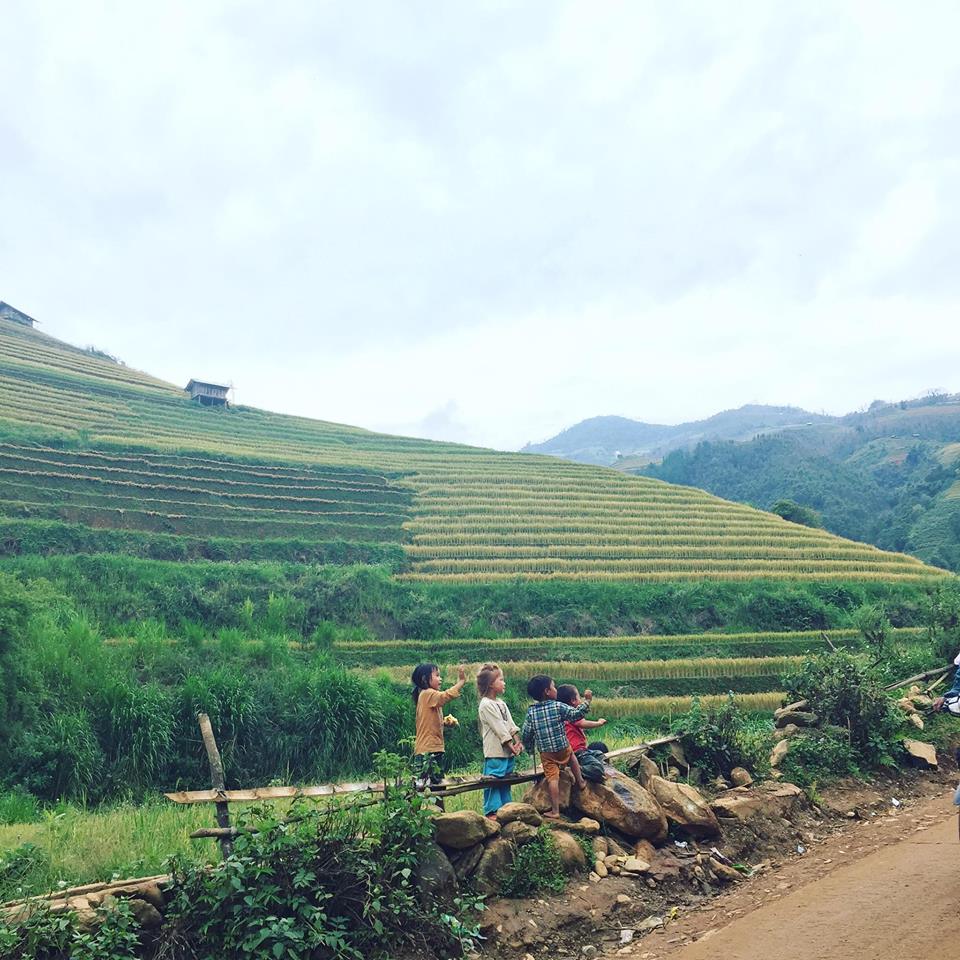 Kids are waiting for tourists coming back to wave bye bye
Most of tourists come to Mu Cang Chai before harvest time, usually 2 last weeks of September and waterfall season in the end of May. If you come on harvest time, the spectacular landscape of northern mountains will take your breath with a romantic view of yellow rice fields. On waterfall season, Mu Cang Chai becomes mysterious with rice terraces like giant mirrors.
HowevermMu Cang Chai has its own beauty on different seasons because of the honesty and friendliness of the local inhabitants. You might not see yellow rice terraces, you might not see huge mirror of rice fields if you do not come at the right time but you will always be welcomed by warm-hearted people there.
So don't hesitate to cometo Mu Cang Chai to get a real local touch, to smell the fragrant of rice fields and do not forget to buy some young rice or sticky rice in Tu Le back home – the specialities there.