Halong Alisa Cruise Review
Xin chao (hello)! I'm Naoki.
I have just finished halong tour 2 days 1 night on Halong Alisa Cruise with with great advice from Vietnam Amazing Tours and i want to write some note about this boat.
Ha Long Bay, a very famous destination of Northern Vietnam. And almost tourist wants to come here, I too. After finding a lot of information online, books ... I decided to choose a tour to Ha Long bay in 2 days 1 night. With this option, sleeping on the boat is the most appreciated trip to Halong bay. The boat I have booked is Halong Alisa Cruise. A boat is quite modern and interesting. So I wrote my own feelings about this trip, hoping to help many travelers find a happy trip to Halong bay.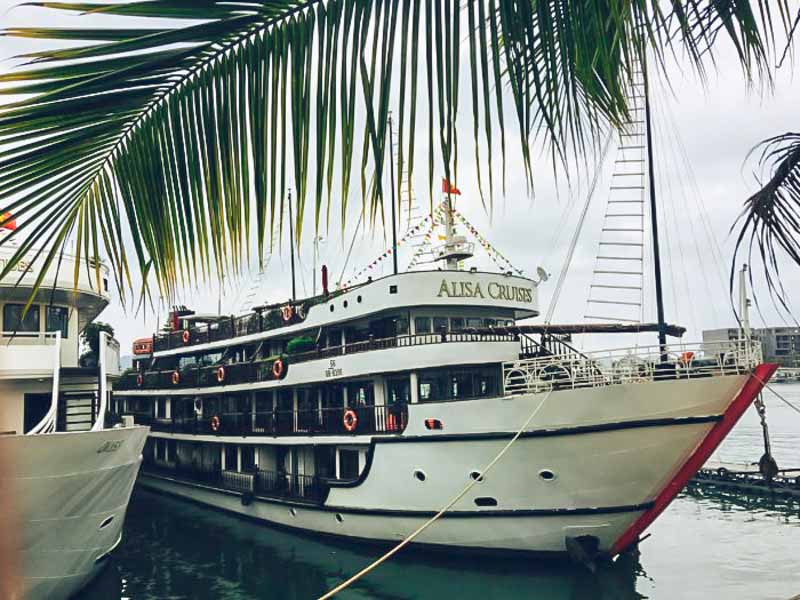 #1 Pick up and bus
Please pay attention to moving from Hanoi to Ha Long. It takes about 4 hours from Hanoi city to Halong Bay with 150 km.
When booked this boat, the price does not include the shuttle service.
Note: time check in boat from 12:00 – 12:30 at the habor. So, you need to come here at that time if you do not want to be left at the ferry.
Advice, you should book the bus of this boat.
And this is Alisa bus.
It is a luxury bus. It has about 16 seats, a screen, usb charging port, wifi and I feel very comfortable for 4 hours transfer. There are 30 minute for short break on the way.
Note: The bus only pick up at hotel in Hanoi old town, If your hotel isn't this area, you should go to Hanoi Opera house or Alisa office.
Rate: 10/10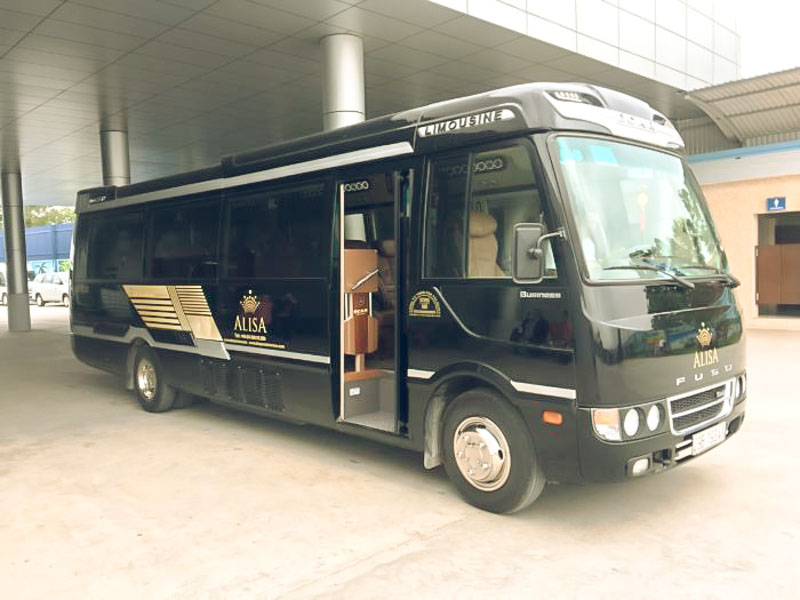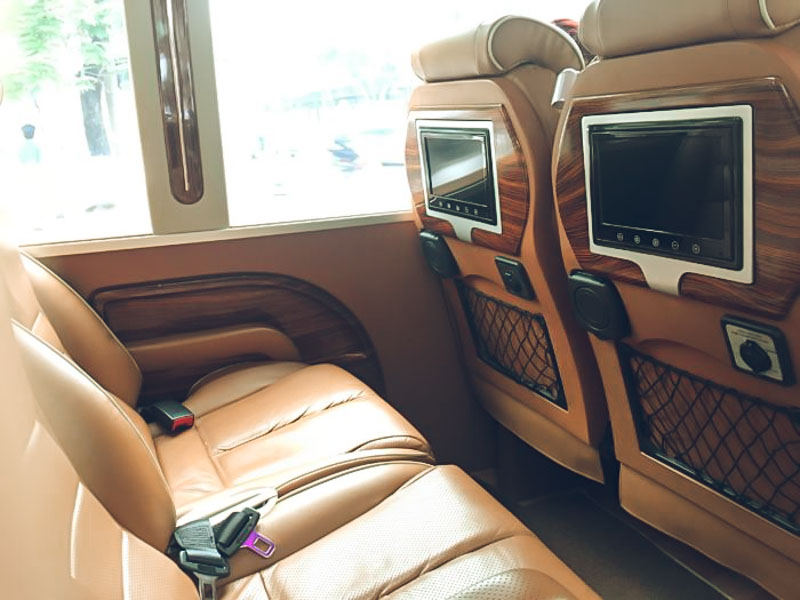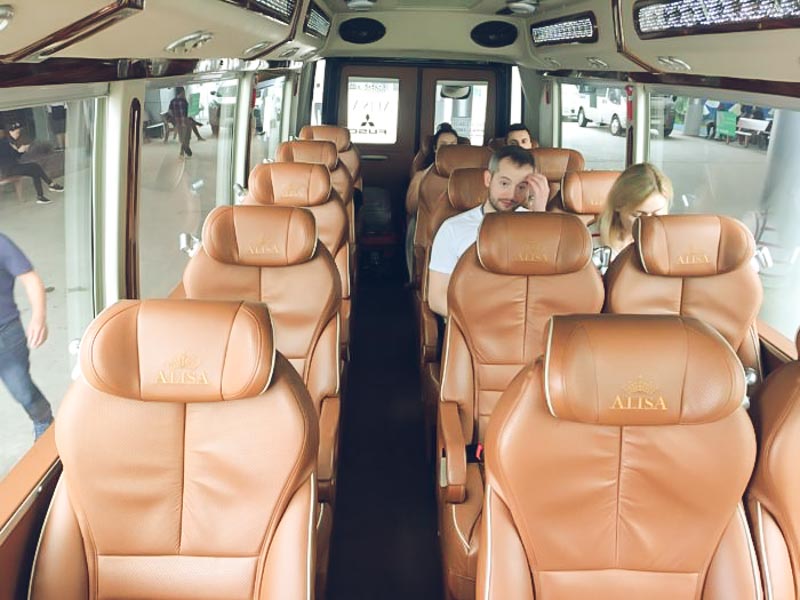 ⇒ See also: 3 easy steps to choose an overnight cruise in Ha Long Bay.
#2 Check in Halong Alisa Cruise
It take about 30 minutes to complete the procedures in the waiting room and get a small boat to Alisa Cruise. In front of us is a big boat and very luxurious. Yes, that is Alisa Cruise. Of course, it is Vietnamese standards.
We were very enthusiastic by manager and staff. Cruise manager informed us of some regulations and we check in room after that.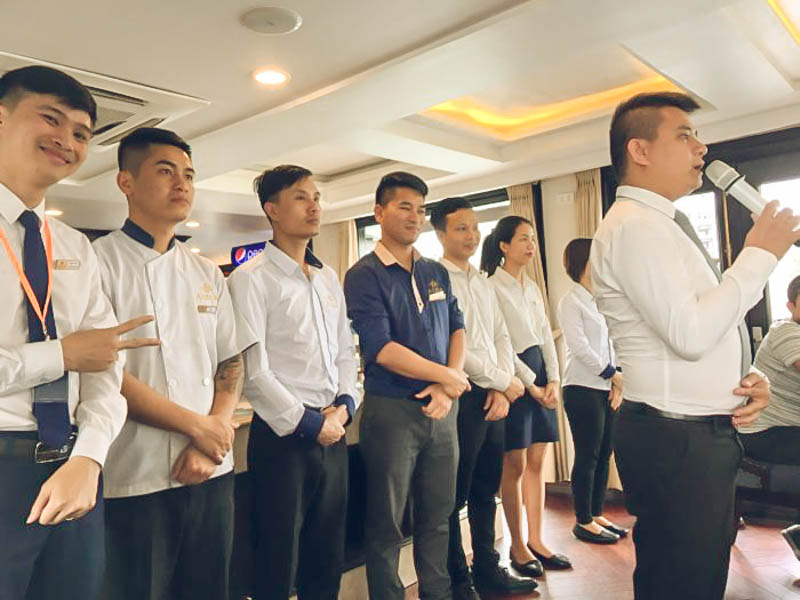 ► Read more: 10 THINGS TO DO IN HA LONG BAY
#3 Room
Our absolute favourite thing about this boat! Complete and utter comfort. Let's face it, the main thing you hope a boat does right is deluxe room and Double By Alisa Cruise delivered the goods. There is a queen size bed ìn room for 1 or 2 persons. With large floor to ceiling windows in room and out to the balcony from the room, we were covered in natural light which beamed in from the sea facing view. The room, along with 2 bottles water, came with a kettle and tea and coffee which allowed us some home comforts.
And then, that is a bathroom, there are a small bath tub set by the window, my favorite, a dip in the water, a cocktail and fresh air. The bathroom facilities were quite adequate, with a sink, a few towels, toothpaste, a brush, a hairdryer, toiletre and a shower.
But what makes this room so beautiful is the balcony. A private balcony with sea view, mountains, a beautiful view. There is a small table and chairs on the balcony so you can get a cup of tea and enjoy the sunset or sunrise from the room, it's a great time.
Note: In each room there are 2 bottles of water, the water is free, if you use drinks in the refrigerator you will have to pay it.
Rate: 10/10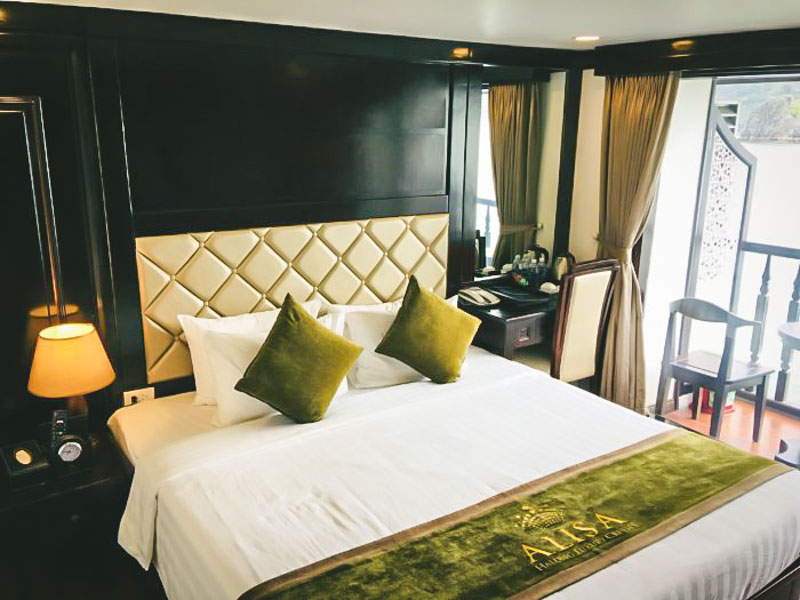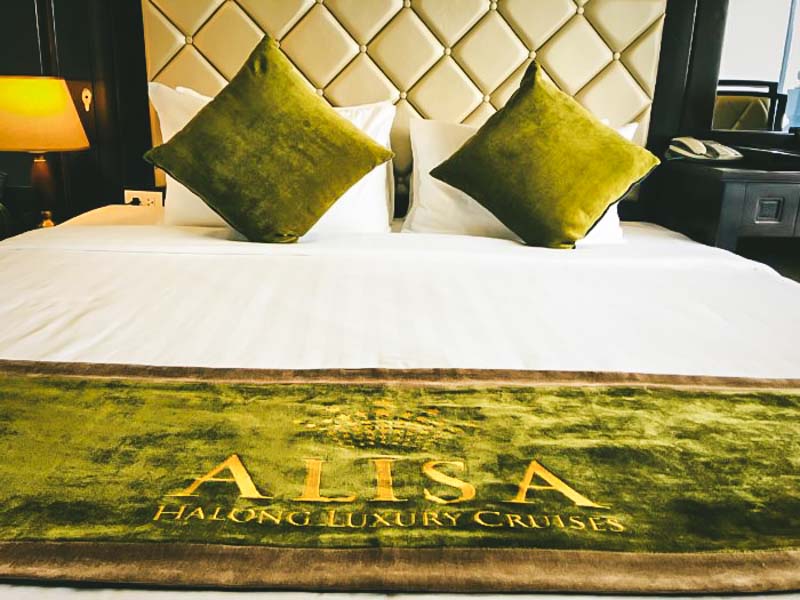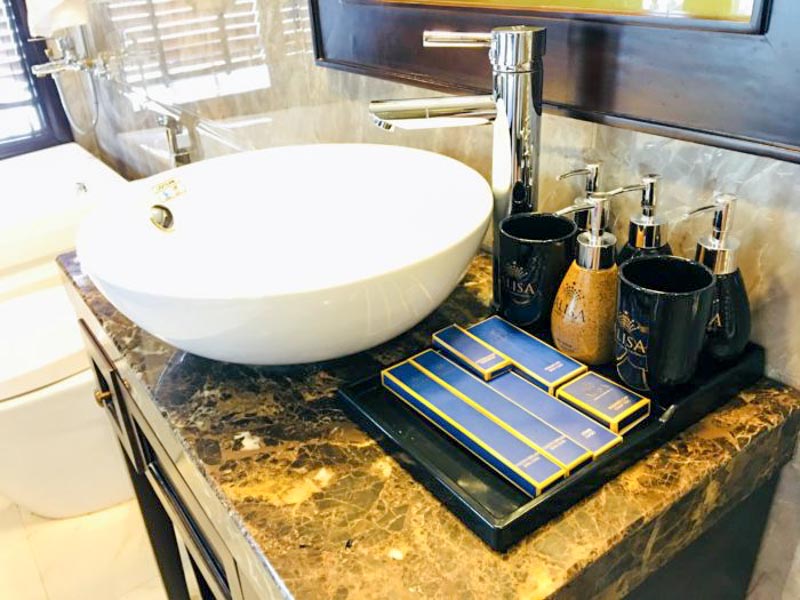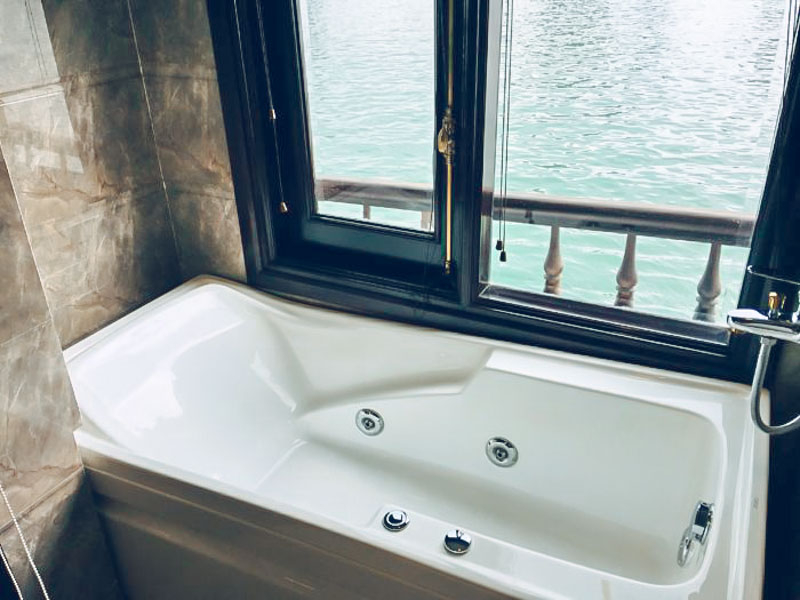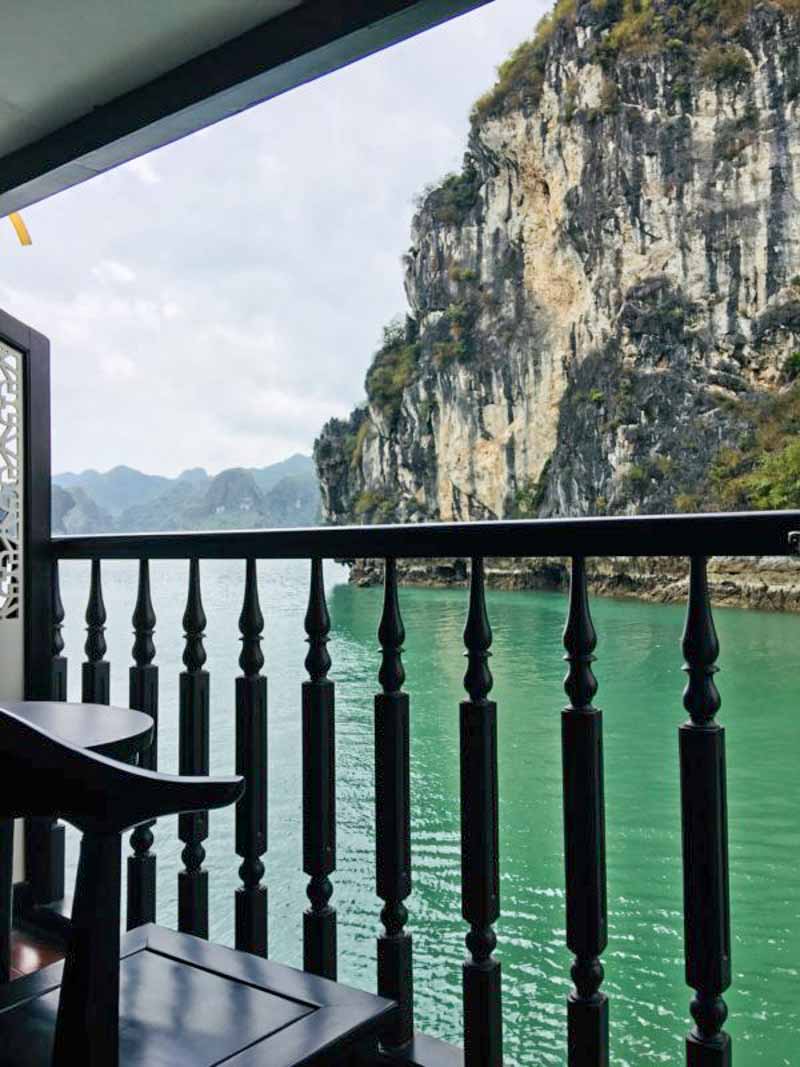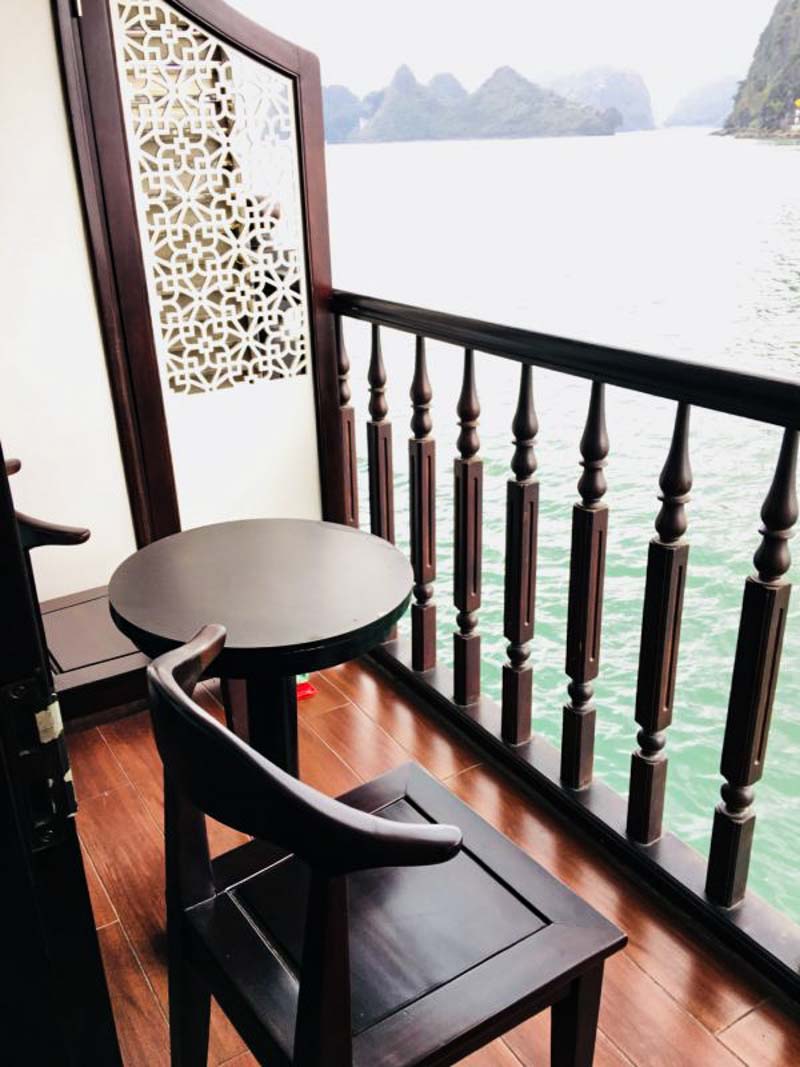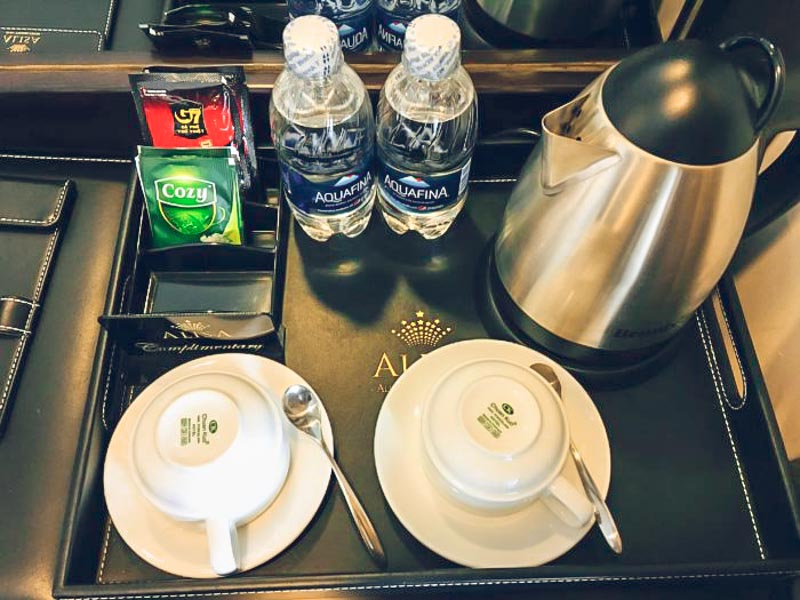 ⇒ Read also: Why is Ha Long Bay a Popular Tourist Spot
#4 Activities
1, Explore the Sung Sot cave
After lunch, we rest for about 30 - 45 minutes. We started first at 14:45, that is cave exploring. One of the most beautiful caves in Ha Long as the guide said. We get a small boat to move to gate cave. You need to climb the ladder to explore this cave. The cave is very large, also many stalactites. Our guides talked a lot about surprise caev. But the thing I like the most is standing on top to take some photo. There is a very nice shooting. Here you can see the bay and the boat bay lined up. This activity takes 40 - 45 minutes.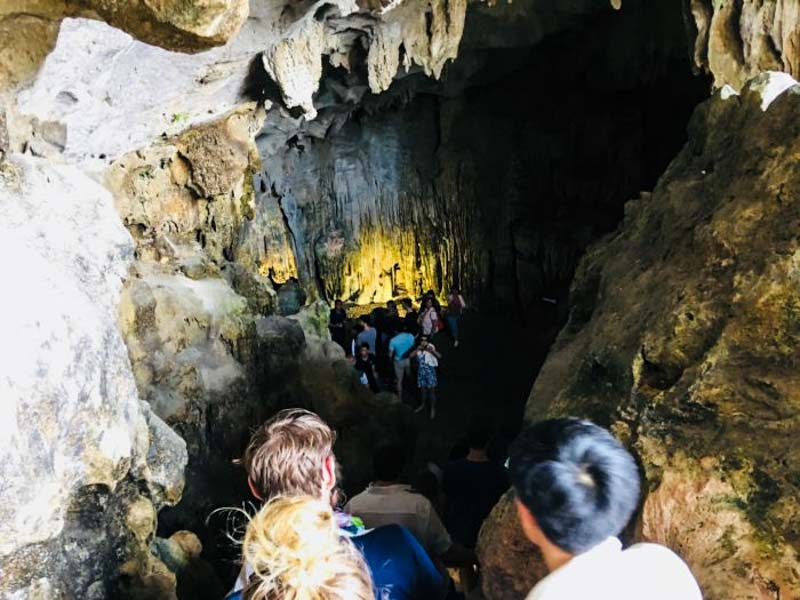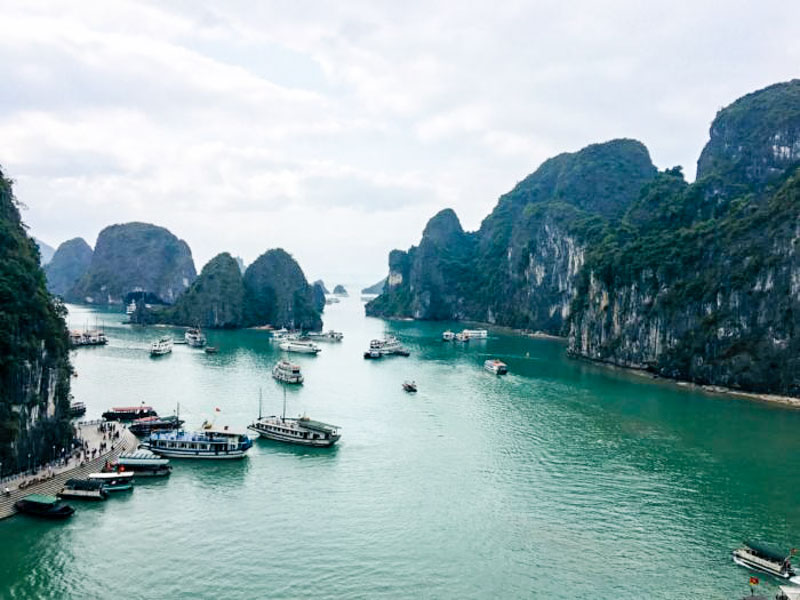 2, Kayaking
Yes, this is my favorite activity.
You may get wet so change your bathing suit. You have 45 minutes for this activity. You can row through natural rocky mountains, or float with kayaking. Do not forget to bring your camera to take beautiful pictures.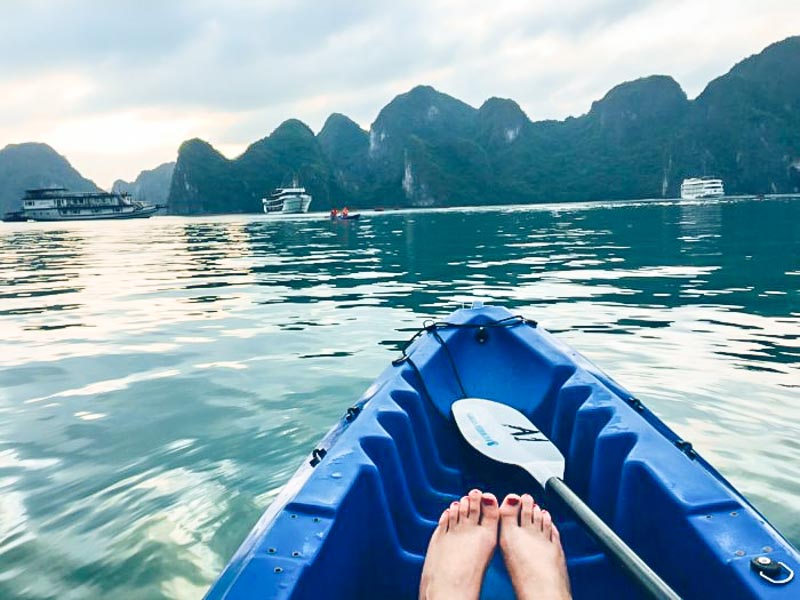 3, Cooking class
Another interesting activity on this boat is the cooking class. They will teach visitors how to make traditional rolls of vietnamese. I found eggs, vermicelli, carrots, meat, cucumber and herbs. All of these are prepared in advance. The teacher instructs people to mix things and is rolled by a thin layer of rice paper. After that, people enjoy spring rolls in dipping sauce.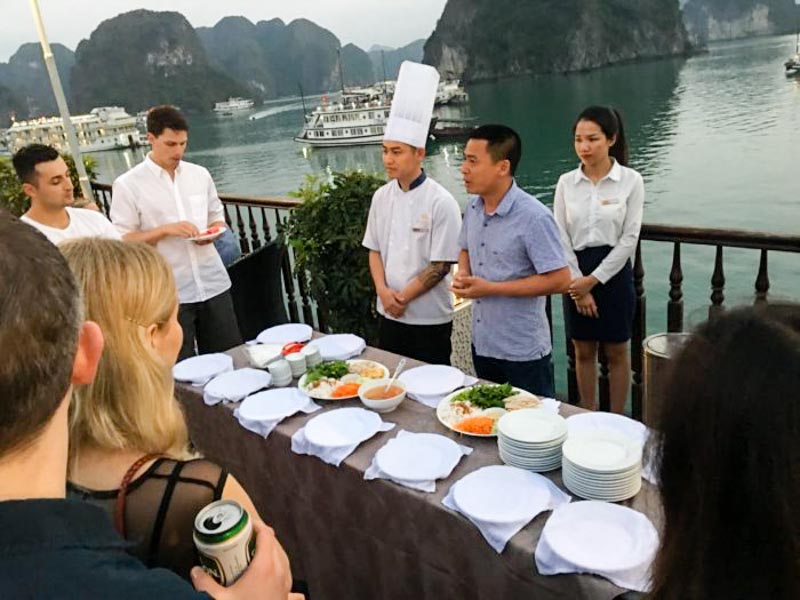 4, Tai chi
Wake up in Ha Long Bay is comfortable and pleasant. You can go to sundeck and join the tai chi class. However, today there are not many people excited about this activity :)) lol. This activity begins at 6:00 am. There will be a tutorial to teach the movements.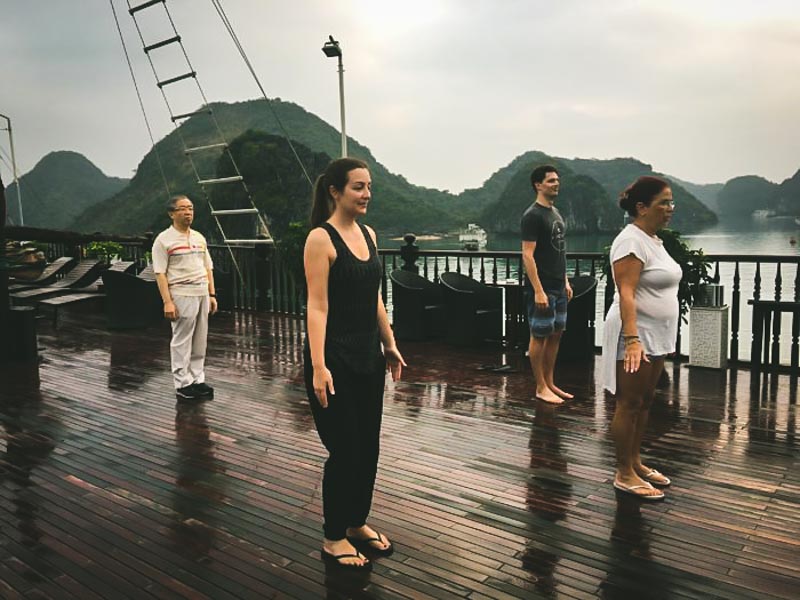 5, Hiking and Swimming
After breakfast is a climbing activity. The boat will take you to titop island. And we started climbing up the mountain. Tour guides said to see the ha long bay from above, this is the most suitable place. Yes, It is that right. A beautiful scene when you stand at the top of the titop. Do not forget to bring your camera or phone to take beautiful photos.
This titop island is also where you have the opportunity to swimming. Bring your bathing clother with you.
Actually, I do not like this place. Because this place is so crowded. I like to swimming in a quite area rather than a cramped one. Beside, sea water is not really clean. This is probably the minus point in the activities.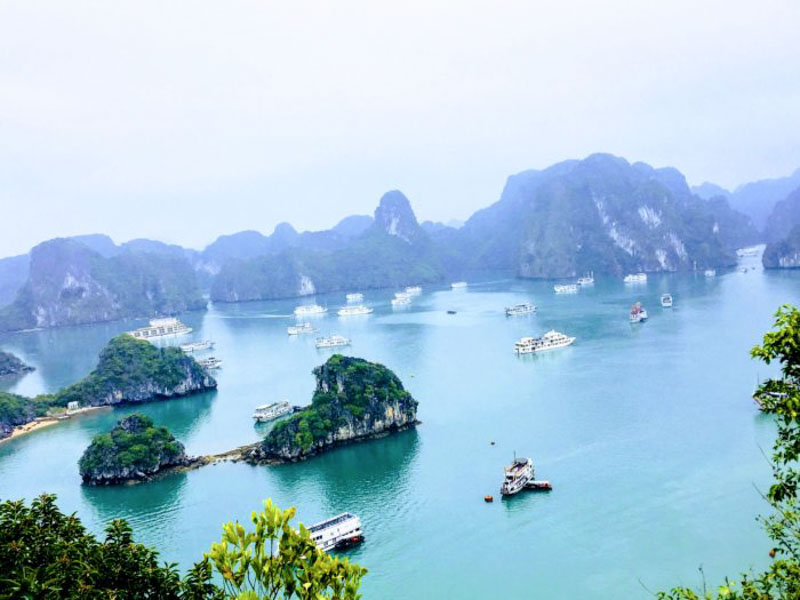 Rate: 8/10
#5 Food
1, First lunch
The first lunch is the buffet. There are many dishes and most are cooked in vietnamese style.
Because we have a long journey, we feel very hungry.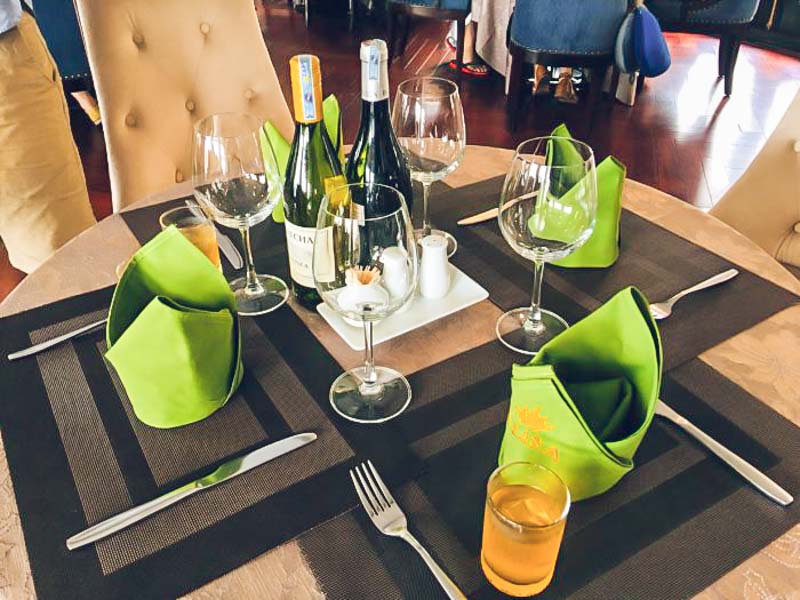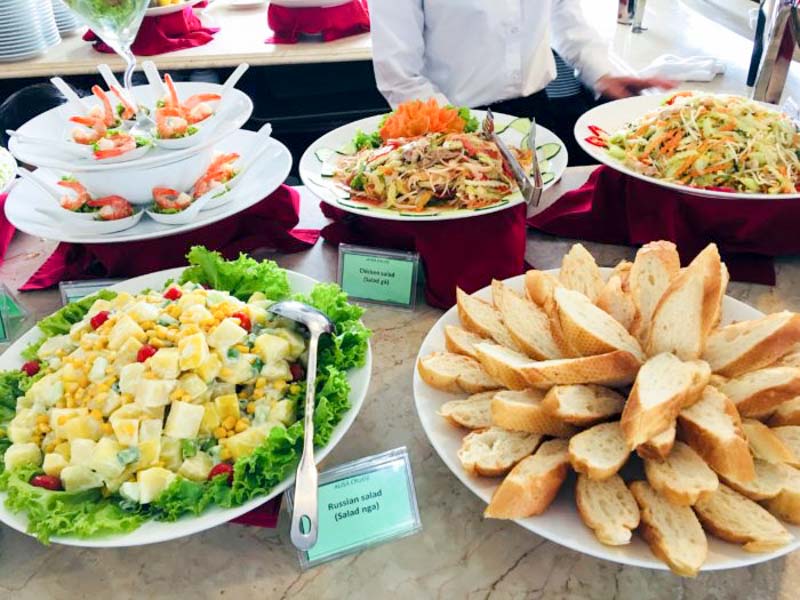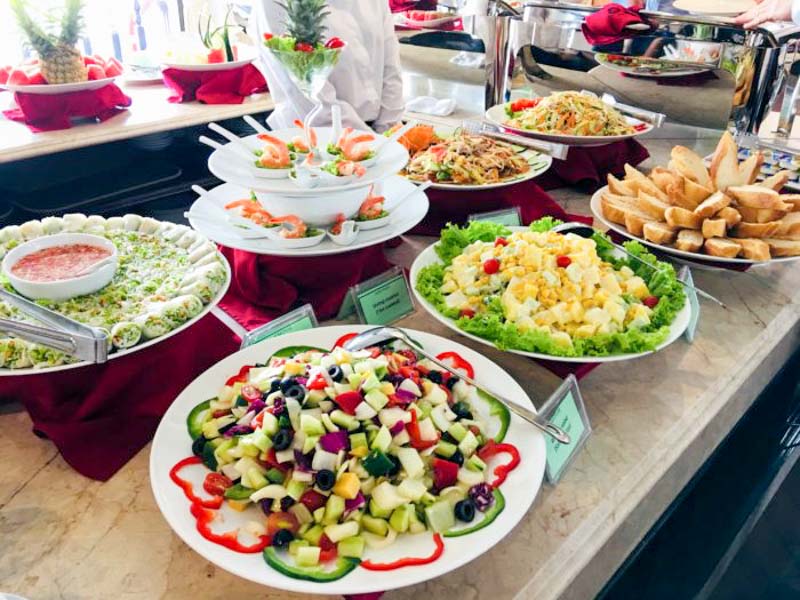 2, Dinner
Dinner is served by set menu. Appetizer is soup. A cup of chicken soup and very attractive. Then comes the main dishes such as oysters, fish fry ... Desert is cake and fruit.
Note: drinks are not included in the meal. If you order drinks, you have to pay.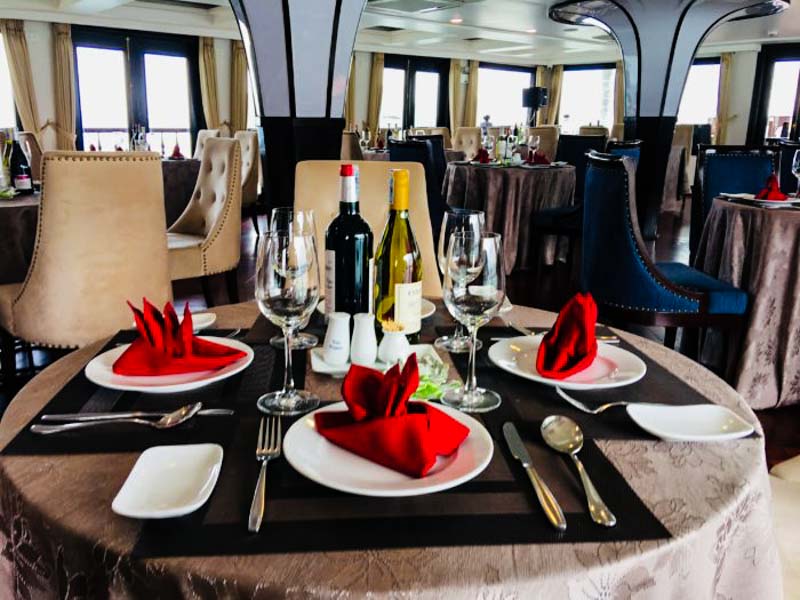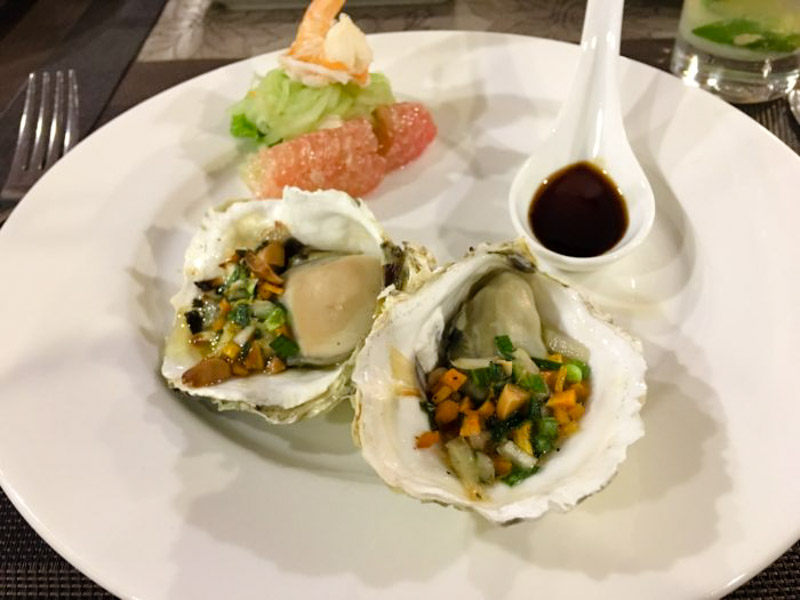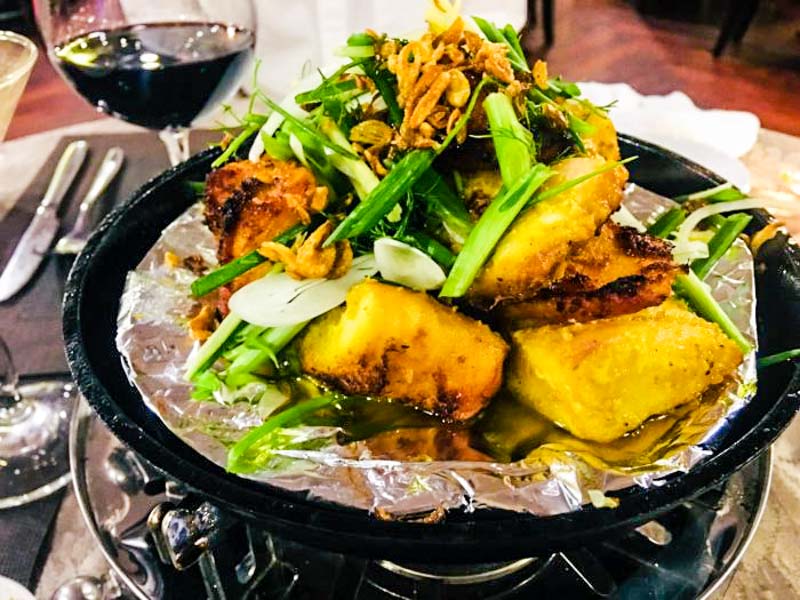 3, Breakfast
Breakfast is a small buffet. There are salads, breads, fried rice ... A breakfast from my personal point of view is ok.

4, The last lunch
The last lunch is served in a bruch style. There are plenty of dishes and enough to have a good lunch.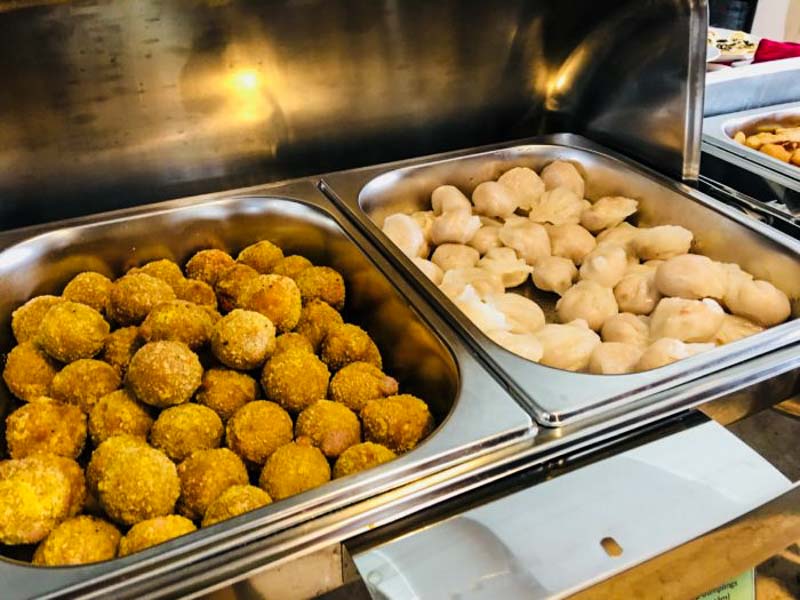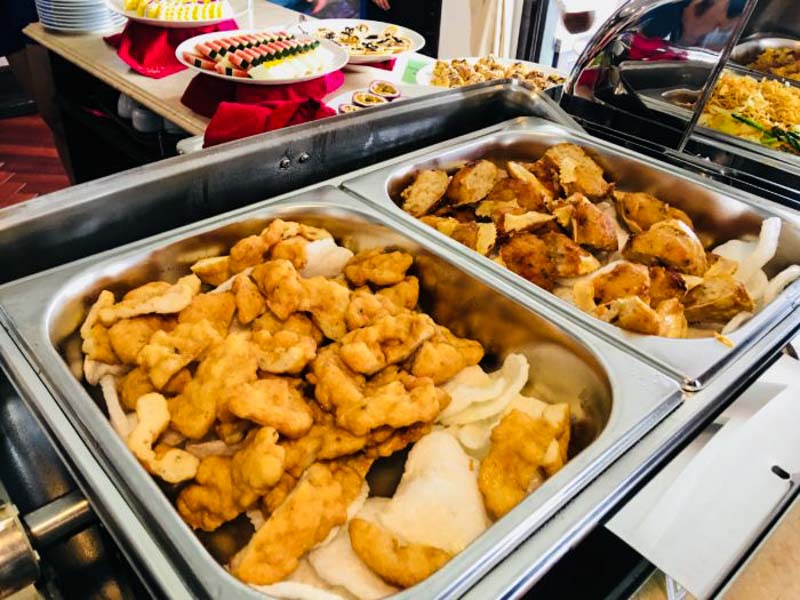 Rate: 8/10
#6 Staff and service
On the boat there are many beautiful space for you to admire Halong Bay as Sundeck, restaurant, bar. You can call yourself a cocktail and enjoy the scenery of Halong Bay. Prices of beverages are certainly more expensive than on land.

Staff are very friendly and hospitable. It was a warm welcome from the ship manager and the staff. They are always smiling and ready to help you any time you need. They are very professional.

Itinerary of the boat. The boat departs from Tuan Chau habor and visits Ha Long bay, this is itinerary basic. However, that is the minus of the boat. You think there are many boats in Halong bay, hundreds of boats and the same program lost privacy. I don't like this one and I thinks all guests too.
Rate: 9/10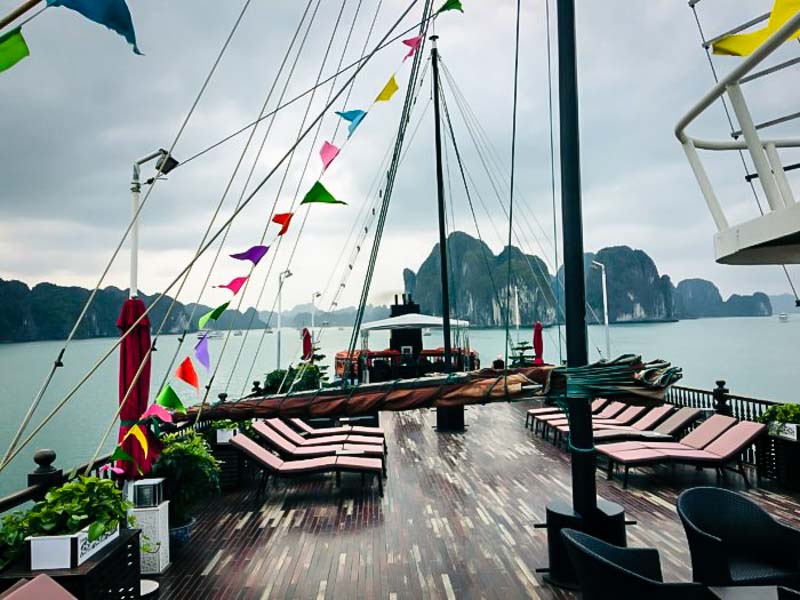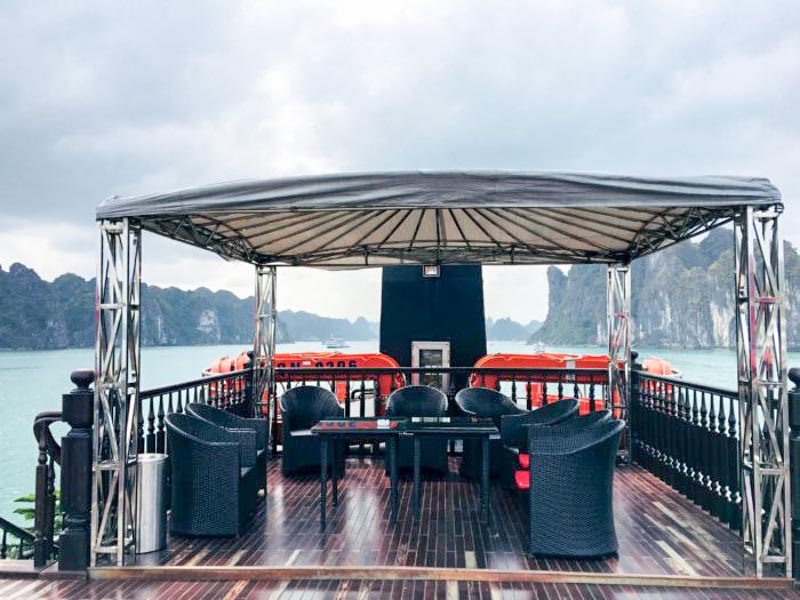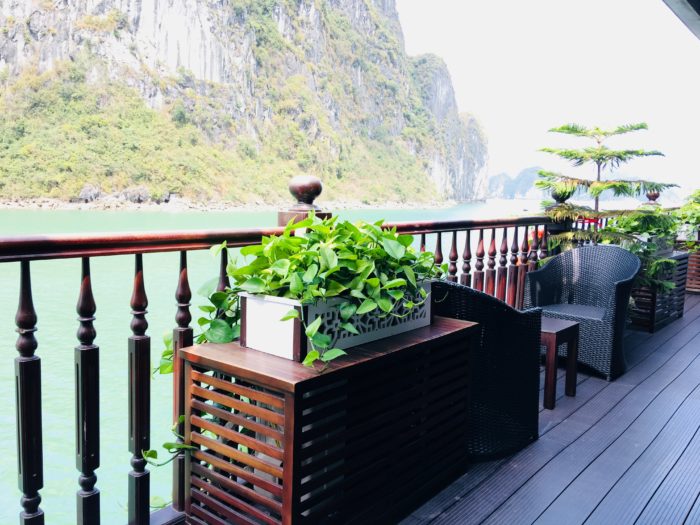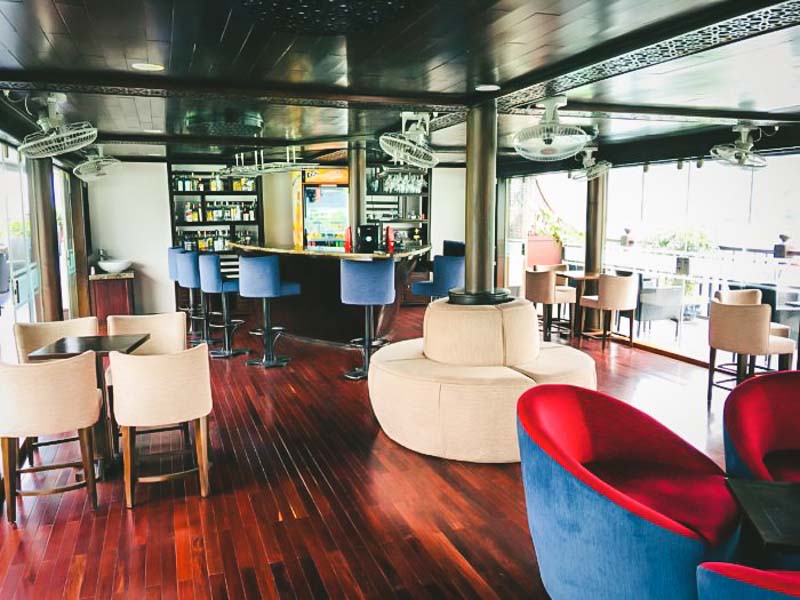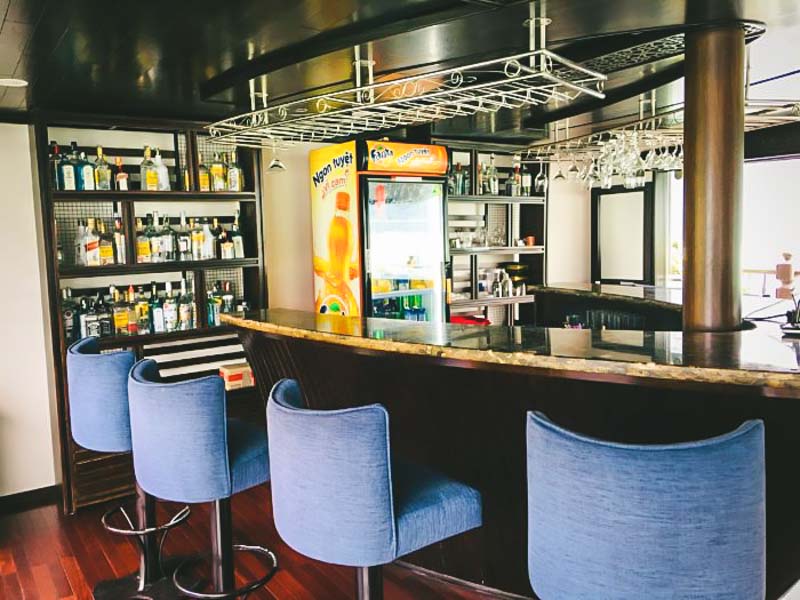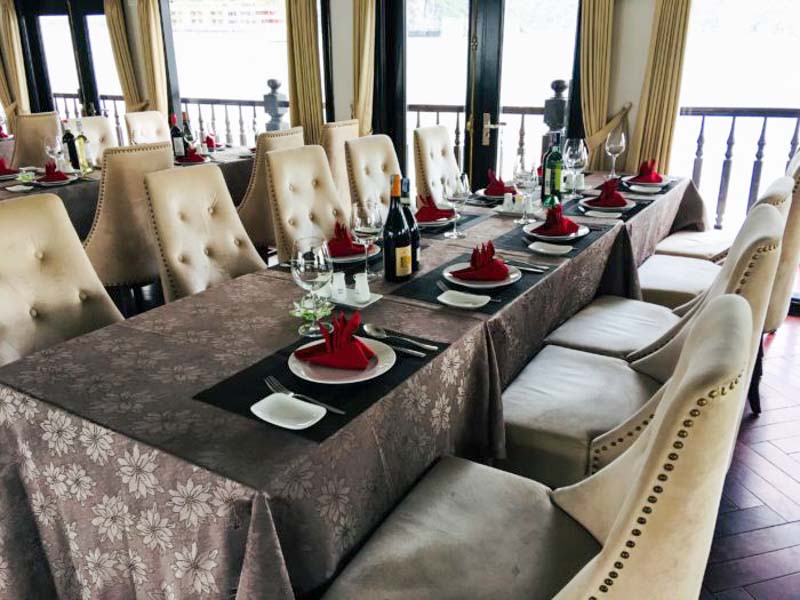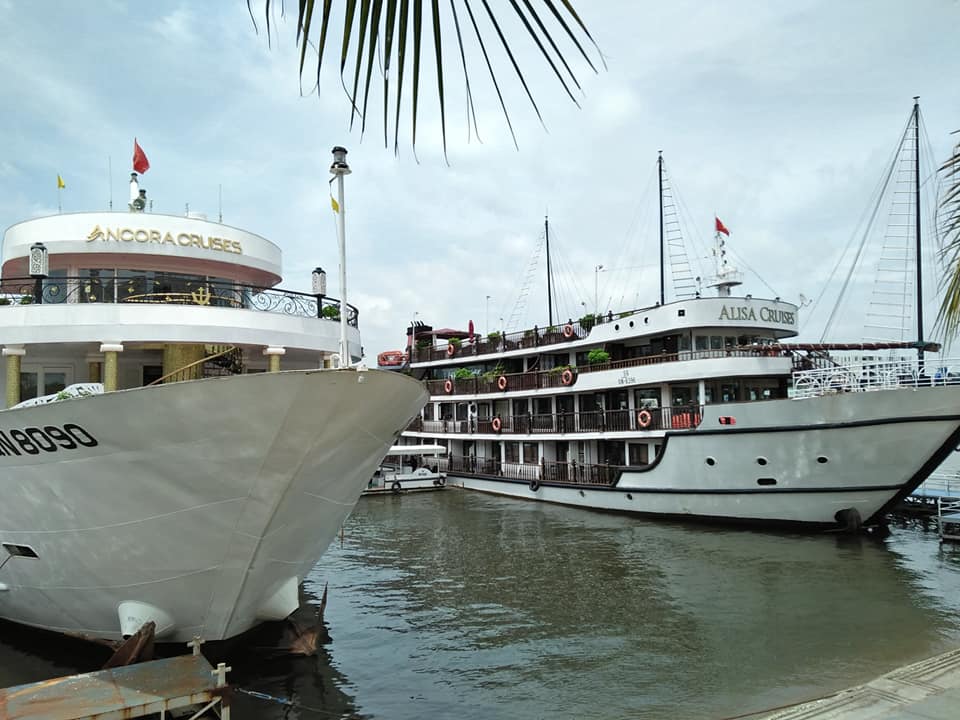 ---
Author: Ms Naoki from EZSTAY HANOI
---