2 days 1 night trip to Pu Luong.
Leave sapa, go to pu luong. This is a great place for trek tours of terraced fields, majestic mountains and simple villages.
Vietnam is a country full of landscapes, especially to the Northern Vietnam, the most famous one definitely will be Sapa. But for the time being, Sapa was exploited for above 10 years already, if you prefer an odd experience when travelling in Vietnam, you'd for sure not choosing Sapa.
Besides that, there is a new founded place that there is still keep it original beauty. It named Pu Luong Natural Reserve. It's located on the cusp of Hoa Binh and Thanh Hoa provinces, about 160km southwest of Hanoi. It's already very popular for locals, recently just spread to a few foreign visitors. It also very close by Mai Chau, which is about 3,5 hours away from Hanoi…
The best time to be there is during the green season which is the beginning of March and the end of April, the second-best time would be the harvest season when the rice fields turn to shades of yellow and gold, and it'd be September till end of October.
I was very lucky to visit Pu Luong natural reserve in March of this year, when everything came to the green color.
Among all different ways to travel to Pu Luong, I choose to get on a package tour in which we have almost everything in an arrangement from transfer, accommodation, food, tour guide and entrance fee for each place to see.
So, let's start our journey in a beautiful Saturday morning, the bus would pick us up from our hotel in the old quarter, after about 30 minutes went around to pick another up, we headed to Pu Luong. Our first stop to take a rest is a local house in Luong Son where have many kids coming out to talk with us, I feel like that is a small homework of them, to ask foreigner about their general information lol.
Then we got on the bus again to go to Mai Chau to have a very local lunch over there, we started to know more about our travel-mate. They were from many countries such as Germany, Japan … so exciting to join the trip with them.
After an hour ride from Mai Chau, we finally reached Pu Luong. Checked in our homestay, tour guide lead us to start a 7km trekking through the jungle. Up and down the moutain, through the rice fields… we're so surprised about the pure beauty of this place.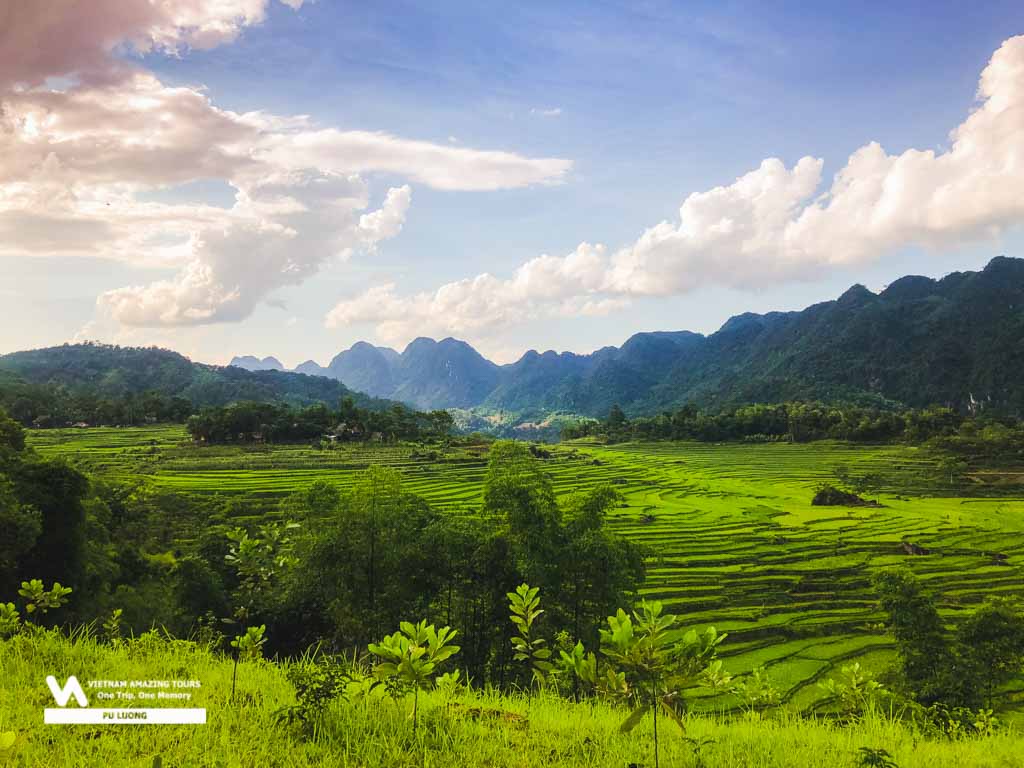 Mountains
READ MORE: A new founded paradise in the Northwest of Vietnam – Pu Luong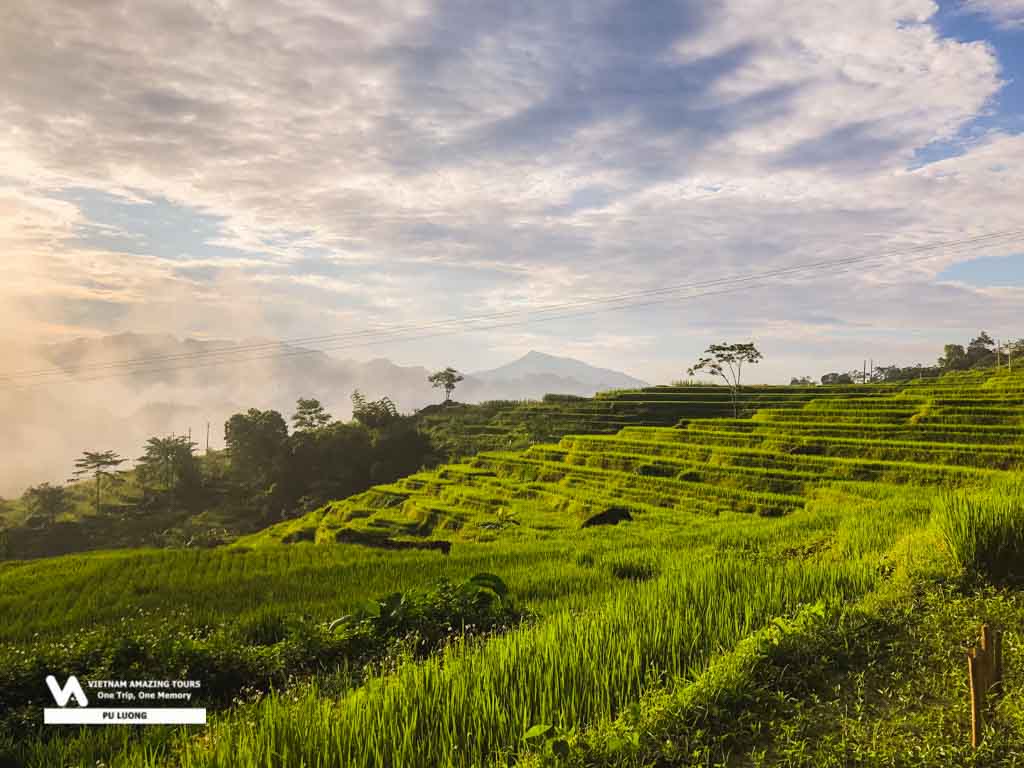 Rice fields
SEE ALSO: Vietnam – Exploring the mysterious lands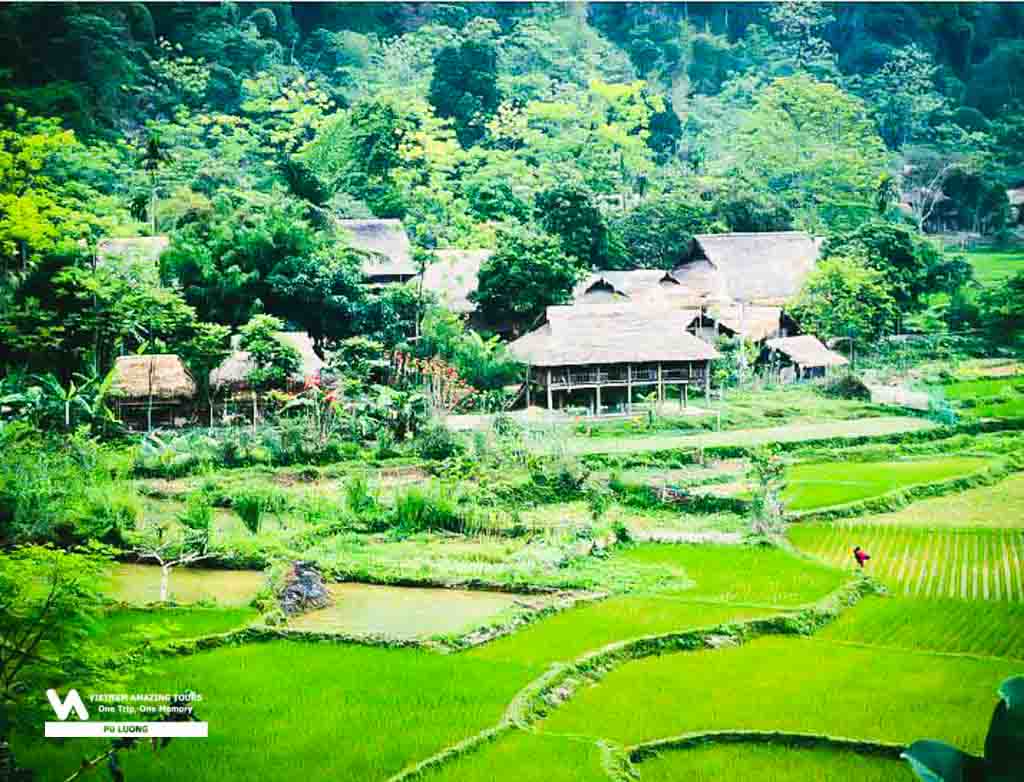 Local life in truly real here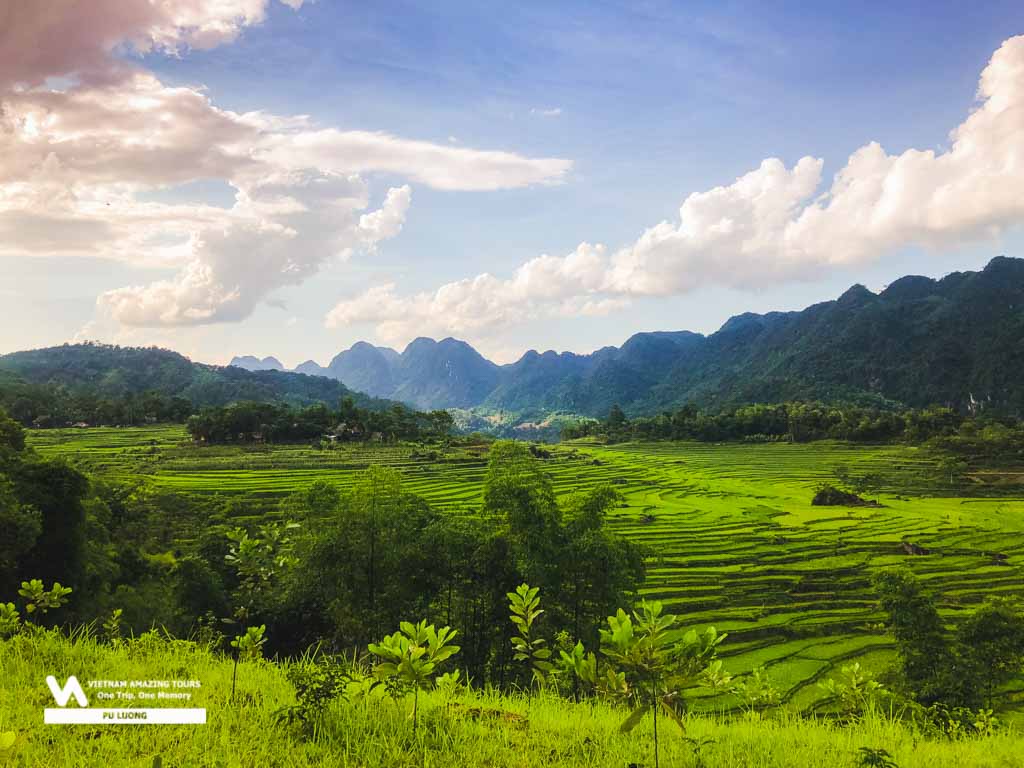 Because this nature reserve is closed to the border between Vietnam and Laos, pass the mountain then we can be in Laos area already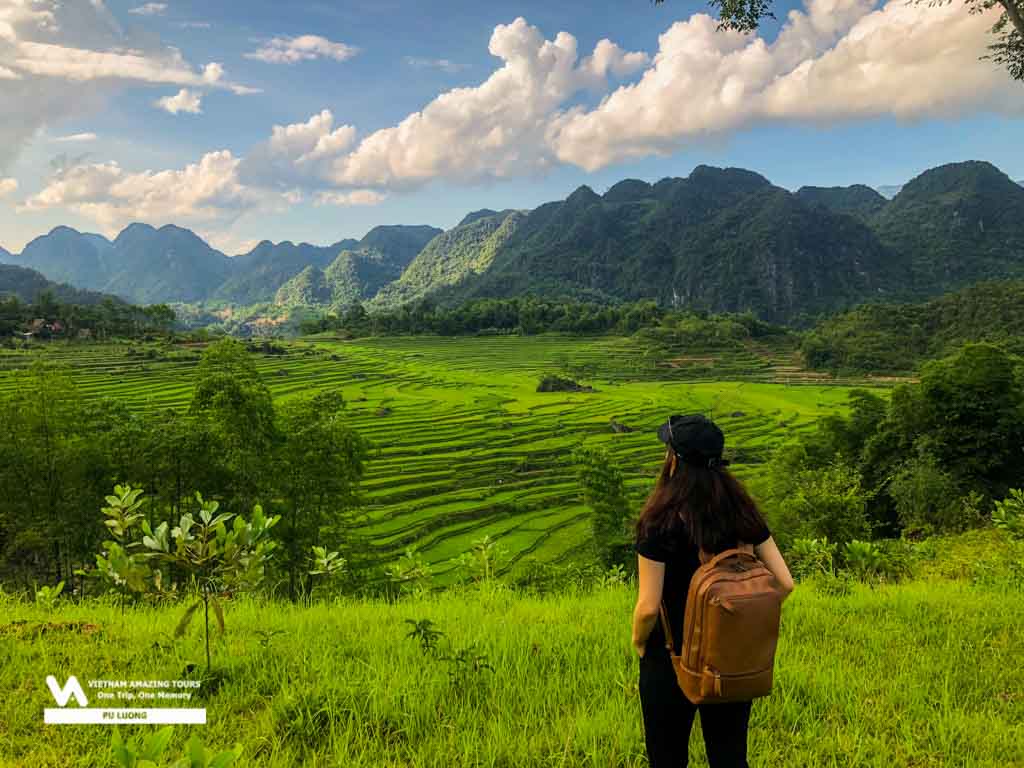 Catching the sunset here was definitely recommended for you.
7km trekking made us an amazing day but quite hungry when coming back then, the tour guide let us to take shower for some times then heading to the lodge to have dinner. Then our travel-mate invite us t the pub nearby, had some fun there. Prepare for another day tomorrow.
I woke up at 5 in order to catch the sunrise n Pu Luong and it was a wonderful moment to see and breath the fresh green air up there. It's truly a "Go Green Viet Nam" trip.
After having breakfast, we got on the bus brought us to the place start to have a short trek, the weather this time is a bit sunny and hot, so be well prepared with hat and sunscreen. Through the villages, rivers, paddle fields… we reached the waterwheels. It was a simple but really effective, it spins slowly of its own accord, propelled by the running stream. Lengths of bamboo pipe scoop up small amounts of water and once at the top, dispense it into a bamboo tube. The water then flows along the bamboo pipeline. This one was particularly complex, running to several metres throught the area. Just by stopping the waterwheel, otherwise they will keep running and bring the water around without any assistant of electric or human power. But locals have to replace the new bamboo pipeline as it'd be risked every few months. How amazing this waterwheel is! No need any power it still brought enough water to all the rice fields in the area.
Then we headed to a "little harbor" to start doing Bamboo rafting, the boat was very simple, just some bamboo pipe be stuck together with the forest tree rope, there were a couple husband and wife welcomed us, brought us the stool on each raft. Just 3 adults fit on here raft and one more person to control it. He (she) rafting us along the Cham stream with the mountainous, green trees, rice fileds along… Though it was a very hot day but to sit on the bamboo raft, enjoy the view, the atmostphere, it was truly an odd experience that I did mention in the beginning.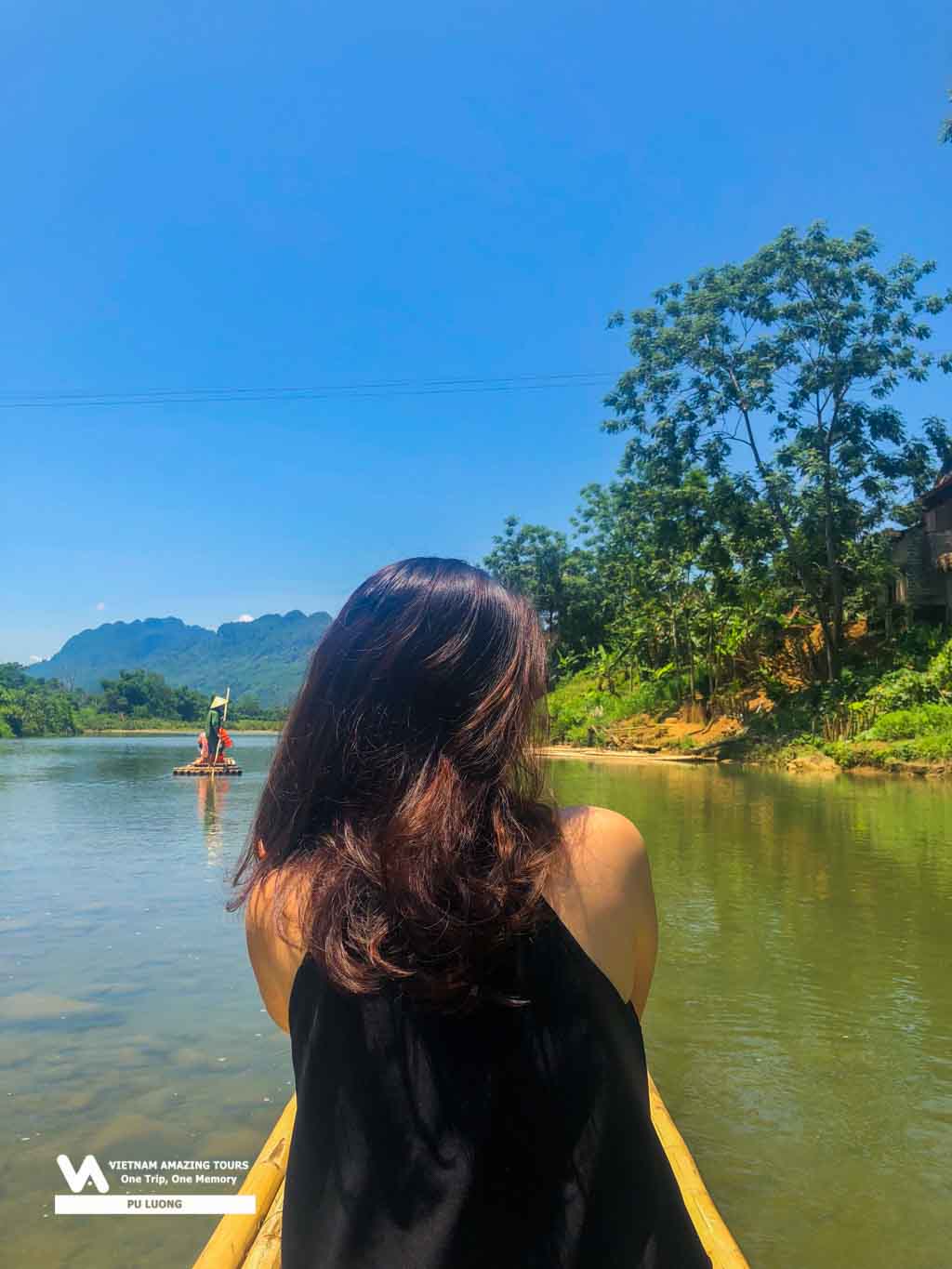 bamboo rafting
After about 30 minutes along the stream, we got on land and comeback to our homestay, on the way the tour guide let us know that we would have a quick stop to a very private little pool with the natural water from the waterfall on the moutain. Have you ever swim in a pool that totally made from mother nature like that, believeme, it was more than an experience in this modern life.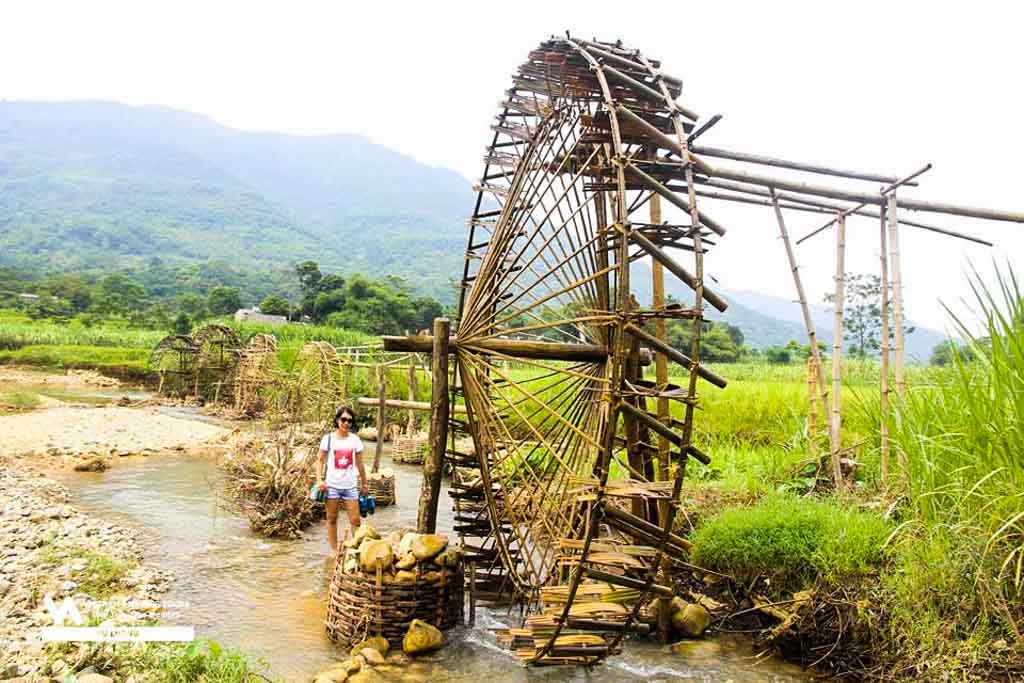 Coming back to the homestay, we had lunch and with our travel team to recall all the memories we made from this trip. It was sad hat we have to say goodbye but the trip to Pu Luong natural reserve was one of the most memorable trip in my life.
If you're curious about this new brand founded place, why don't you pack you bag then get on a trip like me.
See you in the next episode.
….