Top romantic destination for travel couples in Vietnam
Are you looking for a fun trip with your lover? A place with beautiful landscapes, majestic nature, or unique experiences, where you and your lover are in the great moment. Your privacy and wonderful moments will make the story more romatic. Today we bring you to Vietnam with the ideal destination so you can do it. Now, let's take a look at amazing destination in Vietnam. It is worthy visiting one time.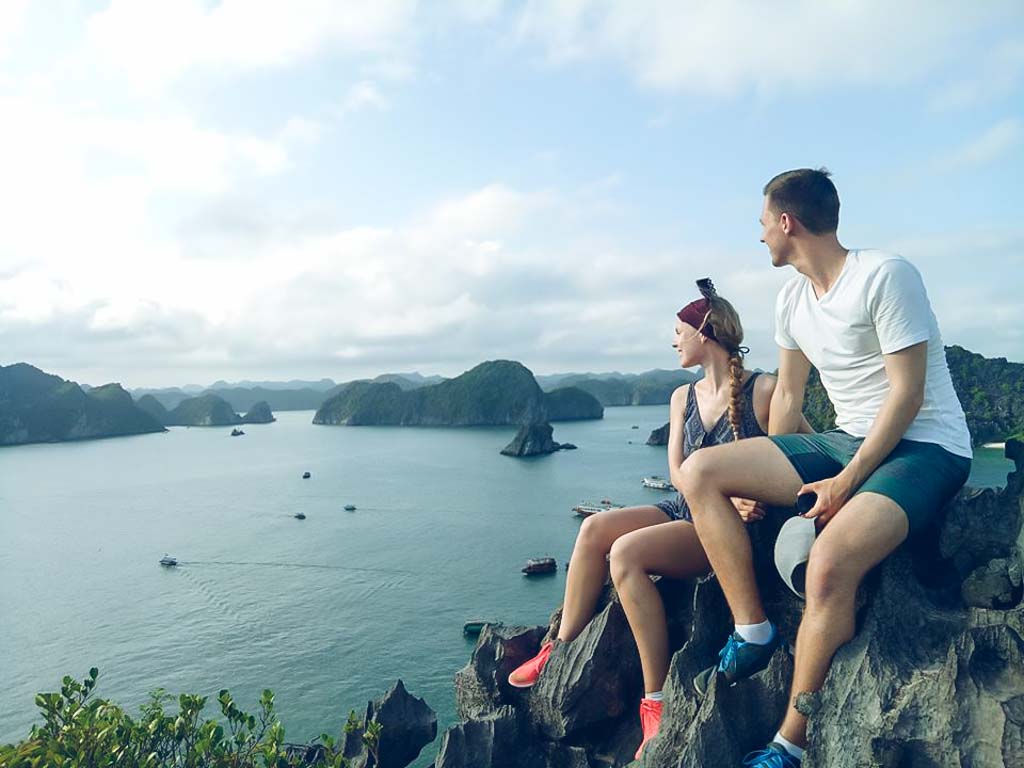 #1 Halong Bay
Halong bay is definitely the first place you need to list your trip to Vietnam. The great scenery, the mountains bend over the blue sea. Halong bay cruise 2 days 1night is a great option for you to fully enjoy the beauty of this place. Join activities on this trip as kayaking, swimming, watching the sunset on Ha Long Bay is also an exciting experience.
⇒ See more: Top cruise in Halong bay
#2 Mua Cave
View this post on Instagram
Take her to Ninh Binh one of the places known as Halong bay on land. This is definitely an interesting trip. After completing 500 steps at Mua Cave, a majestic setting will appear from the top of the mountain. Do not forget to take beautiful photos at this ideal shooting angle. In addition, to Ninh Binh you also have the opportunity to row small boat along the Ngo Dong river to see the scenery here.
► find one good one day tour arround Hanoi
#3 Pu Luong
View this post on Instagram
Forget sapa of Vietnam that you know on the internet, Pu Luong is a true trekking place in the Northern Vietnam. A pristine land with small villages, terraced rice fields, majestic mountain scenery. Let's trek to discover the beauty of this place. In the evening, let's pick up the twiggy sticks to make fire and catch up.
⇒ Book Pu Luong tour 2 days 1 night in the great price.
#4 Ha Giang
View this post on Instagram
North Vietnam always has many places that will surprise you by the majesty of nature. Ha Giang is one of those places. However, with this trip we advise you and she should rent a motorcycle. Through hills, ethnic villages, stopping at streams, taking pictures of clouds and mountains, wake up at a homestay with a view of the green fields. It is an unforgettable experience.
#5 Ban Gioc Waterfall
View this post on Instagram
Ban Gioc Waterfall is the largest waterfall in Vietnam. It is the fourth-biggest waterfall on an international border and its nearby sights can keep up with Iguazu, Vic Falls, and Niagara. The pictures of this waterfall are glued to the wall of the booking office. However, it is quite far from Hanoi city and the road is very difficult is one of the reasons why visitors are less interested in this place. But if you make it to the top you are rewarded with a stunning panorama that looks straight down into the karst valley and to the right onto Ban Gioc waterfall.
#6 Son Doong Cave
View this post on Instagram
Son Doong cave, a very popular destination recently. To make a visit to this cave you probably have to schedule and book a tour before 1 year. However, the experience of visiting this cave is really worth the money you spend. Really majestic and unbelievable, these are the words you will probably say when entering this cave. It is so vast, the scenery in the cave is wild. Wander through natural caves, watch the stalactites hundred years old, climb high cliffs and overwhelmed moments with the beauty here.
#7 Hoi An
View this post on Instagram
Hoi An ancient town, a place not to be missed in the journey to visit Vietnam. With a harmonious combination of architectural buildings, walls, wells, roads ... All carry a style of ancient and simple. Time seemed to drag by slow life here. Hold your lover hands wandering through the streets under the colorful lanterns, enjoy the world's best bread. take beautiful pictures, or ride a bike to visit the rustic village. That was a great day.
Read more: Things can not be missed while touring Hoi An
#8 Mui Ne
View this post on Instagram
A place where most of the time there is a lot of wind and a large amount of waves. That is the perfect place for surfers. A place for you and the man is the reason for the kitesurfing. There are a lot of kitesurfing shops where you can rent it. Desert sand is also an interesting point of this place. Visit the Red and White sand dunes by quad. Get up early to watch the sunrise and take the motorbike to the fish market in Phan Thiet. One day is in a lot of fun activities.
#9 Phu Quoc, Nha Trang
View this post on Instagram
With its geographical position stretching along the sea, Vietnam has many beautiful beaches. Where you and her have a relaxing time by the sea, bathing, sunbathing, sunrise and sunset.