Thailand
Travel to Thailand | Thailand Travel Guide
Thailand is the most popular place for tourists to visit in Southeast Asia. It is also the only country in Southeast Asia that a European power has never colonized. Thailand is the most popular destination in Southeast Asia because it has so many things to do and see for people of all budgets and interests.
If you want to know more about Thai culture, you can walk through the beautiful Buddhist temples or sign up for a cooking class to learn how to make Thai food. Do you like being outside more? Travel to Thailand to explore the beautiful islands and relax on beaches that are among the best in the world. Look for exotic animals and see the country's different landscapes. Pattaya, Phuket, and Koh Samui have miles of clean, white sand and clear water that make them feel like paradise. Want to do something more modern? Shopaholics will love Bangkok because there are millions of different products, brands, and prices around every corner, whether in a cheap market or a high-end mall. The party crowd is also sure to enjoy the nightlife. Most importantly, wherever you go in Thailand, people will greet you with a warm smile. This is why Thailand is known as the "land of smiles."
Thailand has something for everyone, from five-star pampering to activities that give you a rush, from shopping in chic boutiques to sunbathing on some of the best beaches in the world and eating some of the best food in the world.
Best time to travel to Thailand
Thailand has three main types of weather: hot, cool, and wet. Thailand can also be divided into four areas: North Thailand, Bangkok and Central Thailand, the Southeast Coast, and the Southwest Coast. Even though they all get the same weather, it doesn't happen at the same time for all of them. There is never a bad time to go to Thailand unless you don't like heavy rain and crowded markets. You can always get coconuts, spicy noodles, and Thai massages. If you want to come back from your trip with a tan, don't go from July to October. This is when the monsoon season is in full swing, and the whole country will be affected. We recommend going during the cool season when it doesn't rain as much, the temperatures are more comfortable, the waterfalls are at full flow, and the flowers in the hills are in bloom. November to December is the busiest time for tourists, so you should plan your trip around that. But if you go in January or February, you can avoid the crowds at temples and beaches while still enjoying sunny, hot weather.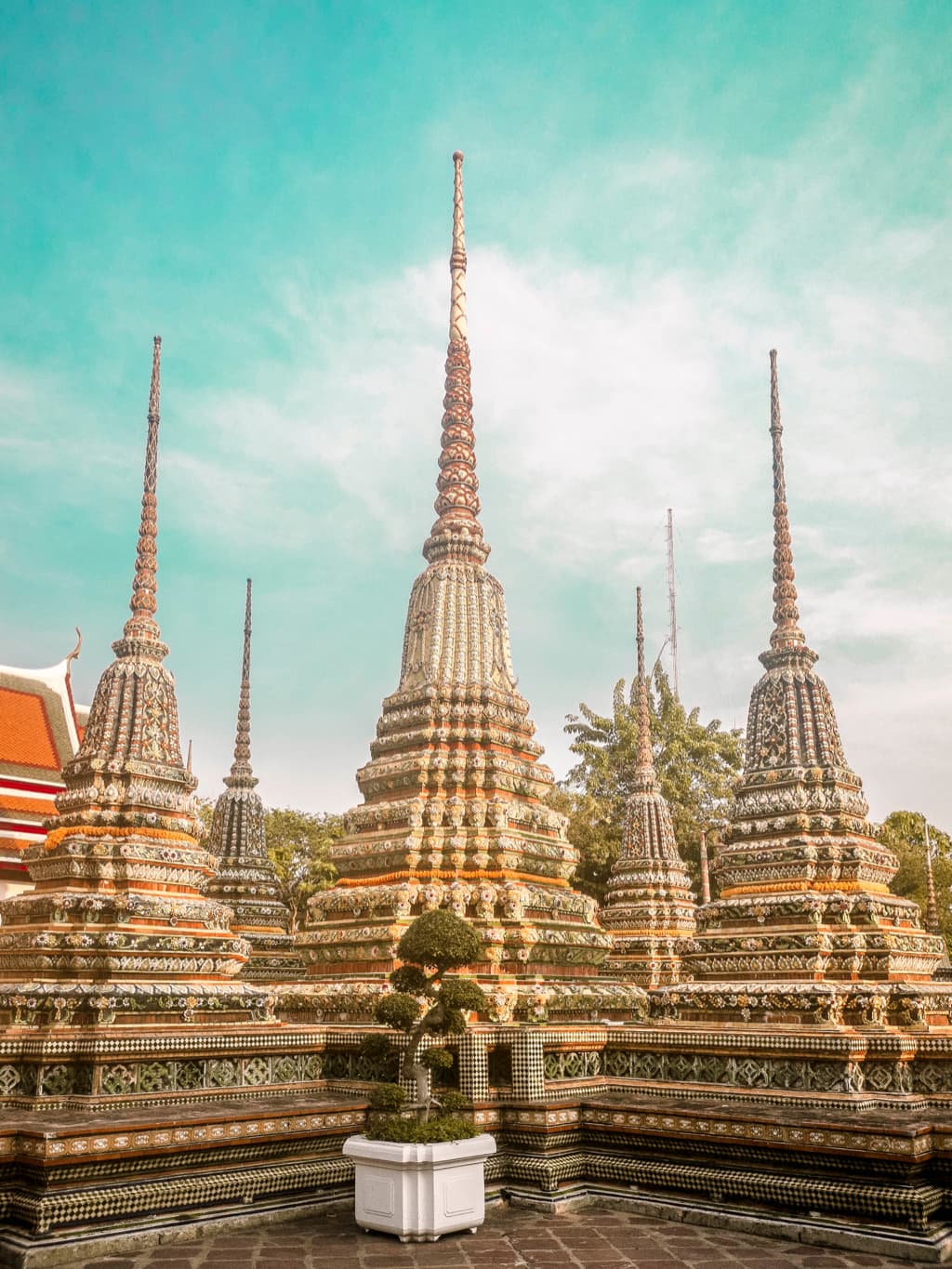 Northern Thailand
From November to April, it doesn't rain much in the north of Thailand. The rainy season starts in May and usually lasts until October. The most rain falls in August and September. Both when it rains and when it doesn't, the weather is hot and humid. Realistically, it will only rain for one to two hours a day, which is good because it helps the rainforest grow. When it rains, it's also the perfect time to go into a Thai store or restaurant.
Bangkok & Central Thailand
People usually start their trips in Bangkok, which is the capital of Thailand. From November to February, the weather in the central part of Thailand will be great, but from March to May, it could get very hot. August to October is the wet season. It rains a lot during this time, so it's a good thing it's not too long.
Southern Thailand
In the southern part of Thailand, there are only two seasons: wet and dry. These seasons don't happen at the same time on the Southeast and Southwest coasts. From April to October, the southeast monsoon brings rain and often strong storms to the west coast. From September to December, the most rain falls on the east coast.
Destinations highlight
Chiang Rai
Many people think of it as a smaller and quieter version of Chiang Mai. It still feels like the capital of a small Thai province, but there aren't as many tourists as in other provincial centers. Chiang Rai is a good place to stay if you want to visit the hill tribe villages near the Golden Triangle, which is a remote area where Myanmar, Thailand, and Laos meet. People often go to see the villages of the Karen (long neck), Akha, and Yao hill tribe groups.
Chiang Mai
Chiang Mai, the capital of the north, is a busy, modern city that has managed to keep its rich history and traditions while becoming more modern. Chiang Mai is surrounded by mountains and has both interesting architecture and beautiful views. Since the 14th century, Chiang Mai has been an important Buddhist center. It is now home to more than 300 temples. A lot of people come here to meditate, get a massage, or take yoga classes. But the hill tribe villages are what most active travelers want to see. People can walk through the lush countryside, ride rafts down jungle rivers, and meet the people who live in remote villages of ethnic minorities. People who like making things by hand will enjoy going to places that focus on silverwork, woodcarving, pottery making, and weaving. The Night Bazaar is a group of covered markets that are worth going to because of how busy they are and how many hand-made things they sell.
Bangkok
This city is full of sharp contrasts, like skyscrapers that are right next to Chinese shophouses and brand-new Mercedes that have to squeeze past pushcart vendors. Culture lovers will love the Royal Palace and the city's many pagodas, and shoppers could spend weeks looking for the best deals in Bangkok's malls and open-air markets. Travelers can enjoy everything from classical Thai music concerts to go-go bars and everything in between. Bangkok also has a lot of different places to eat. Whether you eat French food in a fancy hotel restaurant or fried crickets on the side of the road, you can use all of your senses. Here is where you can eat, drink, and have fun.

Krabi
Krabi is a town on the west coast of southern Thailand. It is where the Krabi River flows into Phangnga Bay. As of 2010, there were 52,867 people living in the town. It is the capital of Krabi Province and the Krabi district. Krabi depends a lot on the tourism industry because it is the gateway to many beaches, islands, and natural parks.
Because it faces the Andaman Sea, like Phuket, Krabi has a 6-month rainy season from May to November. During this time, it often rains very hard for days at a time. The hottest day recorded in Krabi was March 26, 1998, when the temperature reached 39.1°C. On January 11, 2009, the lowest temperature ever recorded was 15.3°C.
Visa & Passport
Visa Exemption Rule
With this rule, people from 55 countries, such as the U.S., Canada, and the UK, can visit Thailand without a visa. If they enter Thailand through an international airport or a land border checkpoint, they can stay for up to 30 days.
As of December 31, 2016, the new rules of the Visa Exemption Rule and Bilateral Agreement allow people with passports from these 55 countries to enter Thailand without a visa, as long as they meet the following requirements:
1. You can only visit for tourism purposes.
2. You must have a confirmed return ticket to show that you are flying out of Thailand within 30 days of entering if that is the case. Open tickets do not qualify. Traveling overland from Thailand to Cambodia, Laos, Malaysia (even on the way to Singapore), Myanmar, etc. by train, bus, or other means may be accepted as proof of leaving Thailand.
You might be asked to show your plane ticket when you enter Thailand. If you don't have a flight ticket showing that you will leave Thailand within 30 days, you will probably not be allowed to enter.
3. You will also have to show that you have enough money to stay in Thailand for at least 10 000 THB (about 305 USD or 410 CAD) per person.
People who enter Thailand under the VISA EXEMPTION RULE may have to pay a fee. This is especially true if they enter through a land border in Southern Thailand.