Top thing to do in Mai Chau
Welcome to Mai Chau: a valley hidden among the delicious mountains with unique culture, relaxed atmosphere and interesting local experiences. Forget the bustling and hurried Hanoi city. Spend a few days here to learn more about culture and life values. The time is slowly here. A day lives in many great activities like cycling around the village, walking through rice fields, enjoying traditional dishes, drinking the local wine in the sounds come from unique props. And this is the things you need to save right into your diary to make a great trip if you have the opportunity to Mai Chau.
#1

Wake up in Nature Homestay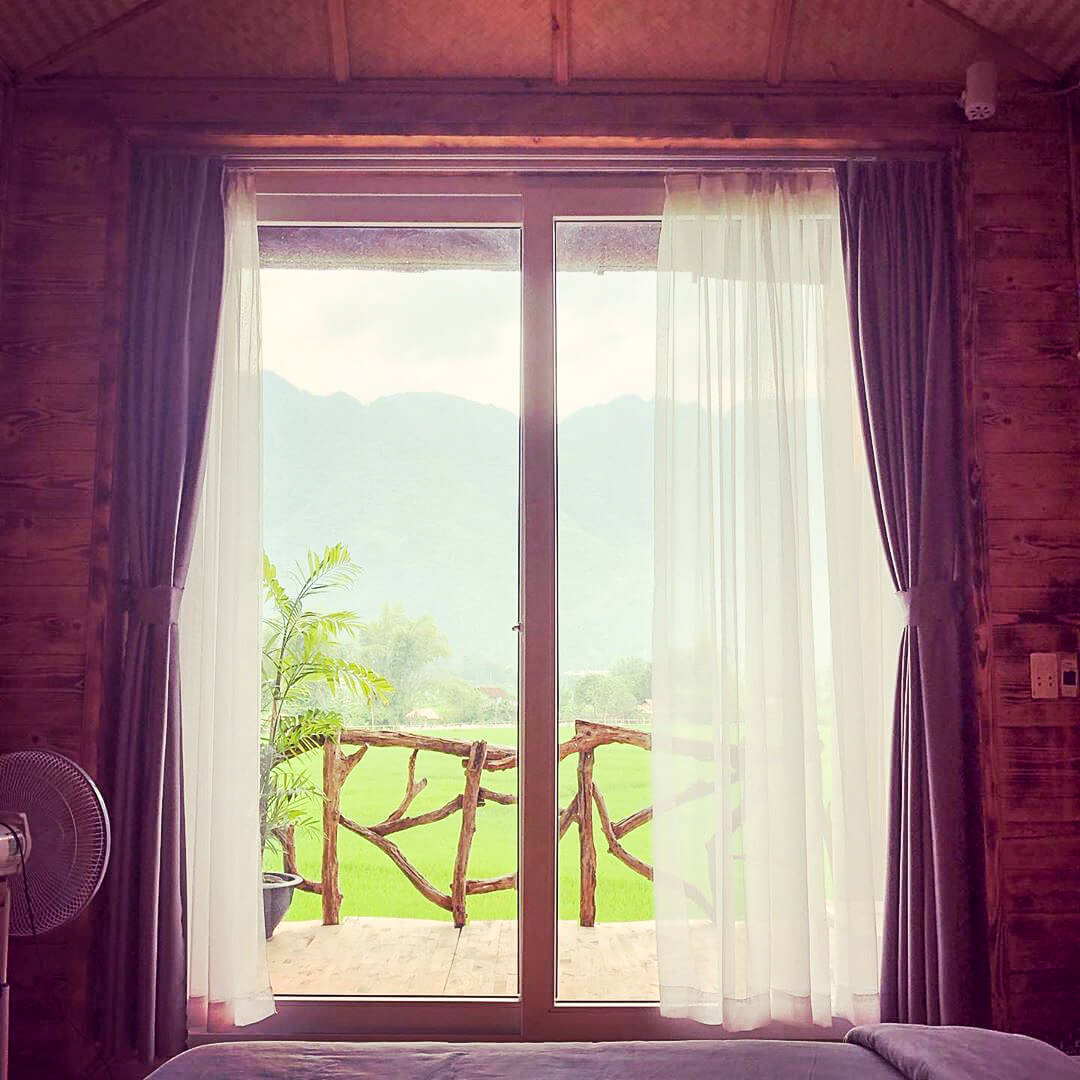 If you come to Mai Chau and you sleep in a hotel, you have forgotten a great experience here. That was waking up to the sound of a rooster and fresh air in nature. What's more wonderful, when the morning wakes up, open the window with a great view from your bed. Don't forget to order a cup of coffee or tea for the morning with the view of terraced rice fields, sometimes you will see flocks of birds flying over.
Tip: "Travellers can pick a homestay at one of the two biggest villages in Mai Chau – Poom Coong and Lac – where the Tais' unique stilt houses serve as the area's rustic yet gracious accommodations."
#2

Explore the local village and local life by foot or bike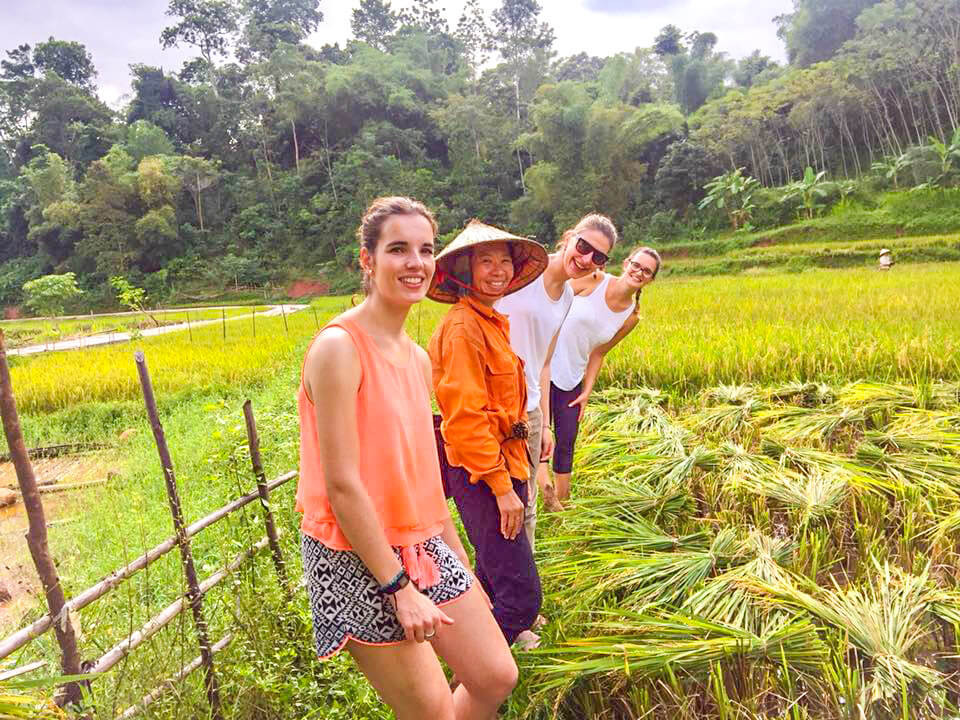 Yeah, walking or biking between rice fields, small villages with unique wooden houses, that will be one day to bring a lot of experience for you. Rice fields are a special thing to see the fascinating beauty of this place. Besides, the boys are grazing buffaloes and cows and always smiling with everybody. And if you like this simple, don't be afraid to ask to ride a buffalo that will give you a nice shot photo. I tried and tip them 10 000 Dong (0.3 USD). But remember to see down the road, if you do not want to step on buffalo dung like me. ☹ hahaha
#3

Climbing mountains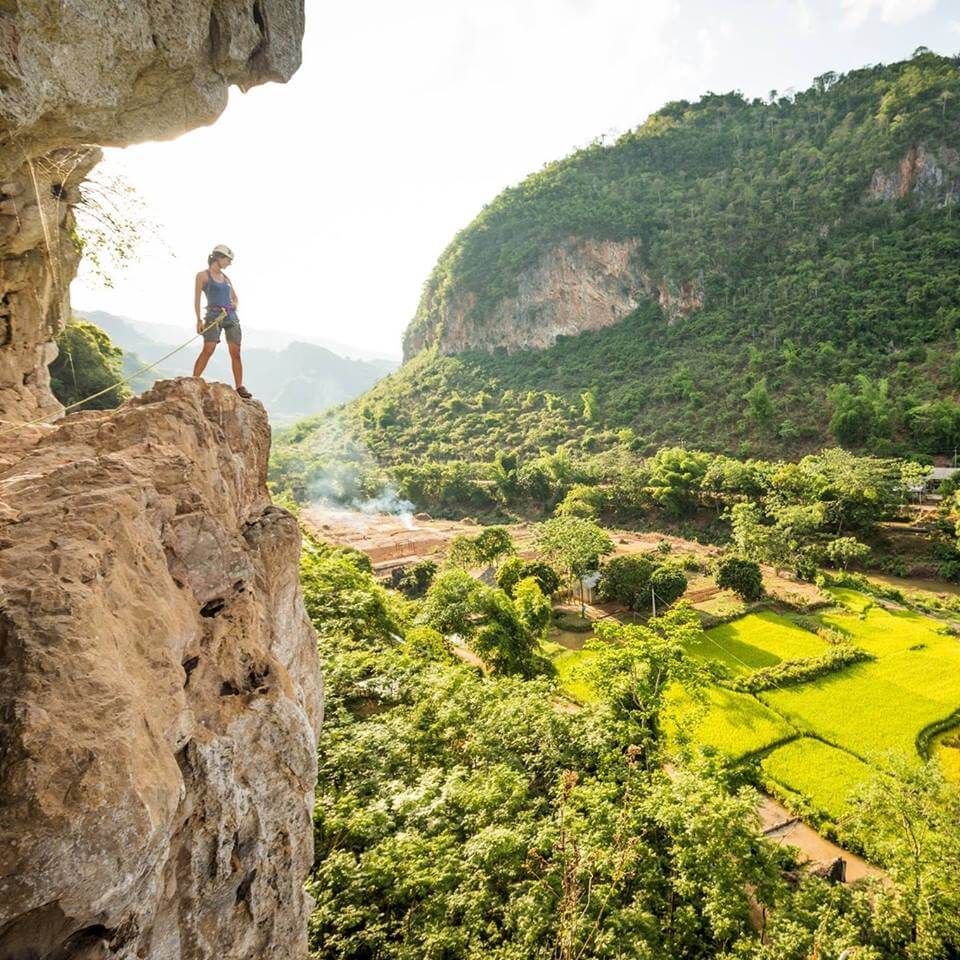 Image from Asia outdoor
If walking or biking to explore here is not enough for you, you may need to burn more energy. Climbing, why not? Mai Chau is a great ideal place to climb the mountains. An activity full of adventure and challenge but when you conquer the peak you will be got immediately satisfied by the vast view with the majestic nature. Of course, you need a professional guide to provide the instructions and equipment to make this exciting activity.
Climbing as high or low follow you want, but don't forget to bring your camera and ask your friend to take pictures on halfway the mountain. This picture will be pulled mountains of like on social networks.
#4

Tasting local food
Local cuisine is definitely something you cannot miss with any visitor when to come here. There are many very simple and delicious dishes. They cook rice in bamboo tubes (Locals call it Com Lam). Peel off the bamboo peels to get rice with the bamboo smell, then dip the rice in minced peanuts for a delicious treat. The colourful sticky rice makes you just want to take a picture of it and don't eat it. They also serve many dishes from wild animals such as pig, perhaps local people like fresh food so they catch and meat on the spot. And they cook a lot of dishes from grilling to boiling or stir-frying with bamboo shoots ... The price of food is also very cheap. So, if you come here, let's try local cuisine one time and you will not be disappointed about it.
#5

Enjoy traditional ethnic dance and music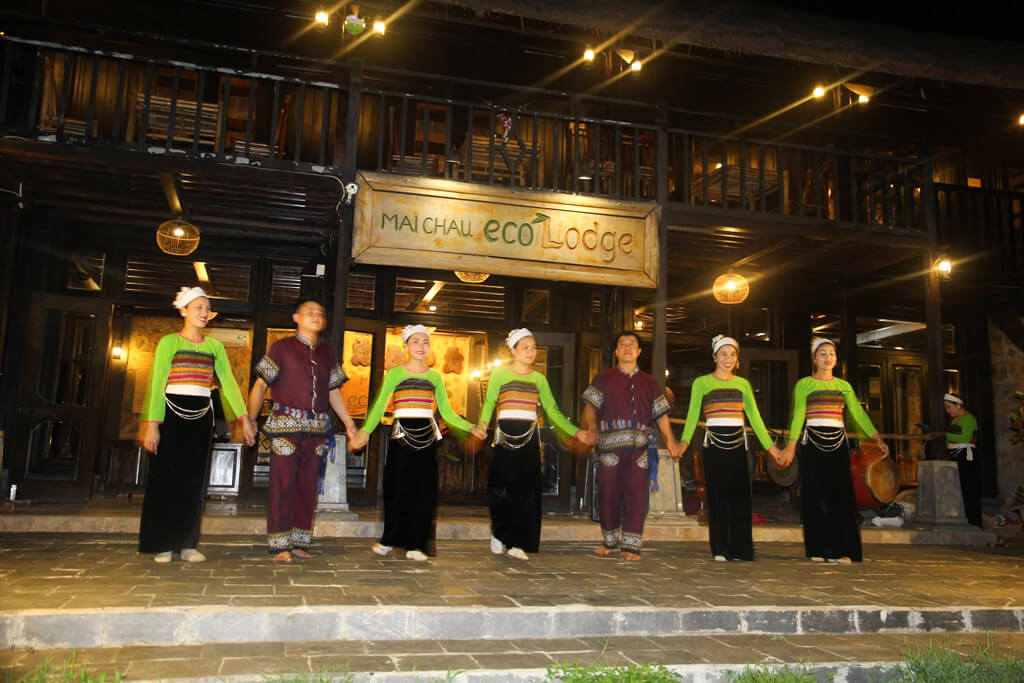 On the holiday's local people gather, they burn a big bonfire, dancing around together. Vibrant sounds come out from props made simple but delicate materials. Large vases filled with wine and set up with long straws where everyone drank the local wine (Ruou Can). The taste of this wine is very strange. You should try it once. Drink, watch a show or dance with the locals around the bonfire, it's a great evening to end a busy day.
#6

Visit traditional handicraft and buy Silk Brocade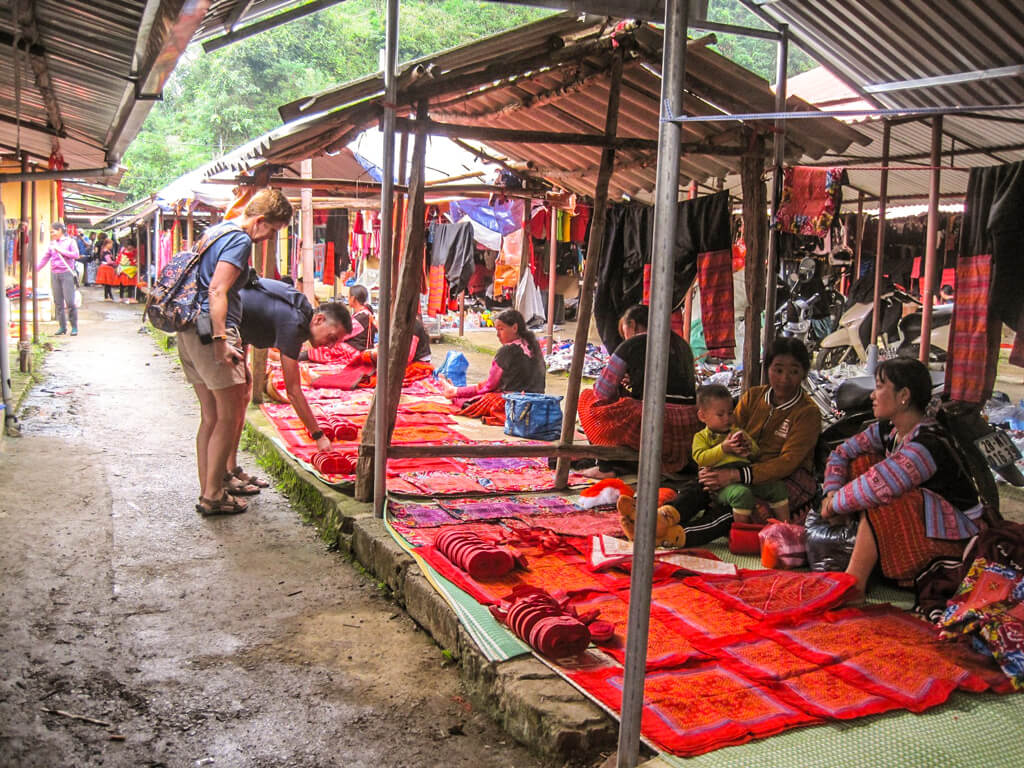 Mai Chau is also a famous place for traditional brocade woven fabrics. Local women have been weaving since they were young and they will have to make embroidery and weave clothes for the family. Nowadays, this tradition crafts are in decline because of modern cotton clothes but they still retain some traditional weaving facilities.
Mai Chau locals make their silk brocades from scratch. All this is done manually and there is very little support. They work hard - reeling and weaving with expert hands with long experience. starting with harvesting silkworm cocoons, reeling the silk from the cocoons, dyeing the threads using natural colours, and ending with selling the brightly-coloured end product in Mai Chau's villages and markets.
And of course, you should not miss the opportunity to buy these beautiful scarves ... for yourself or maybe gifts for your friends and friends when you come back home.
Where to buy: check out Hoa Ban+ shop in Lac village, a social enterprise that gives vocational training to women from the White Thai minority.
Tip: "Don't mind to deal with the seller for getting a better price"
Read more: Start the adventure trip to Mai Chau in 2 days 1 night
How to get there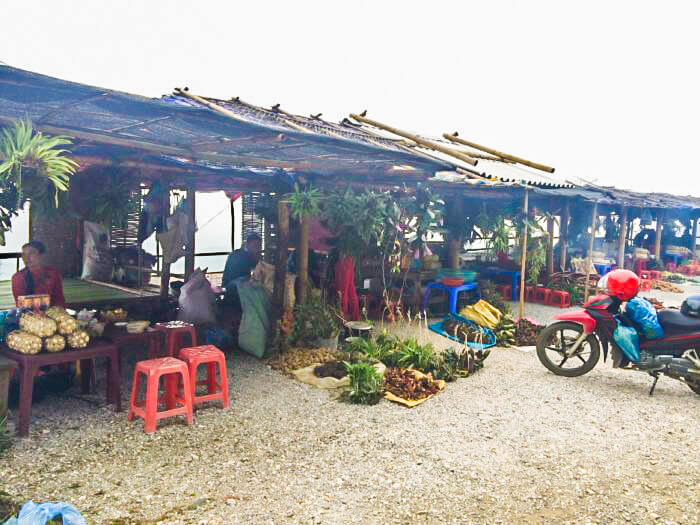 Mai Chau is 136 km from Hanoi city. There are many ways to get there.
#1 Daily group bus
Aa easy way that you book a ticket bus, van from Hanoi Old Town. The bus will pick you up at your hotel and transfer to Mai Chau. It takes about 3 hours and there are 20-minute short break on the way.
Price: 200 000 Dong – 500 000 Dong (10-25 USD ticket)
#2 Private car.
And if you like to private, let's book a private car to control your time and places. Rent a guide go together and you had a private tour. 2 days or 3 days
Price: 95 - 100 USD /way
#3 Local Bus
You can to go to My Dinh station and buy one ticket. (My Dinh bus station: location on Google Map)
Price: 100 000 Dong (4-5 USD)
When to visit?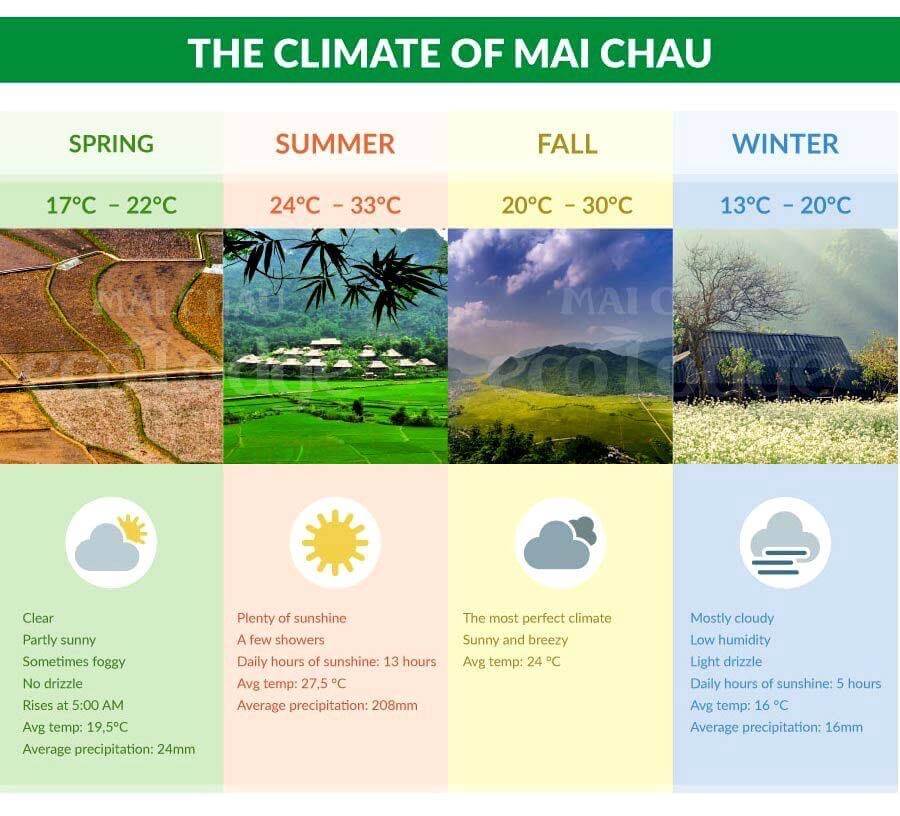 Sharing by Mai Chau Ecolodge
The best time to visit Mai Chau is the spring from February to May and the autumn from October to November. You shouldn't come there in the winter. Because the spring is very cold and dry with the temperature range of 15 - 16°c.