Top 7 things to see in Phu Yen
Phu Yen, a popular tourist destination in central Vietnam. Perhaps want to see how beautiful Vietnam, how passionate to be sure to once to Phu Yen. And you will definitely enjoy a beautiful, pristine paradise with sea and mountains, with rocky stretches and breathtaking views.
#1 Diep Son Island
Diep Son Island consists of 3 small islands in Van Phong Bay. The beauty of the wild, the majestic nature, the clear blue water and the winding road famous is the highlight of this place. The width of the sea is 1-2m, the sea is two parts look extremely majestic makes you feel both fear and feel thrilled, enjoy.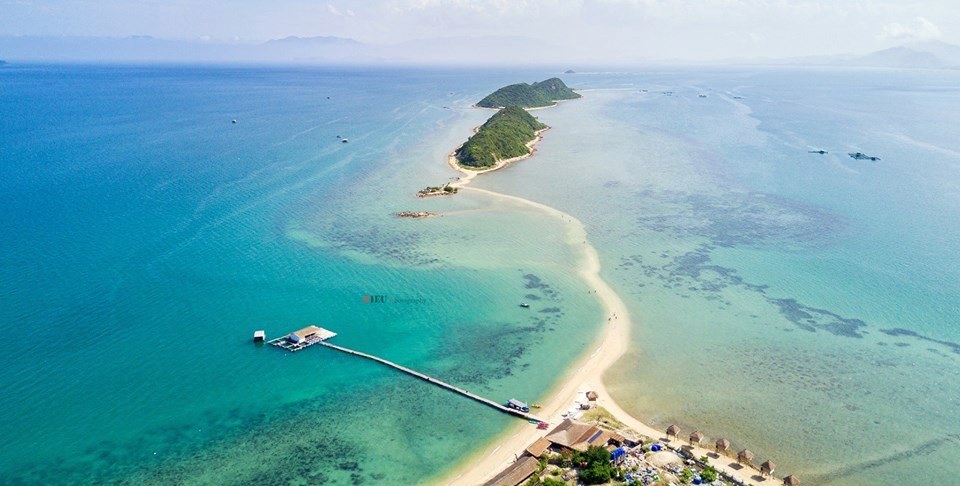 (Picture: Hieu photography)
To Diep Son Island, you can rent a motorbike in Tuy Hoa City and drive south about 60km to Van Gai, along the coastal road to Diep Son. The wonderful journey is on the way, you can visit other beautiful tourist attractions in Phu Yen such as Mui Dien, Vung Ro Bay.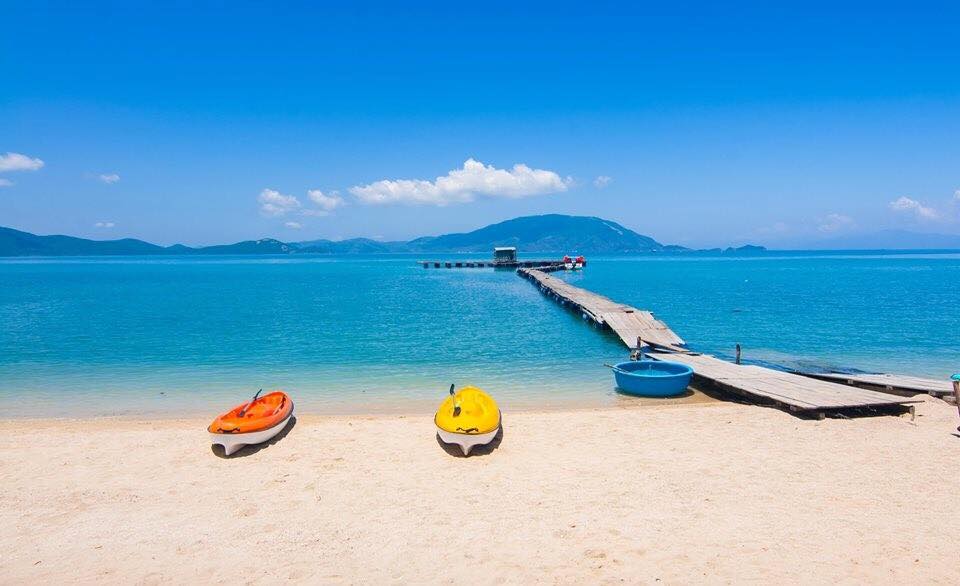 #2 The Dai Lanh Lighthouse
Built in 1890, the Dai Lanh Lighthouse is a gray cylinder, 26.5 meters high and 110 meters above sea level and can transmit 27 miles. Inside the tower is a wooden spiral staircase with 110 steps. This is a beautiful place to welcome sunrise in Dai Lanh. Not only beautiful scene, here also famous for delicious food from the eel that visitors can hardly ignore.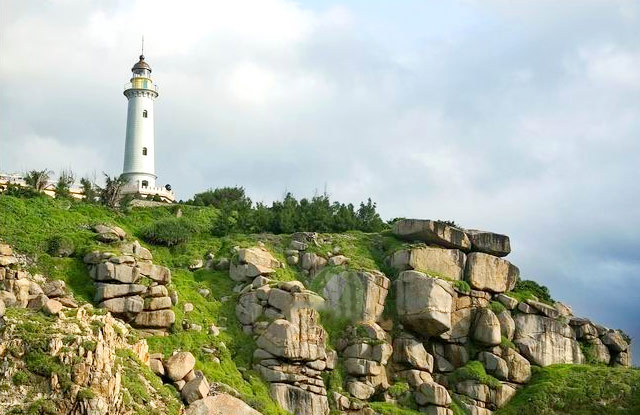 #3 Mon, Xep beach
These are the two most famous beaches in Phu Yen. This is an ideal place for visitors to enjoy leisure, entertainment, camping, swimming, diving, seafood specialties ... In addition to the two beaches mentioned above, Phu Yen also has Other beautiful beaches for tourists to choose from Tuy Hoa beach, Long Thuy beach, Bang beach - Beach beach, Beach um, Tu Nham beach, Bai Tram ...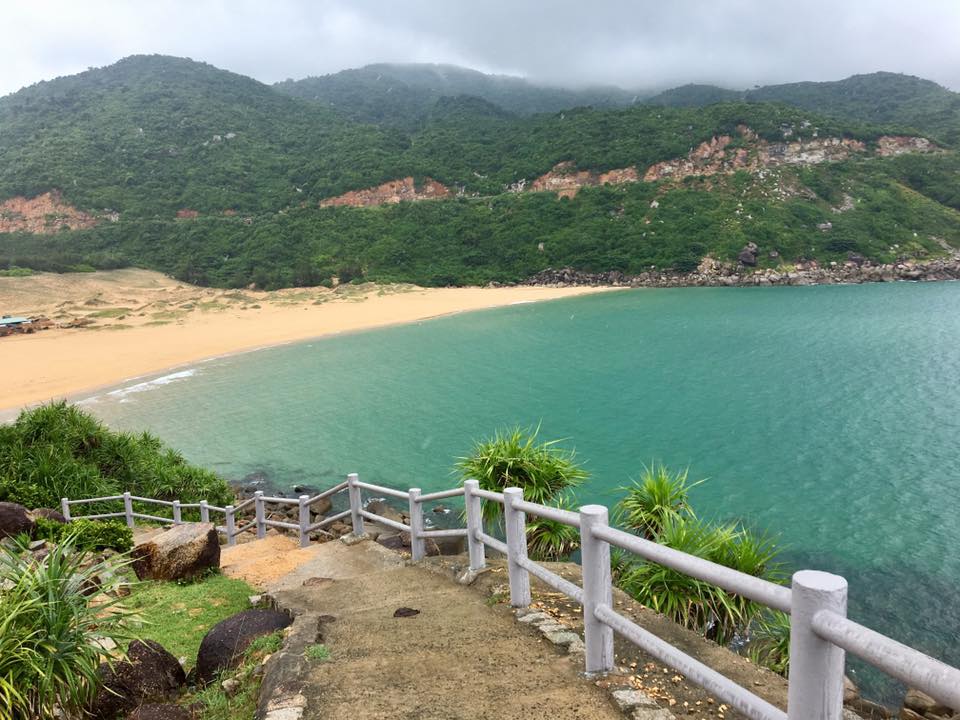 #4 The cliff
Located on the territory of Tuy An district, 40 km from Tuy Hoa city, rocky rapids about 50 m wide and stretching over 200m is one of the beautiful landscapes of Phu Yen. From above, the rocky cliffs are like a huge honeycomb with hexagonal stone blocks, the pentagons are stacked together. Recognized as a national natural attraction in 1998, Da Dia rapids are a popular destination for many domestic and foreign tourists.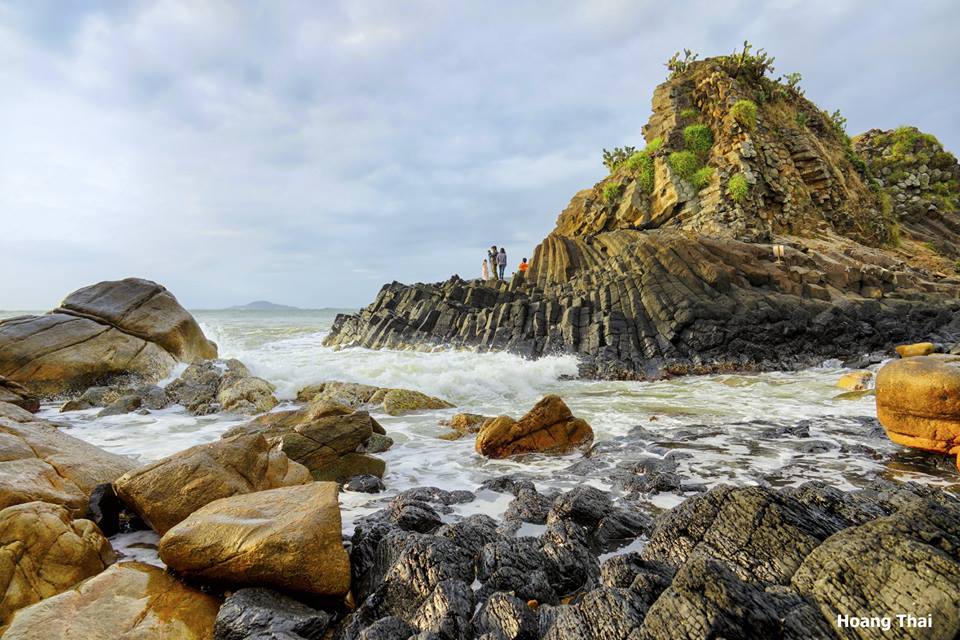 (Picture: Hoang Thai)
#5 The Mang Lang church
Built in 1892, the ancient church of Mang Lang is another sightseeing site in Phu Yen. The name Lang Lang of the house is actually from the mausoleum, a plant with purple flowers, there are many in this land. In the past, Mang Lang Church was the stopping place of Bishop Alexandre de Rhodes, where still retained the ancient eight-day book printed in the 17th century.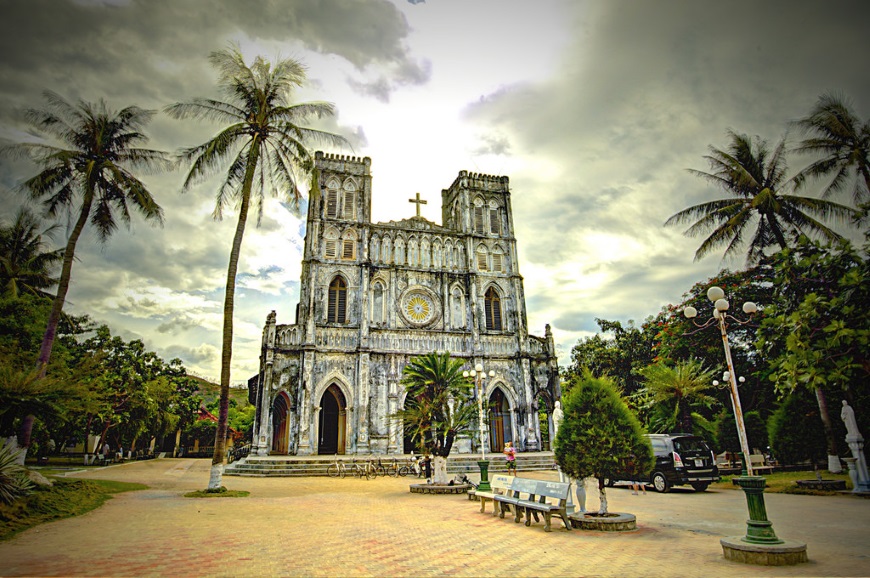 #6 Vung Ro bay
Vung Ro Bay is one of the famous bays of the Central Coast. Located at the foot of Deo Ca, adjacent to Van Phong Bay (Khanh Hoa). Today, with projects to invest in tourism at home and abroad, Vung Ro Bay promises to become a tourist destination attracts tourists around the world.
#7 Nhan Tower
Located on the top of Nhan Mountain, Nhan Tower, also known as Bao Thap, is the first Cham tower to be lit continuously in Vietnam. The tower is 22m high, built in the 12th century. Up to the Nhan Tower, every Saturday evening, visitors will enjoy Cham dances, huts or songs praising the people and Phu Yen scenery.